Switzerland   Rachmaninov, Stravinsky  Berlin Philharmonic Orchestra, Simon Rattle (conductor), Kultur- und Kongresszentrum Luzern, Lucerne 2.9.2014 (JR)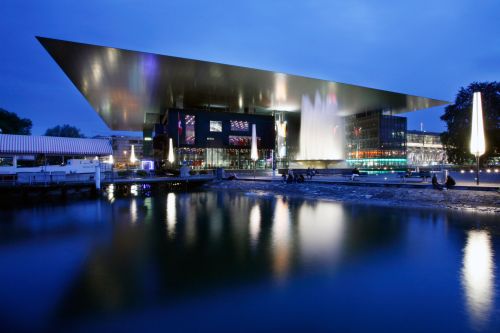 Rachmaninov: Symphonic Dances
Stravinsky: "Firebird" Suite
Sir Simon performed this very same programme at the Philharmonie in Berlin a few days ago and is now, after this stopover at the Lucerne Festival, en route with it for the Proms. (The second of his concerts is an intriguing St. Matthew Passion in a "ritualization" by Peter Sellars).  Rattle had opened the 2012 Berlin Philharmonic season with a combination of Rachmaninov ("The Bells") and Stravinsky ("Rite of Spring") so this concert's programme can be viewed as some sort of natural progression.  However, whilst not exactly scraping the barrel, the choice of programme and pairing – whilst the works and composers' fortunes have undoubted parallels -was not ideal.
After their summer break, the orchestra is on top form. Their instruments and patent leather shoes positively gleamed in the television lights (the performance was recorded for Swiss Television and the Franco-German "Arte" cable TV channel).  The full, rich sound of the orchestra was a joy from the very opening bars of the Rachmaninov; the quality of playing from the strings and, in particular the woodwind was magical. I have a problem, however, with the work. It was written with a ballet project in mind, but the project (with Fokine) never came to fruition. The work is therefore not really a symphony, though in three distinct movements, nor wholly ballet music. The first movement, which has the most catchy repeated three-note rhythmic motif, also has some saccharine schmaltz (from the saxophone), but no hint of modernity (despite the fact that the work was written in 1940). The Andante with its haunting waltz was played with alternating ardour and delicacy; the long, at times wallowing, at times grotesque, Finale has spells of tedium and the final gong is pure Rank Organisation kitsch.
 After the interval, the "Firebird". There is good reason why there are no fewer than three suites comprising the best parts of this work; the whole work may be a fine accompaniment to a ballet but it is simply too long and insubstantial for a concert performance, even with a top orchestra and conductor. Admittedly it has wondrous magical moments, but also stretches which are too bitty. Rattle's interpretation was highly detailed, conducted impressively from memory; he grimaced to stress the demonic nature of the score, to bring in the offstage trumpets, and squeezed every emotion out of the notes but at the end I felt somehow dissatisfied. The final pages were, at least, a glory for brass and percussion, from an almost inaudible ppp to a tumultuous climax raising the roof.
At the close, Sir Simon fittingly went up to each principal to congratulate them individually before withdrawing to show his reverence for the whole orchestra.
By way of "Nachtisch" (dessert) as Rattle put it, we were served with the Intermezzo from Manon Lescaut.
John Rhodes