United Kingdom Britten, Riley, Liszt: Richard Alston Dance Company, Edinburgh Festival Theatre, Edinburgh, 26.9.2014 (SRT)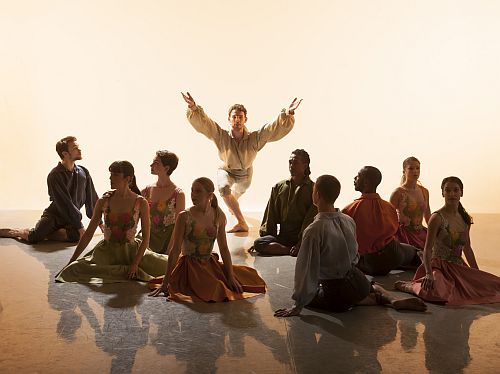 Rejoice in the Lamb
Holderlin Fragments
Burning
Overdrive
Choreography by Richard Alston, except Burning which is choreographed by Martin Lawrance
 Music is central to what Richard Alston does, and you can really tell.  His choice of two fairly unusual Britten works suggests some level of discernment, but more exciting is the way he has clearly thought musically about his dance moves.  Rejoice in the Lamb showed a sensitivity to the rhythm of the music that you don't always see in contemporary works, and I loved the synchronicity of the outer sections for the full company, full of purposeful moves and decisive figures that lent some muscular heft to Britten's setting of Christopher Smart's eccentric text.  The simplicity of the costumes and colours (plain, strong colours for the men, floral motifs for the women) gave the dance a strong context in which to sit, and I also enjoyed the more intimate duets and solos that occupied the work's central section.  The Holderlin Fragments spoke more, to me, about isolation and companionship.  Having the text sung in German lent the piece an air of distance that was lacking from Rejoice in the Lamb, and each dancer spent some time alone on stage before being joined and, it seemed, comforted by the presence of another dancer.  The human presence gave this piece a moving sense of intimacy, despite the strong contrasts of the angular, jagged movements of the men and the smooth, flowing lines of the women.  That angularity came into its own in Overdrive, whose relentless rhythms and fiendishly jagged cadences brought out the sharp edges of the choreography, all straight limbs and pointed shapes, which led to some exciting images that fitted Terry Riley's music very well.
 Best of all, though, was Burning, the world premiere of a new piece supported by the Edinburgh Festival Theatre itself.  Choreographer Martin Lawrence took as his inspiration the story of Lisztomania and the endless string of women who surrounded the great virtuoso in his heyday.  The central figures represented Liszt himself and Countess Marie D'Agoult, his long-term lover who bore him two children but ultimately forsook him.  I really admired the way Lawrence embedded the narrative into the passionate, driven dance moves which centred not only on the figure of Liszt but on the obsessive, jealous passion that Marie felt for him, and the way she had to compete with several other women for his attention.  The movement was raw, possessive and full of passion and, again, was brilliantly integrated into the musical texture (Liszt's Dante Sonata, played on stage by Jason Ridgway who drew torrents of expression from the keyboard).  These women are far from being mere victims, though.  They are agents in their own story and, in the end, it is Marie who leaves Liszt on stage by himself, reduced to a quivering heap of desire.
 This was the first night of a tour that takes the company around the UK, as well as to the USA.   For more details click here.
Simon Thompson