FinlandMozart Le nozze di Figaro. Soloists, Finnish National Opera Chorus and Orchestra, Susanna Mälkki (conductor). Finnish National Opera, Helsinki, 29.8.2014 (premiere) (GF)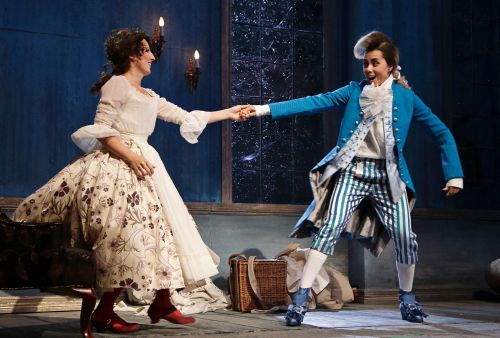 Cast:
Count Almaviva: Tommi Hakala
Countess Almaviva: Mari Palo
Figaro: Jussi Merikanto
Susanna: Hanna Rantala
Cherubino: Melis Jaatinen
Don Bartolo: Koit Soasepp
Marcellina: Päivi Nisula
Don Basilio: Ilkka Hämäläinen
Antonio: Nicholas Söderlund
Barbarina: Margarita Nacér
Don Curzio: Aki Alamikkotervo
Peasant girls: Katriina Kerppola, Päivi Karjalainen
Mignon: Oskari Nyyssölä
Production:
Director: Anna Kelo
Set design: Jani Uljas
Costume design: Erika Turunen
Lighting design: Mikki Kunttu
Choreography Riikka Räsänen
It was ages since I saw a Mozart opera in period costumes and even though director Anna Kelo says in the programme booklet that the characters 'behave like modern people' and that she 'had no desire to micromanage every single bow and hand gesture to make them period-accurate', the viewer has a feeling of being transported back to Mozart's time. The production is very beautiful and the concluding garden scene is enthralling (unfortunately there was no photo available). Authenticity is also provided through the use of fortepiano for the recitatives. Susanna Mälkki, best known as a specialist in contemporary music, conducted with verve, although the contrasts between forte and piano in the overture seemed over-explicit.
The stage is a wide flight of stairs with a house façade on the top and behind that façade the interior of the count's castle is to be found. Don Bartolo is in a wheelchair when he appears and readers who believe this is an anachronism should be aware that wheelchairs existed more or less in the shape we know today as early as the 6th century. That Bartolo jumps out of the vehicle when he learns in the third act that Figaro is his long since disappeared son, is sheer psychology. That the countess sings her sad aria at the beginning of act II while in bed and that a naked man is also in her bed may surprise some. In the third act the man, looking like a servant, comes in again but the countess sends him away this time.
Before the overture and again before act II there were some pantomimes that I didn't see the point in, but otherwise there was a great deal of nice point-making. The acting was convincing but for some reason the first two acts felt uninspired – professional but uninspired. It was not until after the only interval that things changed and the turning point was Tommi Hakala's reading of the count's aria. His voice is rather worn these days but his acting and the intensity of his singing made the count stand out as a true human being and from that moment, further triggered by that scene when Figaro's identity is revealed, leading over to the famous sextet, the ensemble ignited and this lasted until the very end.
Not all the singing was spotless. I have already mentioned Hakala's vocal status. Jussi Merikanto's Figaro was a little lightweight though he delivered his last act aria with some bite. Nicholas Söderlund in the peripheral role of Antonio, the gardener, showed more of the power and charisma I expect from Figaro. The greatest singing among the lower male voices came however from Koit Soasepp's Bartolo. Full rounded tone, thundering fortissimos and excellent diction made his La vendetta a true highlight of the evening. This remarkable Estonian bass worked for 15 years in the business world and then one day decided to try something quite different. He started to take lessons from Jaakko Ryhänen and within a year he had made his debut at both the Estonian National Opera and the Finnish National Opera. The two tenor roles, Don Basilio and Don Curzio, are frequently played by the same singer – as was the case at the premiere in 1786, where Bartolo and Antonio also were sung by the same bass – but here the two experienced singers and actors Ilkka Hämäläinen (whom I saw as Camille in Die lustige Witwe more than six years ago) and the omnipresent Aki Alamikkotervo.
Päivi Nisula, who started as a mezzo-soprano, later changed to soprano roles and I remember her as a very good Desdemona in Otello some ten years ago. Now she has returned to the mezzo Fach and was a nice partner to Soasepp's Bartolo. Neither she nor Basilio were allowed to sing their arias in the last act but they are hardly worth the effort.
Close to four years ago Melis Jaatinen was Lucienne in Die tote Stadt in Helsinki. She was then trainee at the National Opera and the role is very small, but hearing her now as Cherubino I was able to appreciate her singing as well as acting. The teenage boy brimming over with emotions is a dream role for a young singer with acting abilities and Jaatinen drew a convincing portrait of the awkward and elegant youngster. Hanna Rantala's Susanna was pert and charming, her singing a little fluttery at times. Mari Palo impersonated a noble countess and in particular her Dove sono was beautifully sung. She also, as far as I can understand, sang Susanna's aria in the last act, dressed as Susanna – or did I miss something?
Göran Forsling
Susanna's aria was sung by Hanna Rantala dressed as Countess.
Thanks to Ann-Marie Heino
[ed]