United Kingdom Prom 59 – Strauss, Elektra: Soloists, BBC Singers (chorus master: Paul Wiegold), BBC Symphony Orchestra / Semyon Bychkov (conductor). Royal Albert Hall, London, 31.8.2014. (MB)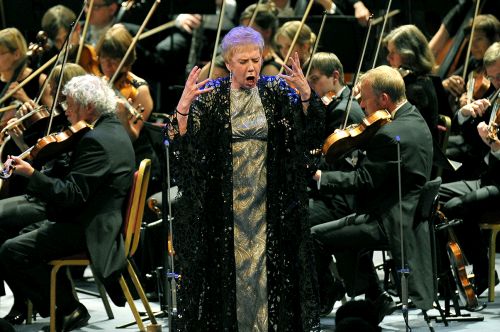 Elektra – Christine Goerke
Chrysothemis – Gun-Brit Barkmin
Klytemnestra – Dame Felicity Palmer
Orest – Johan Reuter
First Maid – Katarina Bradić
Second Maid – Zoryana Kushpler
Third Maid – Hanna Hipp
Fourth Maid – Marie-Eve Munger
Fifth Maid – Iris Kupke
Overseer – Miranda Keys
Young Servant – Ivan Turšić
Orest's tutor – Jongmin Park
Aegisth – Robert Künzli
Production:
Justin Way (stage director)
Anti-Strauss sentiment, Strauss-scepticism, call it what you will: it still runs high. In some ways, that is not a bad thing: the 'case of Strauss', which I have written about before and which I shall discuss further in a chapter of my new book, to be published next month, is complex and fascinating, and is certainly not to be resolved with a one-liner here or an affirmation or otherwise there. Strauss's æstheticism, perhaps ironically, given its insistence upon the value of art as art, leads us to greater consideration of æsthetic questions than the work of many other composers. That holds even when, perhaps particularly when, one is not of a prosecuting party ranging from Karl Kraus ('certainly more of a stock company [Aktiengesellschaft] than a genius') to Stravinsky  ('I would like to admit all Strauss's operas to whichever purgatory punishes triumphant vulgarity. Their musical substance is cheap and poor; it cannot interest a musician today.') However, even those who disdain much of Strauss's later work – often, to my mind, for less than convincing reasons – will admit their admiration for Elektra. It may not be many people's 'favourite' Strauss opera, but most, I suspect, will consider it his greatest. Adorno, who went to the extreme of claiming that 'everything that follows Rosenkavalier  is either applied or commercial art,' and who, in my view, quite wrongly, even took Strauss to task for the 'entire final section of Elektra, [in which] banality is dominant,' admitted the opera to a line of development 'from Tristan to Elektra to Schoenberg's Erwartung'.
And so, whilst in principle it was somewhat depressing that the Proms elected to perform the three most popular of Strauss's operas for his anniversary season – surely if we were to hear, for instance, Friedenstag anywhere in this country, it would be here – it was difficult, both in principle, and certainly in practice, with so fine a performance, to object too strongly, or indeed at all. Justin Way's semi-staging worked as well as it had for the Proms Ring last year. Often, though not slavishly, following Hofmannsthal's explicit directions – Elektra and Klytemnestra did 'stand eye to eye', and to very good effect – it permitted the work to 'speak for itself', although in any case it generally does in full stagings, which tend perhaps more strongly to resemble one another than do those of any other opera that springs to my mind.
As with that Ring, the orchestra took centre stage, the BBC Symphony Orchestra on excellent form throughout. (The occasional moment of tiredness towards the end can readily be forgiven for any orchestra.) And likewise, we were fortunate indeed in the choice of conductor: Daniel Barenboim for the Ring; for Elektra, Semyon Bychkov, who was, if memory serves me correctly, the first conductor I heard in this work. Yet that should not be taken, any more than it had with a Ring that included Nina Stemme and Andreas Schager, to imply a downgrading of the vocal element. In proper Wagnerian style – and in this, if avowedly not with respect to metaphysics, or the lack thereof, Strauss remained a Wagnerian through and through – the various elements of the performance, even in a minimal staging, strengthened one another.
That could be heard in the first scene, in which a very nicely differentiated group of maids interacted with flickering intensity with conducting which really did emphasise that clichéd taking after Mendelssohn's fairy music. The foresight of the Fifth Maid, Iris Kupke, was experienced as much in performance as in work. Miranda Keys's Overseer was again well differentiated, though not exaggeratedly so, from the 'mere' maids. And then, in what might call the 'interlude' in which Elektra emerges from the house, Bychkov ensured that Strauss's waltz writing disconcertingly reared its head and pointed ahead.
Christine Goerke's Elektra announced herself in deeper voice than one often hears: more feminine, less harpy, though so certainly not lacking in volume where necessary. Sepulchral trombones complemented her lament, intensifying those baleful calls of 'Agamemnon' that were to follow. Throughout her lengthy soliloquy, Bychkov conjured up – and the BBC SO delivered – a truly Straussian orchestral phantasmagoria, in colour and in harmony. 'Agamemnon! Vater!': the orchestra sent shivers down the spine. But equally compelling was the tenderness from Goerke and orchestra alike, never more so than after 'zeig dich deinem Kind!' A daughter's affection may have been twisted but, on one level, it remained childishly simple. Rhythmic and melodic details, for instance the baying of the dogs, both made their point in themselves and, when it came to material to be developed later on, sowed their musico-dramatic seeds with both mystery and expectant, fatal clarity.
The following scene, with Chrysothemis, was interesting. Elektra's blood-curdling 'spaltete dein Fleisch' stood at one extreme. The flowering, in more than one sense, of Gun-Brit Barkmin's Chrysothemis intrigued, if anything, more still. During her first lines, I wondered whether Barkmin would prove a little underpowered, even anonymous. But, as a panoply of woodwind colour to rival the composer's 'Indian summer' worked its queasy magic, it became clear that this was a sister who would grow into her role at the crucial point: the voicing of what, in context, seems her very weird – or is it very 'normal'? who knows any more? – obsession with child-bearing. Thereafter this was a woman indeed.
A woman indeed of a different nature is Klytemnestra. Her orchestrally-voiced arrival sent shivers down the spine, enhanced or perhaps 'realised' by Felicity Palmer's splendidly grande-dame procession. If Palmer's voice is vocally not what it was, it frankly mattered not a jot. But whilst this extraordinary confrontation worked itself out in words and singing, the orchestra broadened our terms of musical reference. You, yourself are a goddess, Elektra told her mother. What, then, did it mean to hear apparent echoes of Siegfried's 'Forest Murmurs'? Well, there is honesty in the German forest, but there is also redress, as Mime would find to his cost. The malevolent replanting of those Wagnerian seeds was suggestive, whether coincidental or otherwise. Fafner-like brass deepened the very real agony and sickness we heard from Palmer's magnificently attentive outlining of that 'Etwas' which had fallen upon her. As for the intensity and sheer volume with which Goerke despatched 'ich steh' da und seh' dich endlich sterben' and likewise 'der jauchzt und kann sich seines Lebens freun!' What can one say other than superlative? Perfectly matched, by the way, by the orchestra as they stood, in that aforementioned scene, 'eye to eye'.
Brittle, sardonic, orchestral mock-heroism 'accompanied' the appearance of the Young Servant. Sheer orchestral depravity 'beautifully' captured, in all its bizarre mixture of sincerity and insincerity, Elektra's hymn to her sister's female form. And finally, the relief of Orest's arrival: not quite the first male voice but, my goodness, it sounded as if it were! Johan Reuter's delivery of this difficult role brought bluff anger rather than the more 'intellectual' approach of a Matthias Goerne. There is room for both, but here, Reuter felt 'right'. The final recognition hit as it should: a truly shattering dissonance on Elektra's 'Orest' would be followed up by too beautiful remembrance of her former self, bathed in a narcissism that seemed almost literally, or at least verbally, skin-deep.
I do not know whether Palmer delivered her own off-stage scream. Whoever did it deserves mention in her own right, for it vied with the orchestral response – and Goerke's truly terrifying steely response: 'Triff noch einmal!' No compassion here, thank you. Again, Strauss's insidious waltzing proved thematically, dramatically pregnant in the scene with Aegisth (a competent but less than exciting Robert Künzli). Rosenkavalier seemed less around the corner than already present as, following Elektra's strange courtesies, he entered the house.
Somehow, the voices of the BBC Singers seemed more than usually akin to Elektra's 'voices' in a psychological sense. It was probably partly a matter of not seeing the singers, perhaps also a matter of the acoustic. Whatever the reason, it added an interesting, appropriately psychoanalytical deadliness to the final events. The insincerity, in context, of C major may here have been Strauss's – and Bychkov's, and the orchestra's – crowning achievement. To speak, as Adorno did, of the discontinuity 'between the wildness of most of Strauss's music in Elektra and its blissfully triadic conclusion' seems at the best of times wilful. Blissful? About as much as Handel's use of the major mode in the 'Dead March' from Saul. After a brief period of 'release' with a 'true' operatic duet between the sisters, there came the final dramatic bludgeoning. And Elektra fell as shatteringly on stage as she did in the orchestra.
Mark Berry