Italy  Rossini Opera Festival ROF (1)Rossini, Mozart, Beethoven, Donizetti, Auber, Gounod and Zarzuela, Juan Francisco Gatell (tenor) Beatrice Benzi (piano)  Auditorium Pedrotti, Pesaro 18.08.2014 (JB)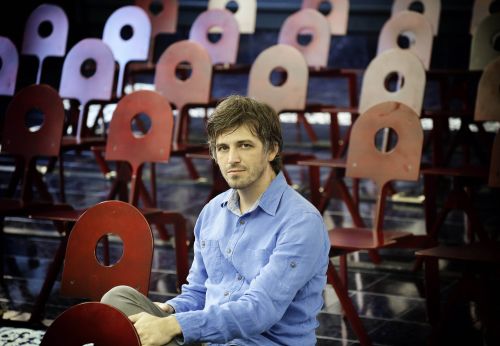 Anyone lucky enough to have seen Juan Francisco Gatell on stage will be acquainted with his total involvement, his profound depth in the psychological characteristics of the roles he plays – the same as what is called method acting, as best shown on today's cinema screens by Daniel Day Lewis. Those attributes were all on display at this recital. There is a sense in which the whole recital could be enjoyed as a kind of trailer for his most famous roles: the two arias of Don Ottavio, Ernesto's from Don Pasquale and Nemorino's Una furtiva lacrima  from L'elisir d'amore.
After the recital I was cheeky enough to tell him that I had been enthralled (almost!) throughout.  I also said I was disappointed. Why? I said, Because we all know you sing this repertory as well as anyone.  But on today's vocal scene there is no vocal art so well placed as yours to sing the songs of Fauré and Reynaldo Hahn.  Or in your own language, the folk-song arrangements of deFalla and Granados.   It's true that no one will ever surpass the vocal charm of Conchita Supervia on these last but Gatell is worthy to stand alongside this lady in this art.  (He should also get his pianist to listen to her accompanist –Frank Marshal –for one of the greatest voice and piano recordings in the industry's history.)
His operatic numbers involved some darting round the stage. But the athleticism is always full of grace (a separate business from gracious), poised as well as timed to perfection. And he was born to be the operatic, heroic tenor. The slender frame and fine cheeks would have been a gift to the Renaissance portrait painters of Spain.
Interleaved between the operatic numbers were a number of pieces of shall-we-say slighter consequence. But pieces of slight consequence often call for vocal charm –an area in which Gatell is well endowed. When it came to the Zarzuela of the encores –music which sounds as though it comes from the depths of his blood stream- the charm was amply displayed.
But for the two Rossini Péchés de vieillesse he dived behind the piano to retrieve a music stand and struggled with some woefully inadequate sight-reading. I remember Elizabeth Schwarzkopf's inability to recall the words of the lieder in the last years of her recitals when she would furtively glance at a little notebook concealed in a tent-like dress. But Gatell was cheeky in his inadequacy, which he made no attempt to conceal.
All the same, the first (opening) Rossini song –from volume 111 –Ariette a l'acienne -introduced us to Gatell baritone: fine, firm tones which led me to wonder if he first secured the voice at this pitch, then pushed it up to tenor where he found it worked even better. That is exactly what happened to Enrico Caruso, the greatest of them all.
Two Beethoven numbers (Quattro ariette e un duetto Op. 82) were the most unpardonable musical trash. Gatell must know that not even his vocal charm could save them, and that in fact they should have been left where he found them: in music's wastepaper basket.
There was some fine playing from Beatrice Benzi, for many years an official accompanist of La Filarmonica della Scala. She was also well illuminated from the audience. Juan Francisco Gatell sang in the shadows. Have the ROF lighting chaps got something against this magnificent tenor?
Jack Buckley