United Kingdom Rossini, Il barbiere di Siviglia: Cast; Chorus & Orchestra of the Royal Opera House, Covent Garden/Sir Mark Elder (conductor), Royal Opera House, Covent Garden, 29.09.2014 (CC)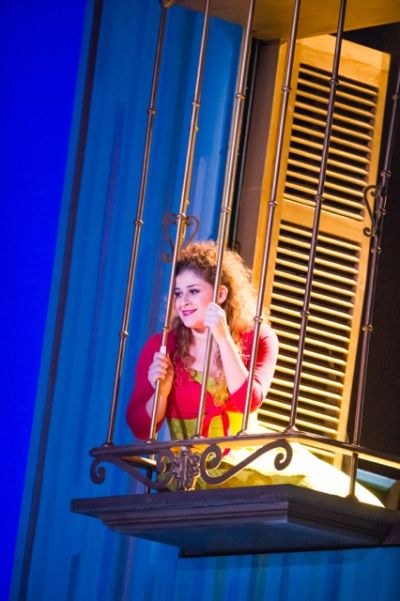 Cast
Figaro: Lucas Meachem
Count Almaviva: Michele Angelini
Rosina: Serena Malfi
Doctor Bartolo: Alessandro Corbelli
Don Basilio: Mauruzio Muraro
Berta: Janis Kelly
Fiorello: Wyn Pencarreg
Ambroglio: Jonathan Coad
Officer: Donaldson Bell
Notary: Andrew MacNair
Production:
Directors: Moshe Leiser and Patrice Caurier
Revival Director: Thomas Guthrie
Set Designs: Christian Fenouillat
Costume Designs: Agostino Cavalca
Lighting Design: Christophe Forey

This production of Rossini's ever-popular Barbiere has a very special resonance in the contemporary opera world, for it is the one in which Joyce Di Donato famously injured herself during a performance and bravely soldiered on, singing ensuing performances, from all accounts, in a wheelchair. No such mishaps this time, but an event, certainly; and perhaps a star is born.
But first, the production, by Patrice Caurier and Moshe Leiser. They portray a wonderful otherland, almost fairytale in its stunningly simple use of colours (lighting design, Christopher Forey and the way that the set (a huge box on the main stage) can tilt and turn in a swooning, drunken fashion to represent the confusion of the characters and, indeed, the plot. This is the third revival of this production (first seen in 2005). The staging itself provides huge delight, from the preternaturally large crescent moon to the way doors and windows can suddenly appear from the set (and equally suddenly disappear).
Mark Elder is an old hand at the Italian core repertoire, and his experience showed. He takes a slimline approach to sonority, minimising string vibrato and enabling the true transparence of Rossini's orchestration to shine through, while in the process imparting a palpable freshness. And yet, Elder's tempi could tend towards slowness, on occasion robbing the music of its comedic momentum.
It was an evening of debuts: Figaro, Count Almaviva, Fiorello and Rosina all took first blood at Covent Garden, while the Don Basilio and the Berta made role debuts here. And by far and away (and without minimising the achievement of the others), the triumph of the night was the Rosina of the young Serena Malfi, who has taken this role previously in Berlin (State Opera), Zurich and Madrid. She has played Despina (Così) at La Scala and later this year will make her Met debut as Cherubino, where she will share the role with Isabel Leonard. She enjoys tremendous stage presence (her looks don't hurt, either), but within a second of hearing her it is clear she is to be a major presence on the international opera stage. It is not stretching a point to compare her with the young Bartoli in terms of sheer talent. Her voice seems to have no weakness, her lower register is perfectly strong and fully formed with no sense of strain. Much the same could be said of her higher reaches. Her "Una voce poco fa", impeccably accompanied by Elder and his forces, was the turning point of the evening, when an already enrapt audience moved into a new sphere of involvement. Investigation of her website (http://www.serenamalfi.com) reveals this to be no flash in the pan – there is evidence a-plenty of raw talented honed at Rome's Accademia di Santa Cecilia. Technically there is nothing left to add: decorations were impeccably executed, with every note audible (at any velocity), pitching perfect (whatever the demanded leap). There is a lyrical core to her singing that promises much.
Another Covent Garden debut artist, Michele Angelini gave a fine account of the Count, with a nicely lyrical and heartfelt "Ecco rodent in cielo". If his passagework was (retrospectively heard, certainly) less perfect than Malfi's, he projected a believably virile specimen. Less impressive, perhaps, was American baritone Lucas Meachem's Figaro (he will sing Marcello in La Bohème later this season at the Royal Opera), who, while technically accurate and perfectly acceptable in all ways, nevertheless exuded less stage presence than his comrades. So it was that his "Largo al factotum" failed to ignite. Perhaps he is over-familiar with the role? (He has recently performed Figaro in San Francisco, Vienna and San Diego).
Not everyone was new, though. It always seems to be a treat to see the veteran buffo baritone Alessandro Corbelli, whose Sulpice (Donizetti Fille du régiment) has already done the rounds and captured the hearts of the entire opera-going universe. Here, as Doctor Bartolo, he seemed to take a while to settle in, his act one "A un dotter della mia sorte" finding him not yet completely inside the role.That said, he was fully back on form for the Act 2 Duetto, "Pace e gioia sia con vii" with the Count. Italian bass Maurizio Muraro's role-debut Don Basilio was a strong assumption, his "La calumnia" delivered with core strength (Muraro also sings Jacopo Loredano I due Foscari later in the season; he has sung Basilio previously for San Francisco and the Deutsche Oper Berlin).
In the lesser roles, Janis Kelly, last seen by this reviewer as Hazel George in Glass's The Perfect American over at St Martin's Lane,  was a strong Berta, Andrew MacNair a characterful Notary. The Covent Garden Chorus was in fine fettle – and who wouldn't have a ball with a production such as this? It must be an unalloyed joy to participate.
Colin Clarke