Tchaikovsky, Charodeyka: Soloists, ORF Radio-Symphonieorchester Wien and Arnold Schoenberg Chor conducted by Mikhail Tatarnikov. Theater an der Wien, Vienna. 23.9.2014 (SS)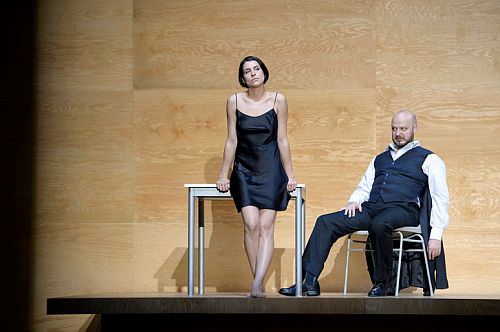 Cast:
Prince Nikita Kurlyatev: Vladislav Sulimsky
Princess Yevpraksiya Romanovna: Agnes Zwierko
Prince Yury: Maxim Aksenov
Mamïrov: Vladimir Ognovenko
Nenila: Hanna Schwarz
Ivan Zhuran: Martijn Cornet
Nastasya, known as 'Kuma': Asmik Grigorian
Foka: Martin Snell
Polya: Natalia Kawałek-Plewniak
Kichiga: Nikolay Didenko
Balakin: Erik Årman
Payísy: Andreas Conrad
Potap: Stefan Cerny
Lukasch: Vasily Efimov
Kudma: Martin Winkler

Production:
Director: Christof Loy
Sets: Christian Schmidt
Lighting: Bernd Purkrabek
Choreography: Thomas Wilhelm
The Enchantress numbers among Tchaikovsky's operatic efforts which have struggled to find a foothold in the repertory, and counts as a bit of an outlier even for the Theater an der Wien – a house which devotes considerable resources to the art form's margins. This Austrian premiere ups the ante by performing Tchaikovsky's longest score in what the production team speculates is the least cut version ever.
Luckily, the evening's three and half hours lived up to the opera's title: the 1887 score is vintage Tchaikovsky and ravishes accordingly. The orchestral introduction and Act I arioso of the titular enchantress share a protean folksong-inspired melody supported by simple diatonic harmonies, and in the arioso's paean to the river Volga, soprano Asmik Grigorian and the Radio-Symphonieorchester Wien gelled excitingly, bringing this pensive tune to a rolling climax which felt fittingly tidal. Other set pieces follow suit with their own unusual culminations: an elaborate a capella dectet to cap one of the big choruses (for which the Arnold Schoenberg Chor rose superbly to the occasion), wrenching harmonies for the Act III duet between enchantress Kuma and young prince Yury, and at the end, a hell-raising and musically radical tempest which rouses thoughts of Scriabin and Stravinsky (curiously, Stravinsky's father sang the role of Mamïrov at the opera's premiere). Elsewhere there's thrillingly potent music for the opera's Ortrud-like mezzo, and while everything which isn't high drama is either folkloric or lyrical, the contrasts flow naturally. White-hot conducting would be one way to hear it, but Mikhail Tatarnikov's less obtrusive approach conveyed the sweep of the score satisfyingly. The opulent orchestration shimmered nicely too.
The plot reverses a key environmental element of Eugene Onegin: here, the ruling elite comes to the country, where a mysterious innkeeper known by various names (Kuma, Nastasya, Charodeyka) holds sway over local life. In deepest Russia sometime during the 15th century we are worlds away from Tchaikovsky's St. Petersburg operas and it shows in the concerns of local potentate Prince Kurlyatev, who visits to investigate rumours that Kuma bewitches hapless men ('sorcery' being rather euphemistic for 'loose morals') and promptly becomes besotted himself. Kuma lets him down gently with a good old Nizhny Novgorod booze-up, to the chagrin of Kurlyatev's humorless flunkey Mamïrov, who is incensed when forced to join in the drinking and dancing.
Mamïrov alerts Kurlyatev's wife – the Ortrud-like mezzo – to the goings-on at the inn. Her son Yury then vows to kill Kuma but instead falls for her himself, only for the opera's dippy final ten minutes to thwart their elopement with a bloodbath: Yury's mother poisons Kuma, Yury gets stabbed by his jealous father, and 'overcome with remorse and terror,' as Rosa Newmarch's quaint translation of Modest Tchaikovsky's biography puts it, Kurlyatev 'falls down in a mortal swoon'.
Director Christof Loy presents these events in the most matter-of-fact style conceivable. Set in modern dress in a pinewood box with just a dais and a couple of landscape flats for scenery, his production avoids any serious appropriation of Russian identity or symbols (there is a bear which lingers enigmatically into the final act, but Reagan's 'bear in the woods' it is decidedly not). Given Russia's present ubiquity in the news and a media tendency to smudge complex distinctions between Putin's polity and wider civil society, this is perhaps no bad thing. Neutralizing the Russian element is Loy's biggest statement too; while the cast and chorus have been given detailed, vivid direction (this staging is thoroughly professional and doesn't drag at all), the whole does not aspire to psychological realism. That being said, it feels in no way like a hollow shell, as productions with no point of view can end up being. In an improvement on La donna del lago, Loy's last staging for the Theater an der Wien, it doesn't try too hard to be liked either.
This performance elapsed with no unambiguous incidents of show-stopping singing, but the cast was more than solid. Asmik Grigorian sounded similar to when I heard her in Graz a few seasons back (singing Lisa in a Peter Konwitschny production of The Queen of Spades). Her big instrument rises over the orchestra with ease, but softer passages reveal a youthful, almost treble-like timbre underneath. Some astringency at the top notwithstanding, it's a contrast made for that Act I arioso and exploited well by Grigorian elsewhere too. The insipid tenor prince and jealous baritone suitor mostly conform to stereotypes and are the least interesting roles; Vladislav Sulimsky's Kurlyatev was perfectly fine, but the cataclysmic finale puts the pit ahead of the character, and even the minor part of Mamïrov has more memorable moments (Stravinsky père's indignant 'to force me to dance' was reportedly scene-stealing, and in this respect Vladimir Ognovenko's mightily peeved Mamïrov did not disappoint). Maxim Aksenov put in a valiant effort as the young prince and made it through the tortured ecstasies of the love duet (just about) in one piece, but the role calls for more heroic tone than his light-voiced tenor manages. Mezzo Agnes Zwierko's careening through register breaks and not always landing smoothly didn't seem entirely inappropriate for the unhinged Princess Yevpraksiya. While the voice can seem ragged and not terribly distinctive, Zwierko has a certain magnetism and relished this over-the-top character. Of the smaller roles, Martin Winkler took great amusement in basically appearing high on woodland fungi as poison vendor Kudma.
Honest, unshowy performances and a restrained production effectively put this neglected work centre stage, where it holds its own. Here's hoping against hope that more houses might give Charodeyka a chance.
Seb Smallshaw