Austria Tchaikovsky: Yevgény Onégin. Soloists, Peter Valentovic (conductor), Wiener KammerOrchester. Kammeroper, Vienna. 4.10.2014 (SS)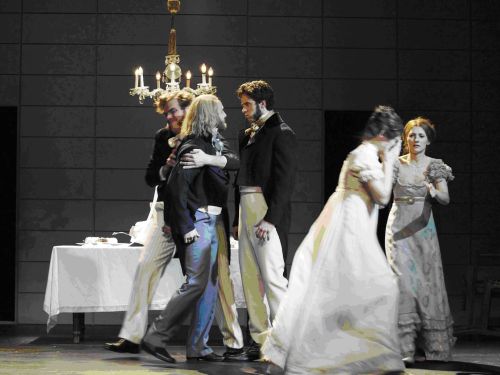 Cast:
Tatiana: Victorija Bakan
Olga: Natalia Kawałek-Plewniak
Onegin: Tobias Greenhalgh
Lensky: Vladimir Dmitruk
Prince Gremin: Christoph Seidl
Actor: Thomas Engel
Production:
Director: Ted Huffman
Sets: Samal Blak
Lighting: Norbert Chmel
Vienna's Kammeroper reopened two years ago as the Theater an der Wien's studio annexe, with a stagione season of 5-6 new productions representing continuity with the old Kammeroper as well as symmetry with the new parent house. The one much-fanfared change was the launch of a young ensemble drawn to Vienna by the deal of a two-year contract, leading roles in the small house, and smaller parts in the main house. With farewells said to the maiden ensemble back in July, it's time, figuratively speaking, to take down the 'under new management' signs.
This season opener of Eugene Onegin, pared down to the five main figures, served as a sketchy introduction to the soprano, baritone, tenor and mezzo assets of the new intake. Jonathan Lyness's chamber reduction was cut further to remove the chorus scenes and minor roles, and what was left rather skated over the opera, with Onegin seeming more peripheral than usual even though less of his music was cut than Tatiana's. The overall musical impression was of a vocally competent but standard-issue Onegin; negligible moments of strain aside, Victorija Bakan's Tatiana and Tobias Greenhalgh's Onegin were the embodiment of standardized professionalism. This production did a lot to humanize Gremin and that was carried through in Christoph Seidl's almost chummy delivery of his aria; no suggestion of 'hands off my wife' here. Natalia Kawałek-Plewniak's was the least neutral-sounding voice, which made rather a highlight of Olga, while Vladimir Dmitruk's Lensky fitted in more with Bakan and Greenhalgh, offering limited dynamics and hues of timbre in his 'Kuda'. The monochromatic portions of the singing perhaps had something to do with how unremittingly full-voiced it all was, in a way which sounded settled on by cast and conductor but was overkill for the tiny Kammeroper. No singer ventured a piano, and the performance would have been less featureless with more dynamics in general.
Lyness tinkers with Tchaikovsky's doublings (the flute an octave lower than the clarinet where possible) and adds some of his own (viola with the cello in 'Kuda') to bulk up the texture, while having the harp support the strings. Brass is reduced to one hornist with the missing parts filled in by the clarinet and bassoon. These workarounds are impeccably judged and the 12 members of the Wiener KammerOrchester sounded like a much bigger force, although fullness from the winds was not quite matched by the string quintet. Apart from the futility of wanting two violins to aim for the smouldering intensity of a regularly orchestrated Onegin, Peter Valentovic's conducting was sure-footed.
Ted Huffman's sparse production takes place around a table, with the public scenes of duel and ball moved upstage, and the only other scenery is a back wall with advent calendar windows which come into their own throughout the evening. Costumes and glued-on sideburns are 19th-century traditional but in a style which looks more specific to a production of Werther (or indeed Philipp Stölzl's hilariously bad 2010 biopic, Goethe!). The Personenregie efficiently followed the norms of a mainstream staging except for Tatiana not seeming to show even a coy interest in Onegin, so the letter scene came a little out of nowhere. Filling in some of the minor roles, Gremin sang much earlier as one of Tatiana's birthday guests and also Zaretsky, Lensky's second at the duel. Huffman used this opportunity to establish a backstory with Tatiana and Onegin, suggesting that whatever Onegin's despair at the end, Tatiana has ended up with a husband who adores her.
The one departure from convention was the addition of a silent actor in contemporary clothing easily mistakable for an older Onegin, there to look back on and be conflicted about his treatment of Tatiana and Lensky. It's a conceit which popped up in a slightly different guise in Stefan Herheim's production for the Dutch National Opera, although Huffmann's director's note states that the character represents the first person narrator from Pushkin's novel. Actor Thomas Engel did a lot of heavy lifting, acting-wise, and was very watchable but not particularly sardonic or worldly-wise, as Pushkin's narrator is. Huffman also calls on him to be a stagehand-cum-butler, laying tables and assisting with costume changes using props and clothes helpfully supplied by the advent calendar. I lost count of how many doors Engel opened, probably more than 24, and it got a bit much as he began opening bigger doors for singers to enter and exit from. Oblivious to the busy hum of invisible labour surrounding them, the characters looked immensely, almost offensively privileged. I don't think this was particularly Huffman's intention.
Seb Smallshaw