United Kingdom Coleman & Stewart, Barnum: Musical Director: Ian Townsend, Cliffs Pavilion, Southend, Essex, 30.9.2014. (JPr)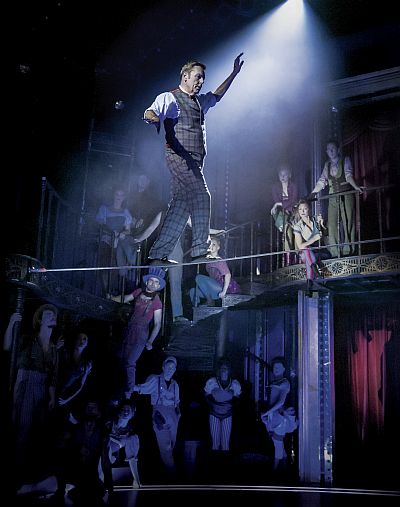 Cast
Brian Conley: Phineas T Barnum
Linzi Hateley: Chairy Barnum
Kimberley Blake: Jenny Lind
Landi Oshinowo: Joice Heth/Blues Singer
Tom Thumb: Mikey Jay-Heath
Ringmaster/Bailey: John Stacey
Company
Production
Music by Cy Coleman (orchestrated by William David Brohn)
Lyrics by Michael Stewart
Book by Mark Bramble
Revised version by Cameron Mackintosh and Mark Bramble
Choreographer: Andrew Wright
Director: Jean-Pierre Van der Spuy
Scenic Design: Scott Pask
Associate Scenic Design: Lone Schacksen
Costume Design: Paul Wills
Tour Lighting: Richard Pacholski and Simon Sherriff
Musical Supervisor: Stephen Brooker
About 20 years ago I enjoyed seeing Brian Conley as Al Jolson in a musical based on the life of one of America's celebrated entertainers of the twentieth-century. Although he has done many wonderful things in the intervening years Barnum is the first thing I have seen him in on stage since then and this too is about another showman, probably the World's greatest ever. Now that few people over the age of 30 appear on TV in entertainment shows Conley is not seen as much as he once was yet deserves to be, because whilst he – as Americans would say – is a true Vaudevillian: he doesn't seem that 'old-fashioned' and is perfectly able to connect with younger, as well as, older members of his audience. To be truthful Barnum – a musical I have somehow managed never to have seen before since it first was put on more than 30 years ago – is just Jolson with circus and is a perfect vehicle for Brian's Conley crowd-pleasing talents.
Who was Phineas Taylor Barnum? Well as PR guru Mark Borkowski's essay in the lavish souvenir brochure explains, 'He was a showman, investor, entrepreneur and marketing genius. He was an outspoken critic of slavery … a possible presidential candidate; and a tireless philanthropist. At 12, he was selling lottery tickets. When he was 25, he exhibited a woman called Joice Heth, whom he was reliably informed had been George Washington's nurse … which would have made her 161 years old … He created Barnum's American Museum in New York [a display of wonders, monstrosities and curiosities]; he turned an elephant from London Zoo into an international superstar; and he created the Greatest Show on Earth … then the largest circus venture in American history.' Despite philandering with the famous soprano 'Swedish Nightingale' Jenny Lind he returned to his long-suffering Chairy – who as Cameron Macintosh writes – 'was 'the "rock" who enabled his dreams to come true' and he died America's richest man. The phrase 'there's a sucker born every minute' is wrongly attributed to him when he much preferred 'every crowd has a silver lining'. All this and more we get in Barnum that gives us a glimpse of how he became the world's leading purveyor of humbug – a word we hear time and again.
The show's focus is primarily on the loving relationship between Barnum who is always willing to risk everything on a whim and Chairy, his faithful and more risk-averse wife. It seems heresy but in fact Mark Bramble's book (despite having been revised) is rather weak and the Michael Stewart and Cy Coleman songs are unmemorable apart from the one real showstopper 'Come Follow The Band'; the only one you might go into or certainly will come out of the theatre humming. What – almost alone – makes Barnum worth reviving is having Brian Conley as a worthy successor to Jim Dale and Michael Crawford in the title role. He has the twinkle-in-the-eye sense of fun, the hutzpah and sublime talent of an extraordinary showman capable of bringing another of an earlier century to believable life; whether performing sleight of hand, balancing on stilts, fire eating or walking on a tightrope a few feet off the stage floor and without a safety wire. The revision of the book by Cameron Mackintosh and Mark Bramble has apparently strengthened 'musically and dramatically' that central relationship between Phineas and Chairy and – although I have never seen the musical before – probably now gives greater emphasis in the second act to his role as a politician and social reformer. It does give Conley his finest moment in the show that reveals he is not just a song-and-dance funny man but also a fine actor as he revels genuine despair over Chairy's death.
The possessor of a beautiful singing voice Linzi Hateley as Chairy is another interesting performance and she plays the straight-laced Mrs Barnum with wit and elegance. The great chemistry between her and Conley's P T Barnum makes her loyalty to him – and their love – totally plausible and adds to the pathos of his lament when she dies.
Kimberley Blake is another fine singer and she brings a suitable haughty foreignness to the flighty Jenny Lind; Landi Oshinowo had much fun with the venerable Joice Heth's 'Thank God I'm Old' and Mikey Jay-Heath brought a normal sized Tom Thumb (who was actually 24 inches tall) to exuberant life against long-legged British Guardsmen on stilts during 'Bigger Isn't Better'.
Jean-Pierre Van der Spuy's re-direction of this revival of Barnum first seen last year at the Chichester Festival Theatre (directed by Timothy Sheader and Liam Steel) is imaginative and fills the stage – aided by Andrew Wright's hyper-active choreography – enabling it to release all this show's potential to excite through brightly-coloured short scenes that quickly flash by. Pretty girls with hoops or ribbons, jugglers, balancing acts, aerialists, mimes are all present from the moment the audience find their seats to bring us a typical Cameron Mackintosh-inspired theatrical extravaganza to which the lighting, set design and colourful costumes adds an evocative hint of a bygone era and the magic of circus.
Apparently the lack of depth to the performing space at the Cliffs Pavilion banished musical director, Ian Townsend, and his other 10 valiant musicians to an area below the stage but they were still able to give a very accomplished – and completely creditable – rendition of Cy Coleman's almost relentlessly upbeat score.
One of P T Barnum's famous saying was 'Whatever you do, do it with all your might. Work at it, early and late, in season and out of season, not leaving a stone unturned, and never deferring for a single hour that which can be done just as well now.' Although this musical is more than just a one-man show this neatly sums up Brian Conley's virtuoso performance in Barnum.
I can never tire of writing what a pleasure it often is to see something like this at the Cliffs Pavilion in Southend, especially because it is on my doorstep and eliminates the need for a long slog by train or car to London or elsewhere. It is apparently the largest purpose-built performing arts venue in Essex and is to be found on a promontory overlooking the sea. The Cliffs has a certain steely-grey stateliness – and especially when you are inside – the facilities make you think you are on a modern cruise ship. This is quite apt because most of its regular audience seems drawn from an older generation and would therefore feel thoroughly at home in this ambiance. Though its name suggests a Victorian seaside theatre, possibly at the end of a pier, that itself – and the entertainment it provides – has seen better days, you cannot be further from the truth. With a full calendar of entertainment including its popular pantomime, symphony orchestras, opera, ballet, comedy, West End musicals, plays and some of the world's greatest headline acts … there will be something on for everyone all year round.
Jim Pritchard
For more information about the current 2014/15 Barnum tour visit http://www.barnummusical.com/
For what to see at the Cliffs Pavilion and Westcliff's Palace Theatre visit https://southendtheatres.org.uk/.