United Kingdom Massenet, Manon: Dancers of The Royal Ballet, Orchestra of the Royal Opera House Orchestra / Martin Yates (conductor). Directed for the screen by Ross MacGibbon and broadcast to the Ham Yard Hotel, Soho, London. 16.10.2014. (JPr)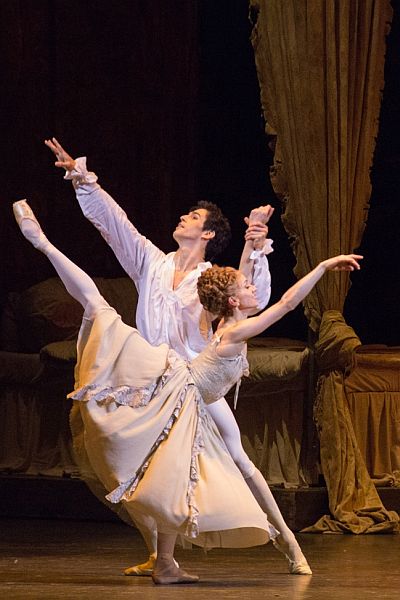 Cast
Manon: Marianela Nuñez
Des Grieux: Federico Bonelli
Lescaut: Ricardo Cervera
Monsieur G.M.: Christopher Saunders
Lescaut's Mistress: Laura Morera
Madame: Elizabeth McGorian
Gaoler: Gary Avis
Beggar Chief: James Hay
Production:
Choreography: Kenneth MacMillan
Orchestration: Martin Yates
Designs: Nicholas Georgiadis
Lighting design: John B. Read
I must start with the best moment from the backstage films that accompanied this live relay of Manon and that was when Lady Deborah MacMillan, the choreographer's widow, was recalling how she was often asked who her favourite Manon was, and she got so fed up she answered as a joke that the movement was 'all worked out on me at home in the nude' … and it was published! More significant was how Sir Kenneth's obsession with ice skating was the inspiration behind all the swirling pas de deux; Darcey Bussell – herself a fine Manon but clearly awe-struck discussing the role with Lady MacMillan – concurred that she had 'literally to glide along the floor in every slide and every lift.' (A full version of this fascinating interview is apparently available for download on the ROH website in their Manon Digital Programme.)
This story of Manon originated in a 1731 novel by Abbé Prévost; she is a young woman who cannot decide between the genuine love of the penniless Des Grieux or the luxury offered by a rich roué Monsieur G.M. whom she doesn't love. The setting is eighteenth-century Paris where it seems people were either rich and powerful, taking a keen interest in the lives of the demi-monde, or poor and destitute where criminality or prostitution were their only escape routes. As Jann Parry's programme note explained: 'The ballet's setting, lavish though it appears, exposes these contrasts. Behind each change of scene hangs a background of rags; urchins scrabble for coins as women parade their finery, acquired in exchange for sexual services. Everyone has a price.' Manon seems to be on a loser whichever option she chooses; her choice to eventually flee Paris after a series of unfortunate events – including helping Des Grieux cheat to win money playing cards and then the death of her pimp-like brother Lescaut- has fatal consequences. Weak and emaciated, she will die in the arms of her lover.
This three act narrative ballet begins in the bustling courtyard of an inn near Paris and ends in the murky swamps of Louisiana. Along the way there is everything you would find in a modern soap opera but with infinitely better dancing! There is stealing, illicit love, jealousy, murder, wrongful conviction and sexual abuse. It is the sort of dark story that greatly appealed to Sir Kenneth MacMillan and had a far-from-happy ending that is unusual if compared to many popular fairytale ballets. This version of Manon is celebrating its 40th anniversary and looks rather tame and dated at times now and it is difficult to appreciate – as Jann Parry again recalls – how outrageous it seemed in the 1970s; apparently according to The Guardian 'Basically, Manon is a slut and Des Grieux is a fool and they move in the most unsavoury company.'
Many ballerinas – including Darcey Bussell obviously – view dancing Manon as a highlight of their career, as the character has to be (as explained elsewhere in the printed programme) 'an ingénue in Act I, queen of the demi-monde in Act II, or destitute convict in Act III'. Putting it even more simply she must be coy, naively flirtatious, express deep love … and then die convincingly. Most of this Marianela Nuñez seemed to do very well, her acting and dancing was natural and unforced and her fluid arms and the crispness of her leg and footwork shone through all she did. With her chopped hair and ragged clothes, she was barely recognisable as the same woman who luxuriated in being draped in expensive furs and jewels in Act II. Whether revelling in being alone with Des Grieux in his bedroom or having to endure the brutal rape by her prison guard at the Louisiana penal colony – in the most dramatically plausible scene of the entire ballet with Gary Avis's lascivious Gaoler – Nuñez's interpretation was compelling and I could not take my eyes off her. This of course was help by the close-ups allowed for in the cinema relay by Ross MacGibbon's camera direction. Unfortunately Marianela Nuñez never convinced me that she was ever on her way to a convent – as she is supposed to be in Act I – and oozed sex until she finally succumbs in Act III.
The Royal Ballet seem to have a surfeit of leading female dancers at the moment but the men that I get to see in these live cinema broadcasts are not always so strong. Here Federico Bonelli – fine technical dancer as he seems – was not a great actor and had one facial expression all evening right up until he wailed over Manon's death in his arms as the curtains closed the final time. He looked the same whether it was the euphoric love duets or his reflective solo moments. For me there was a lack of real passion in the famous Act I bedroom scene and they seemed just like a brother and sister mucking around. Ricardo Cervera was better as Manon's conniving brother Lescaut who is willing to make a profit from his sister's virtue. This thoroughly despicable character is given a cleverly choreographed drunk scene in Act II – that seems to come from an entirely different ballet – as he tries to partner Laura Morera who was excellent as his mistress. Every step Lescaut takes is off balance, but Cervera – as a more than capable dramatic dancer – expertly timed each step. He is also later given a swordfight that seems to have been lifted from Kenneth MacMillan's earlier Romeo and Juliet.
Christopher Saunders was the aristocrat Monsieur G. M. and his haughty bearing left no doubt that he was used to getting whatever he wanted. When he was with Manon – the woman he desired and cynically bought – he lost control and could hardly keep hands off her and his pawings and foot fetishism was suitably distasteful. Elizabeth McGorian also stood out in the smaller roles as a suitably elegant, yet unscrupulous, Madame.
Manon's choreography ranges from complicated lower body work, as well as, some extravagant lifts to the rolling, dropping to floor and leaping choreography of the townspeople and beggars, with a number of those slides and glides (as Darcey Bussell called them) for both the principals and the corps de ballet. Throughout Kenneth MacMillan conflates a variety of ballet styles and incorporates trios as well as duets and solo work. For me the destitution, depravity and passion was all just a little sanitised for 2014. Whether this has been diluted through endless revivals I cannot be sure as I have not seen the full ballet since the 1980s. Nevertheless Manon remains a richly textured ballet, with those dancers around the fringes of the stage being almost as important as the principals in creating a proper background for the central tale of the two doomed lovers. The company seem in good shape, no one appeared to switch off and all danced with admirable commitment.
However, a major weakness is the score and although the ballet is set to music by Massenet – originally arranged by Leighton Lucas in collaboration with Hilda Gaunt and now re-orchestrated by Martin Yates who conducted this performance – it does not include a note from Massenet's opera of the same name. In the hindsight of 40 years a commissioned score might have strengthened the production. Undoubtedly Massenet did write some lovely melodies, and whilst the arrangers shrewdly incorporated one of his best-known tunes, the lovely and reflective Élégie into each of the three acts, it remains a strangely Classic FM-like musical potpourri. Act II sounds much too Spanish and Act III cranks up the romantic ecstasy when something much more poignant would be better. The Orchestra of the Royal Opera House sounded great even if it was all a little too loud in the auditorium I was sitting in.
This neatly brings me to Ham Yard Hotel that was hosting the ROH's launch of its 2014/15 Live Cinema Season courtesy of its owners Tim and Kit Kemp. It is all mightily impressive though it is situated in an up-an-coming – but still rather grotty – part of Soho where every venue or eatery appears to have at least two imposing bouncers on its doors. Perhaps they describe this part of London to their clientele as East Mayfair! It boasts a 176 seat 'state-of-the-art' theatre and the tangerine orange leather seats were very striking and comfortable. Disturbingly there were glitches in the projection during Act I that spoilt my enjoyment and I hope this was local and not worldwide. Later when this had been resolved sound and vision was fine but no better than at my local cinemas in Basildon and Chelmsford that have similar best-there-is technology.
One of the important innovations this year is that ROH Live Cinema is introducing 'Encore Screenings' on the following Sunday of the 11 opera and ballets being relayed live across the UK and the world allowing anyone who cannot get there on the night a second opportunity to see the show.
Jim Pritchard
To view the full list of productions for the 2014/15 season and to find a cinema near you visit http://www.roh.org.uk/cinemas .