Austria Friedrich Cerha: Onkel Präsident. Soloists, Alfred Eschwé (conductor), Volksoper orchestra & ensemble. Volksoper, Vienna. 14.10.2014 (SS)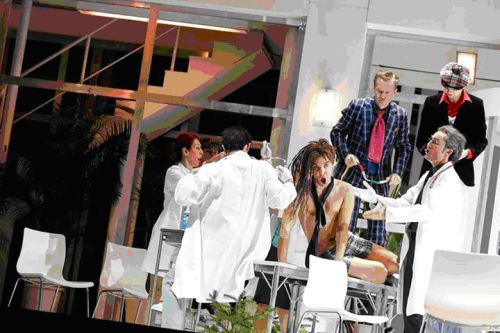 Cast:
The composer: Walter Fink
The company president: Renatus Mészár
Melody Moneymaker: Julia Koci
Josef Powolny, bicycle messenger: David Sitka
Fräulein Flink, secretary: Martina Dorak
Fräulein Flott, secretary: Elvira Soukop
Fräulein Flugs, secretary: Renate Pitscheider
Dr. Fleiß, office manager: Stefan Cerny
Dr. Gefällig, managing director: Marco Di Sapia
Dr. Pillerl, works doctor: Marco Di Sapia
Count Deodatus Schrullenhuf-Wullersdurff – Thomas Sigwald
Didi Kvaca, reporter from "Skandal": Jeffrey Treganza
Zwirn, tailor: Christian Drescher
Monsignore Campanile: Andreas Mitschke
Mummy Moneymaker: Sulie Girardi
Daddy Moneymaker: Petar Naydenov
Members of the supervisory board (all named Dr. Weh): Christian Drescher, Gernot Kranner, Roman Martin, Andreas Mitschke, Petar Naydenov
Production:
Director & lighting: Josef E. Köpplinger
Sets: Johannes Leiacker
Costumes: Marie-Luise Walek
Owing to two busy repertory systems which reprise the same operas every season, Vienna's repute is of a city addicted to operatic comfort food. The Staatsoper in particular seldom makes even tokenistic gestures towards contemporary opera. In context then, 2014-15 is rather a good year for living composers, especially Austrian ones: new work by Bernhard Gander, Olga Neuwirth, HK Gruber and Johanna Doderer will be shown. First out of the gate is Friedrich Cerha's comic opera Onkel Präsident, currently playing at the Volksoper.
Cerha's plot is adapted from Ferenc Molnár's Egy, kettő, három, a 1930 one-acter about a banker who has a day to pass off a socialist taxi driver as an aristocrat. The daughter of a wealthy client has been placed under his charge, and he deems this the best way to dress up her impulsive choice of husband and save his own ass. Molnár's play made an impression on the young Billy Wilder and in 1961 he set it in Berlin as a Cold War comedy of manners, pitting James Cagney's motormouth Coca-Cola executive against Horst Buchholz's wild-eyed East German Communist (the Coca-Colonization jokes practically wrote themselves). One, Two, Three wrapped up shooting just as the Berlin Wall went up and consequently tanked at the box office, but for Wilder the ominous turn of events just provided more eggshells to tap-dance over. As Cagney's character narrates over the opening credits, "On Sunday, August 13th, 1961, the eyes of America were on the nation's capital, where Roger Maris was hitting home runs 44 and 45 against the Senators. On that same day, without any warning, the East German Communists sealed off the border between East and West Berlin. I only mention this to show the kind of people we're dealing with – REAL SHIFTY!"
Cerha and his librettist Peter Wolf have ventured their own contemporary updating, with a powerful Austrian industrialist and an anti-globalization protestor. Like Wilder's film it's billed as satire, although Coca-Cola managed to make use of One, Two, Three and Onkel Präsident likewise shows Austrian business as shambolic but fundamentally benign. The anti-globalization element rather sits on top of the piece like a decorative afterthought, and the Volksoper's production had problems representing it – the activist's dreadlocks and CND tags make him look like he stepped off Greenham Common about 30 years ago. Cerha and Wolf also stick with Molnár's blue-blooded makeover, which in this setting – the kid is only a haircut and fresh hoodie away from writing code for Facebook – looks as daft as that Fox reality show with the Prince Harry lookalike.
Cerha is much sharper at spoofing himself, in an entire prologue and epilogue written for the purpose. (An aging composer sits on a park bench and ponders the hopelessness of writing a comic opera, since "music gets in the way of a good comedy and does nothing to improve a bad one"). The operatic in-jokes in both music and text flow thick and fast here, and Cerha's deft braiding of quotations with his own material is an aesthetic highlight of the piece. The music for the opera proper is altogether more straight-faced, and for all the prologue's references to Falstaff has nothing in common with the merriness of that score. Cerha is fond of recalling with a smile that 'Bergian' was never an adjective attached to his music before he completed Lulu, and writing a comedy in the musical language of Wozzeck gives in, with a huge wink, to over thirty years of comparisons, but the results are every bit as strange as this idea sounds and Cerha surely knows it. There was a chapter in Cerha's career during the 1980s when his music showed great irreverent wit, most of all in his settings of H. C. Artmann's surreal, scurrilous poetry, but it is a chapter Onkel Präsident does not revisit. The precursor here is more Schoenberg's Von heute auf morgen, and like that work, Onkel Präsident is ultimately a bit of an oddity.
Alfred Eschwé is the Volksoper's go-to conductor for operetta classics, but led Cerha's percussion- and wind-dominated score as to the manner born. It was good to hear the orchestra digging into a score that's not their everyday fare even if the overall volume was too loud for the singers. As the lead player in Onkel Präsident's boardroom farce, Renatus Mészár was a fine comic actor. There wasn't a great deal of tone to be heard from his baritone, but the clipped writing does rather impede traditional operatic delivery. The young lovers get a tongue-in-cheek aria apiece, and the exaggerated lyric writing showed Julia Koci in constricted voice; this is not a role for a soubrette. David Sitka was youthful-sounding, vocally secure, and put much effort into the acting, yet didn't succeed in making the activist character much less annoying. As the composer, Walter Fink looked and sounded gentle, self-deprecating, and wise; so in other words, did a great job of playing Cerha.
Johannes Leiacker always designs great sets and the vision of corporate modernity he's devised for this production – all gleaming white surfaces and inane executive desk toys – is brilliantly detailed. Josef E. Köpplinger's production sticks to farce by the numbers but the pacing is suitably madcap. For Marx Brothers antics with a Second Viennese School soundtrack there is apparently an enthusiastic public: the house was reasonably full and the audience chortled away merrily.
 Seb Smallshaw