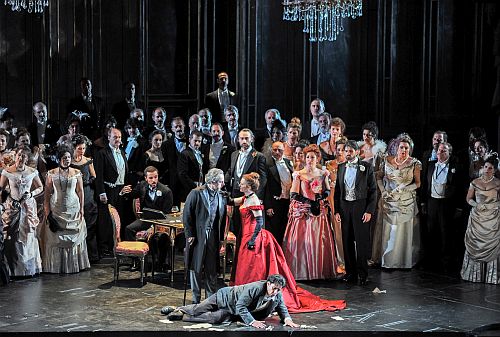 Spain Verdi: La Traviata, Liceu Symphony Orchestra and Chorus, Evelino Pidó (conductor), Gran Theatre del Liceu, Barcelona, 20 & 21.10.2014 (JMI)
Casts:
Violeta: Patrizia Ciofi/Elena Mosuc
Alfredo: Charles Castronovo/Leonardo Capalbo
Germont: Vladimir Stoyanov/Angel Ódena
Flora: Gemma Coma-Alabert
Gastone: Jorge Rodríguez-Norton
Douphol: Toni Marsol
Obigny: Marc Canturri
Annina: Miren Urbieta
Doctor Grenvil: Iosu Yeregui
Coproduction: Barcelona's Liceu, Scottish Opera, Welsh National Opera and Madrid's Teatro Real
Direction: David McVicar
Sets and Costumes: Tanya McCallin
Lighting: Jennifer Tipton
Choreography: Andrew George
These performances of La Traviata in Barcelona are reflective of the current situation in the world of opera. Apart from a few stars, singers do not bring people into theaters. Titles do, and it's no wonder that the programs of almost every opera house are drawn from the main repertoire, in many cases with pretty mediocre casts. This Traviata at Barcelona's Liceu is one more example: the house is sold out every day, but the artistic result is no more than ordinary.
David McVicar's production is quite conventional, although he insists in the program notes on his idea of the need to eliminate luxurious sets since Violeta and her colleagues are just prostitutes. His concept has value, but it is not reflected on stage where ones sees a very traditional Traviata. Good taste is always present, but there are few original ideas in this production. Mr. McVicar's insistence on avoiding luxury leads to his creating small spaces on stage, which is a problem for the spectators on the sides of the house. The sets and costumes are attractive, but the choreography is rather mundane.
Evelino Pidó is a good conductor who has made bel canto his specialty. No doubt singers can count on him, but Verdi needs more than that. His conducting was always controlled although too flat and almost boring. The orchestra still has a long way to improve, although it sounded better than at Il Barbiere di Siviglia last month. The chorus has always been one of the main pillars of the company, but  this time I was somewhat disappointed.
Violeta was played in the first cast by Patrizia Ciofi, whose vocal characteristics are far from what the character requires. Much has been written about the need for two (or even three) sopranos for Violeta. Patrizia Ciofi has always been a remarkable artist, but she is a light lyric soprano who is well suited for the first act while her middle range falls short for the rest of the opera and the low notes do not exist. To my surprise Ms. Ciofi was not very comfortable in the first act, as evidenced by her avoidance of the high E flat that closes "Sempre Libera." "Amami, Alfredo" seemed to come from anywhere except the depths of her being. Her artistry rose to the fore in the final act, although I think a different weight is needed for "Addio del passato."
If Patrizia Ciofi was not well suited for Violeta, the same can be said of Elena Mosuc in the second cast. Ms. Ciofi hides her vocal shortcomings with her acting skills, which is not always the case with Elena Mosuc. She seemed comfortable in the first act  and had no problems hitting the E flat that Patrizia Ciofi avoided. In Act II, Ms. Mosuc was unconvincing in the confrontation with Germont, not to mention at "Amami, Alfredo." The most objectionable part of her interpretation came in the last act. Someone should have told her that Violeta has to express her despair here, and hence the drama of the score. "Addio del passato" is a dramatic aria, and "Gran Dio morir si giovine" even more so, but not in this case. Elena  Mosuc sang the entire last act in a kind of elegiac way, as if in a dream. People might find this attractive, but to me it was far from what Violeta is supposed to be.
Charles Castronovo was not very convincing as Alfredo. His timbre is attractive but with an artificial projection; he's not very expressive in his singing and has too many open sounds. Leonardo Capalbo was a rather uneven Alfredo in the second cast. His voice is not too attractive, although his ​​singing is more natural than Mr. Castronovo's. His pitch was problematic more than once. Both tenors sang the cabaletta of the second act, though with only one verse, and both escaped the high C. Neither this note nor the high B in "La donna è mobile" are written, but in my opinion no tenor should sing the arias if he is not able to hit the high notes.
I have never considered Vladimir Stoyanov to be a true Verdi baritone, but this time I found him lighter than before. As usual, his elegant phrasing was the best part of his singing as Germont.AngelÓdena was a good Germont in the second cast. His baritone is well suited to Verdi, although his phrasing is not outstanding. However, it was the most nuanced vocal performance I remember from him.
In the supporting cast there were shadows and a few lights. Gemma Coma-Alabert was a serviceable Flora, while Miren Urbieta offered an attractive though small voice as Annina. Iosu Yeregui (Grenvil) and Jorge Rodríguez-Norton (Gastone) were good actors with unpleasant voices. Toni Marsol (Douphol) and Marc Canturri (Obigny) did well.
José Mª Irurzun