United States Strauss, Capriccio: Soloists, Lyric Opera of Chicago Orchestra, Sir Andrew Davis (conductor), Civic Opera House, Chicago, 6.10.2014 (DP)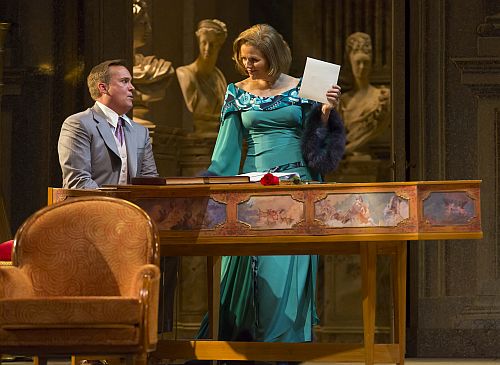 Cast:
Flamard: William Burden
Olivier: Audun Iversen
La Roche: Peter Rose
Countess Madeleine: Renée Fleming
Count: Bo Skovhus
Clarion: Anne Sofie von Otter
Italian Tenor: Juan José De León
Italian Soprano: Emily Birsan
Servants: Matthew DiBattista, Jesse Donner, Anthony Clark Evans, John Irvin, Jonathan Johnson, Will Liverman, Richard Ollarsaba, Bradley Smoak
Majordomo: David Govertsen
Monsieur Taupe: Keith Jameson
Production:
Metropolitan Opera Production
Original Director: John Cox
Revival Director: Peter McClintock
Set Designer: Mauro Pagano
Costume Designer and Interior Décor: Robert Perdziola
Lighting Designer: Duane Schuler
"This opera is a tough sell," admitted the house manager, "Nobody dies." Indeed, the static nature and lack of a basic narrative of Richard Strauss' final opera which he dubbed Konversations-Stük für Musik ("conservation piece for music") have kept Capriccio from entering the standard repertory. How many operagoers are interested in an opera about opera?
In Lyric Opera's 60-year history, Capriccio had only been presented one other time, during the 1994-5 season. However, when soprano Renée Fleming was announced as the company's first-ever creative consultant in late 2010, her singing Capriccio was the only staged production that was part of that deal. The role of the Countess is so close to her heart that there are no less than two video performances of Fleming in that role, the latter a Metropolitan Opera release of this same John Cox production, also with Sir Andrew Davis, Lyric's music director conducting; Capriccio is the first opera that Davis ever conducted, at Glyndebourne in 1973, and he also conducted the previous Lyric production.
Curiously, the Cox production being revived at Lyric was also the same one done at Lyric in 1994-5, with Cox himself directing and with Dame Felicity Lott as the Countess. This time around, Peter McClintock is the revival director and although Mauro Pagano's painted walls are the same if considerably more faded, the costumes and interior furnishings have been redone by Robert Perdziola, though not always for the better; some of what we see clashes distractingly with the original set, in terms of style and color design.
The principal conceit of the Cox production—which updates the opera's original 18th-century time  period to the 1920s of the 20th century—is to keep the common idea of updating the opera to a more modern setting, but side-step the often-employed European approach of setting the opera when Strauss wrote it, i.e., 1942, which opens up the Pandora's Box of a Third Reich overlay.
The problem with any such updating is that the score and libretto (by conductor Clemons Krauss and Strauss himself) are full of 18th-century nods and touches, from the mention of Gluck's reform of making drama more inclusive in opera, to Couperin, to the presence and use of the harpsichord. Even Strauss' attempt to have both the instrumental prelude and the piece that sets the verses that is heard and discussed throughout the opera, reflect an 18th-century aesthetic. Be that as it may, for those of us who crave to hear some of Richard Strauss' last—and some of his best—music, any excuse to experience Capriccio is welcome.
Supertitles, which have become standard in American opera houses, make Capriccio a far more compelling work for an English-speaking audience, as its admittedly chatty libretto makes the conversation more accessible.
From its opening bars, which begin the opera with a sextet that the composer Flamand has composed, we are in an 18th-century milieu but reflected by a post-Wagnerian, hyper-chromatic sensibility that was wonderfully rendered by Davis and the Lyric Opera strings.
As we meet Flamand (American tenor William Burden) and Olivier (Norwegian baritone Audun Iversen), they are debating which element is more important, words or music. The director La Roche (British bass Peter Rose) has been asleep during the music and discussion, yet as he awakes, he waxes clichés about music being relaxing and perfect for sleep. It is particularly enticing of Strauss to use the very elements under attack during the course of the opera to underscore what is being communicated: thus, recitative is used to attack recitative, the orchestra bubbles forth when it is espoused as being too loud, et al, all handled with subtlety by the cast and forces.
When Countess Madeleine (American soprano Fleming) does emerge wearing an aqua dress and joins in, she becomes the object of affection for both Flamand and Olivier, each pleading the case for music and words, respectively, in competing not only for her affections, but for her aesthetic imprimatur of their art forms.
Madeleine's brother the Count (Danish baritone Bo Skovhus) is a more buffoonish character in this production than is customary, but the portrayal does work. La Roche, on the other hand, is more serious here; sometimes his idea that a director is the driving creative force has been seen as so absurd that he has been portrayed as a lout. Given that the director has, more often than not, become king in the opera house since Strauss' time, it makes great sense not to overdo this character.
Also delightfully underdone is the actress Clarion, portrayed by a virtually unrecognizable Swedish mezzo-soprano Anne Sofie von Otter, who has not been at Lyric Opera since her memorable portrayal of Octavian in Der Rosenkavalier a quarter of a century ago. She is a hoot.
But ultimately, this is Fleming's show and she runs with it. Her past portrayals of the Countess have sometimes been criticized for being too preppy and American, that a French Countess would have a more regal bearing and would be a more charismatic presence. Now in her mid-50s, Fleming has more gravitas in this role without having lost her vocal luster. Her ability to turn a phrase by adjusting her vibrato level allows her to sing rather straight-toned when diction or mood call for that, saving her ability to blossom a vocal phrase dynamically and vibrato-wise for stunning climaxes.
The Act II finale (Lyric divides the one-act opera in two by placing an intermission after the Countess calls for chocolate) is glorious, a soaring soprano aria taken from the same water as the transcendent final trio in Der Rosenkavalier. It represents the mature Strauss at the height of his powers, using his full arsenal to make his point and was wonderfully rendered by Fleming and Davis, who on opening night, evoked some of the finest Strauss playing from the Lyric Opera Orchestra heard here in recent memory; he never allowed the large orchestral sections to drown out the singing, yet maintained a transparent delicacy in the chamber music sections.
The issue of music vs. words remains unresolved, of course, although this staging has the Countess appear to write down her answer with a smile at opera's end. Despite our never seeing the answer, because it is the music that ultimately makes the largest impression within the work, the scale is ultimately tipped in music's favor as the curtain closes to a horn serenade, introspectively played by principal French horn Jonathan Boen.
Dennis Polkow