United Kingdom  Opera Danube Present Johann Strauss II's Die Fledermaus (a semi-staged concert version directed by Simon Butteriss): soloists, The London Oriana Choir, Orpheus Sinfonia, Oliver Gooch (conductor). St. John's, Smith Square, London, 18.10.2014. (JPr)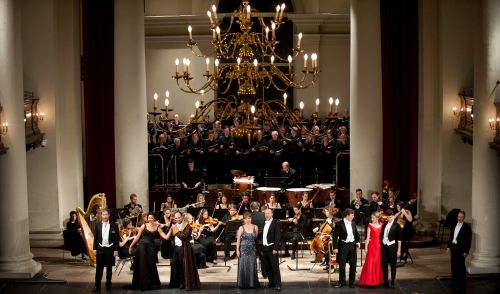 Simon Butteriss/Narrator: Dr Blind
Lauren Zolezzi: Adele
Elinor Rolfe Johnson: Rosalinde
Thomas Herford: Gabriel von Eisenstein
Kate Symonds Joy: Prince Orlofsky
Rob Gildon: Frank
Dominic Sedgwick: Dr Falke
Alberto Sousa: Alfred
Felicity Buckland: Ida
Opera Danube describes itself as being 'dedicated to all things Operetta. We will be bringing high quality, vibrant productions of the sparkling works in the Viennese tradition to central London, assembling casts brimming with talent from the next generation of performers.' It aims to 'Provide emerging artists with a performance platform in London with full orchestra, in order to showcase their talents and secure future engagement opportunities and representation. To present high quality opera and operetta to wide ranging audience. To facilitate workshops in schools, focusing on live performances in an interactive setting' … all very admirable indeed. Much of its work seems to be at London's St. John's, Smith Square, which is a venue that has seen some 'rebranding' in recent years and – although I am only a rare visitor – is beginning to match the innovative programming of its most obvious competitor, the Cadogan Hall. The downside is that the seating at St. John's is as uncomfortable as it ever was and the platform for any musical ensemble is not huge.
This show was a virtual carbon copy of the Die Fledermaus matinee earlier this year (review) performed by the Philharmonia Orchestra under John Wilson and with a very experienced cast. The good news for Opera Danube is that even if most of the negatives and positives were – possibly not surprisingly – exactly the same for me as that April performance, the musical accompaniment from the very young-looking Orpheus Sinfonia was splendid and I enjoyed them better than the Philharmonia. The small orchestra played with rhythmic lilt and irrepressible zest for their excellent conductor, Oliver Gooch. That they could manage equally well without him was revealed by their full-throttle Radetzky March encore as he just orchestrated the usual clapping from the side of the stage.
As I wrote before 'it is always a delight to hear Strauss's glorious melodies – the waltzes, polkas, galops, and folk tunes – once again'. In the introduction in the programme Simon Butteriss who, as before, directed and appeared in this Die Fledermaus mentions 'A marriage has gone stale; he lies to her and she is, frankly, economical with the truth to him. The servants are clever and manipulative and there is a plot afoot to take revenge on the master's misdeeds. He is caught trying to seduce a woman whom he fails to recognise as his disguised wife and is confronted with her apparent infidelity, but all is happily resolved.' This has all the makings of a wonderfully convoluted and ingenious farce – even a very familiar one – for as Butteriss goes on to explain it is not only the plot of Die Fledermaus but also the plot of The Marriage of Figaro going on to ask 'Why, then, leaving the music aside is one regarded as a miracle of psychological truth and the other as trivial tosh?' Good question!
Over the years I have seen performances with memorable performers such as Adele Leigh, Hermann Prey, Marilyn Hill Smith, Eric Shilling, Alan Opie … and even Frankie Howerd in the 1980s as the non-singing gaoler, Frosch. Simon Butteriss told the audience that we should be grateful it was a concert performance as we would be spared 'twenty minutes of excruciating comedy from Anne Widdecombe as Frosch'!
Actually, the plot is not that complicated despite almost all the characters being someone else for most of it. Gabriel von Eisenstein is a wealthy philanderer who has to go to jail for a few days for punching a policeman – and, as we are told, allegedly calling him a 'pleb'! His friend, Dr Falke, convinces him to spend a last night of freedom at a ball thrown by the eccentric Russian Prince Orlofsky.  Because she thinks her husband is spending the night in jail, Rosalinde is dallying with her singing teacher, Alfred. In order to spare her blushes when the prison governor, Frank, comes to arrest Eisenstein, Alfred poses as the husband and is led off to jail. Falke's hidden agenda is that everything that will then occur is in retaliation for a humiliating prank played on him years before. He introduces Eisenstein at the ball as a French Marquis, and also invites Frank, Adele (Eisenstein's maid) and Rosalinde all in disguise. At the very end husband and wife – who have been somewhat estranged – are happily reconciled and Eisenstein accepts the joke was on him. What we should luxuriate in are the 3/4 rhythms from the Johann 'Waltz King' Strauss II and the implausibility of the plot should matter not a jot!
My editor gave my earlier review the title 'Over-cooked narration hobbles Die Fledermaus' and probably because this was not such a high-profile event as at the Royal Festival Hall, Simon Butteriss as Dr Blind, Eisenstein's incompetent lawyer, and as narrator, seemed more integrated into the proceedings than he was then. I accept the need to trim the operetta's typical long dialogue scenes but especially in Act II and III  Butteriss's frequent interruptions made me think less would be more and, for instance, the best person to explain Falke's 'bat's revenge' is Falke himself not someone else. Sharing a few more words out amongst the cast would not give anyone much more to learn than they already had to and make an already good evening so much better. Another concern was that for a company who wishes to promote new young talented singers I am concerned that they used John Mortimer's English translation for Covent Garden. Wouldn't it be more useful to learn the roles in German in case they get the chance to sing it somewhere else during their careers since knowledge of the original language would give them more opportunities? A revised English narration could incorporate an idea of what they would be singing about.
All the best jokes were firmly in place from before and Dr Blind – who actually gets Eisenstein's sentence increased – gave us comments about barristers, Freud, non-existent sisters, bearded Italian tenors, Tsar Putin being stripped to the waist, nuns, as well as, Orlofsky actually being a woman … not a monster but a mezzo. Most enjoyable was the encounter between the two fake Frenchmen at the ball, Eisenstein and Frank, which included the exchanges 'Ooh la la' and 'Eurostar'  and 'Courage, mon brave' being answered by 'Nigel Farage' – language Butteriss announced that was unacceptable in any European country! These were the best non-singing moments in this semi-staging with full costume and the most entertaining visual ones were during the very funny concluding Act I trio 'Oh dear, oh dear, how sad it is' with Adele, Rosalinde and Eisenstein.
In the Royal Festival Hall there was much debate about whether the singers needed the amplification they were given. At St John's, Smith Square, I was approached by people from the back of the hall saying they could not hear many of the words. You can't win! The problem was probably as much to do with acoustics as diction though in this regard some singers were far better than others. Sadly Eli Rolfe Johnson could have been singing the famous Csárdás – when Butteriss has her in the guise of the Countess 'Zsa Zsa Gaboria' – in the original German for all the English words I heard even halfway back in the stalls. Strangely, just like at the Royal Festival Hall Rosalinde and Eisenstein were not as strong as most of the rest of the ensemble. Elinor Rolfe Johnson and Thomas Herford (Eisenstein) are both very promising singers but neither had the charisma or voice to bring their characters to life. If Eton gives us cabinet ministers it seems many singers in this country have gone to Cambridge! They were two of those and Kate Symonds Joy's eye-catching, vodka-and-fun loving, androgynous Prince Orlofsky made four … if you include Oliver Gooch who also went there!
Lauren Zolezzi – formerly a ballerina – sang delightfully as the savvy and mischievous maid Adele. Dominic Sedgwick was a youthful Dr Falke – the author of all the 'the bat business' – and he began 'Brother mine and Sister mine' very stylishly and the ensuing ensemble was another of the highlights of the evening. Robert Gildon's Frank and Felicity Buckland's Ida get relatively little chance to shine but took their parts very well. Completing the cast as Alfred, Alberto Souza appears to be a tenor to watch out for; not only has he a lyrically ardent voice he also has a winning personality that shone from the platform. Finally, the London Oriana Choir sounded very cheery as the guests and servants of the Prince.
Jim Pritchard
For more about St John's, Smith Square visit www.sjss.org.uk.
For more about Opera Danube visit www.operadanube.co.uk.