United Kingdom ROH Cinema 2014/15, Verdi, I due Foscari: Soloists, Chorus and Orchestra of the Royal Opera House, Covent Garden / Sir Antonio Pappano.(conductor), Directed for live cinema by Jonathan Haswell and broadcast to the Empire Cinema, Basildon, Essex. 27.10.2014. (JPr)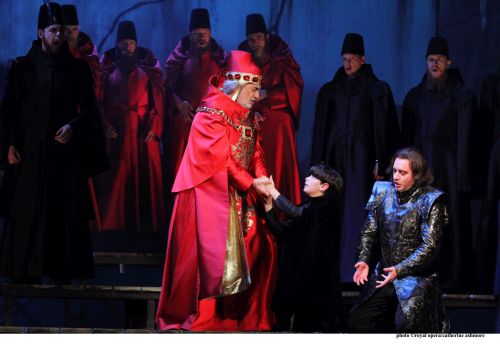 Cast
Francesco Foscari: Plácido Domingo
Jacopo Foscari: Francesco Meli
Lucrezia Contarini: Maria Agresta
Jacopo Loredano: Maurizio Muraro
Barbarigo: Samuel Sakker
Pisana: Rachel Kelly
Fante: Lee Hickenbottom
Servant: Dominic Barrand
Production
Director: Thaddeus Strassberger
Set designs: Kevin Knight
Costume design: Mattie Ullrich
Lighting: Bruno Poet
(New production, co-produced with Los Angeles Opera, Palau de les Arts Reina Sofía, Valencia, and Theater an der Wien)
In one of the backstage films Plácido Domingo joked about playing Francesco Foscari, an old doge who actually lived: 'It is a part that I am too young to play because the character is supposed to be 89 – so that's very amusing because, of course, today any character that I do they are younger than my age.' It is now nearly 40 years since I first saw Domingo live on stage in Aida and in another interview the Royal Opera's music director, Sir Antonio Pappano, discussed with him his transition from a tenor to a baritone including this latest role and how he is 'no longer the romantic hero': 'You are playing father roles and sometimes playing the villain'. Domingo's reply suggested this was only to be expected 'since physically I look like a grandfather' and those on stage with him were young enough to be his children or grandchildren. On and on he goes and although – in Jonathan Haswell's close-up camera work for the cinema screen – he occasionally looked uncomfortable singing and moving around it was a wonderful performance for a singer of any age, let alone one who is well into his eighth decade! Of course whether Domingo's sounded as good as this in the theatre it is impossible to say and I'll leave you to read the comments of those who were there.
I due Foscari is Verdi's sixth opera at the start of his phenomenally long and productive career that began with Oberto in 1839 and ended over five decades later with Falstaff in 1893. It is surprising that he could compose anything in the years before Foscari because his wife and two children died during this time and it is perhaps not surprising he could not give his second opera Un Giorno di Regno the attention it deserved and it was a failure. Fortunately, with the success of Nabucco, I Lombardi alla prima crociata and Ernani, his reputation began to grow and I due Foscari, came on the heels of these successes from the early 1840s. Yet it remains the least revived of this quartet of operas. It has not been performed at Covent Garden since 1995 even though it was the first Verdi to be given there in 1847.
For Foscari Verdi collaborated with librettist Francesco Maria Piave on Lord Byron's controversial historical play The Two Foscari. Amazingly the Pope's often zealous censors did not object to Piave's libretto, and the scenario was not altered. However the Republic of Venice vetoed the opera for its perceived criticism of Venetian nobility and the planned premiere at Venice's La Fenice was abandoned. The Teatro Argentina in Rome stepped in and commissioned the work and I due Foscari had its first performance there in 1844.
Francesco Foscari, is the Venetian head of state coming to the end of his life and he is struggling to preserve his family name, whilst wrestling with a father's love for his son, Jacopo, and fending off his enemies who are platting against him in a political climate that could be perfectly described as 'Machiavellian'. He is duty bound to sentence Jacopo to exile for a crime that it will be discovered – all rather too late – he did not commit. By then the Doge has already lost the one person he holds dear, his beloved son, already the last surviving of his children. Perhaps something in this story resonated with Verdi because of the tragedy he had himself suffered, however it cannot excuse the work's dramatic shortcomings and nothing much happens over two hours despite Verdi's wonderful music for some impassioned solos (with typically rousing cabalettas), equally emotional duets for the Doge with Lucrezia, Jacopo's wife, and for her with her husband. They also share a memorable trio and quartet with the villain of the piece, Loredano. There is also a moving plea for clemency and a very intense – if rather weak – final abdication/death scene, not forgetting some fine ensembles and choruses.
The director, Thaddeus Strassberger, with Kevin Knight's sets and Mattie Ullrich's costume designs was clearly inspired by Bryon's setting of his play in the Doge's 'palace and a prison' in Venice as well as the city itself with the use of moveable footbridges of the sort they apparently need when it gets flooded. With subtle use of projections, dry-ice and Bruno Poet's sombre lighting there was an oppressive and ominous atmosphere throughout the proceedings. Cages for the prisoners and instruments of torture (occasionally used explicitly) were plainly in view and there seemed to be real water on stage symbolising the city's instability and how it could topple at any time back into the lagoon from all the weight of the political intrigue. For me the costumes created more of an alien world than actual Venice – the planet Vulcan in the classic series of TV's Star Trek came to mind – and some of the Carnival entertainers and onlookers in Act III definitely seemed to be wearing gasmasks against an all-pervading stench of corruption.
Francesco Meli was Jacopo, and Maria Agresta as his long-suffering wife Lucrezia and they supported Domingo's profoundly moving portrayal that was rather Shakespearean in the way he brought his character to real life. Equally remarkable was the security of his voice and still burnished sound. Despite some ardent singing Meli's characterisation of Jacopo was a little bland. I doubt this was entirely his fault and it was mainly due to Verdi keeping Jacopo hanging around – often literally here in a cage – because it takes about three scenes for him to be finally sent into exile, at which point he immediately dies offstage! Agresta didn't seem very involved at the start despite Lucrezia being distraught at being parted from her husband. Nevertheless, by the time she gets her 'mad scene' after her husband dies and is shown drowning one of her sons as the curtain falls, having sung with passion, amply filled phrases and flawless lyric coloratura this became a memorable performance. On stage Maria Agresta impressively showed us – using her own words when interviewed – how 'Verdi strips her [character] naked almost in front of the audience because he makes her express the whole range of emotions she goes through'. Once again given little to work with Maurizio Muraro was little more than a nasty stock character as the Doge's enemy, Jacopo Loredano.
Antonio Pappano is at his best with this type of music, he clearly believes in the early-Verdian promise of the score in a way some conductors might not have done. Their accompaniment would have sounded even more 'rum-ti-tum' and routine. Discussing the music at the piano at the end of the interval he explained that 'One of Verdi's innovations in this piece is the surprising use of the leitmotif ; a leitmotif is something we associate with Wagner – a musical visiting card, a piece of music that identifies a character.' For him 'the most touching one is the musical visiting card he composed for the Doge himself – an ageing figure, an octogenarian.' These moments – and similar ones – when we heard Verdi's sombre colourations were the highlights of the resplendent sound Pappano drew from his splendid orchestra.
Once again, I must acknowledge the magnificent sound and vision available for these broadcasts at the Empire Cinema. Basildon, and I have experienced nothing better anywhere else. Finally, as the titles came up at the end of the evening Stephen Fry – who had suavely hosted the transmission – reminded those still listening how the cost of tickets for opera and ballet at Covent Garden and at the cinema compared favourably with Premier League football matches and how it is not 'a culturally elitist exercise.' I know a number of critics 'look down their noses' at ways in which classical music is attempting to reach a wider audience but with the average age of concert and operagoers increasing every year everyone should enthusiastically embrace any way in which classical music can find new audiences.
Jim Pritchard
Visit www.roh.org.uk/cinema for information on the 2014-15 Royal Opera House Cinema season