SINATRA The Main Event: Richard Shelton, Louise Dearman and Caroline O' Connor (vocalists), Renato D'Aiello and The Syd Lawrence Orchestra (Chris Dean, conductor and trombone). Cadogan Hall, London, 10.10.2014. (JPr)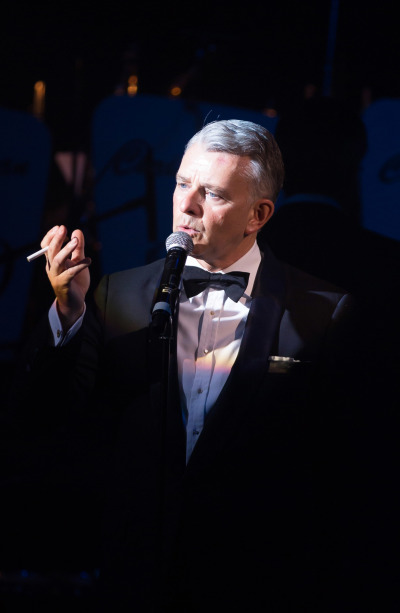 On 13th October 1974 Frank Sinatra stood on a small stage surrounded by an audience of 20,000 fans, and at a venue that Howard Cosell announced as – in his memorable and effusive voice-over introduction – 'Madison Square Garden, which has created and housed so many champions, and which is why tonight from the Garden the most enduring champion of them all, Frank Sinatra, comes to the entire western hemisphere live with The Main Event: Frank Sinatra in Concert!'. 'Celebrities are here in profusion,' he continued and brought him to the stage with the words 'Frank Sinatra, who has the phrasing, who has the control, who understands the composers, who knows what losing means as so many have, who made the great comeback, who stands still, enduringly, on top of the entertainment world.' 
Sinatra said during his concert, 'I have never felt so much love in one room in my whole life', and he conquered them all by indeed making one of the most famous comebacks of all entertainment comebacks. At the time 'Ol' Blue Eyes' was 58 and his voice was far from the perfection of his early years, but his incredible musicality shone out and the band backing him, led  Don Costa, was terrific. You needed to have been there and if not at least seen him live and know how he was able to command large venues such as Madison Square Garden – or the Royal Festival Hall and Albert Hall where I later saw him – with just a flick of a dramatically expressive hand, sometimes holding a lit cigarette (those were the days!) or a glass of Jack Daniels … or both. With Cosell's intro, the anecdotes ('I've had some of my greatest fights in New York', and memories of Ava Gardner, JFK, Robert Kennedy and Martin Luther King), as well as, the interplay with the audience and some wonderful songs, Richard Shelton has been bringing back memories of that great occasion this summer in Blackpool's Globe Theatre and brought it for one night only to London's equally intimate Cadogan Hall.
 I am not averse to tribute acts as indeed at least once a year I go to see T.Rextasy who play the music of Marc Bolan. I have often thought what it would be like if they recreated the Empire Pool, Wembley, shows of his 1972 heyday or the final London ones at Finsbury Park's Rainbow Theatre in 1977 shortly before his untimely death (I was there for both). However Danielz, lead singer of T.Rextasy, is always keen to say he is not Bolan if anyone shouts out 'We love you Marc'. Here Richard Shelton never stepped out of character and tried to bring us the real Sinatra at the start of the final phase of his career that went on for a further twenty years before he gave up performing. He was castigated in his later years for having his words in front of him on an autocue for 'My Way' and the other songs he had sung for years because of his failing memory – in 2014 rarely does any headline act go on stage without the words available to them!
 Richard Shelton has a solid pedigree as a leading Sinatra tribute as part of the successful Rat Pack Confidential franchise. I saw him in 2003 in it during a West End run. He also has an impressive list of solo celebrity performances. The songs performed were a mix of those Sinatra actually sang in 1974 including rarer items such as 'Autumn in New York' and 'Angel Eyes' and standards such as 'The Lady is a Tramp', 'I Get a Kick Out of You', Paul Anka's 'Let me Try Again', 'I've Got You Under My Skin', 'Bad, Bad Leroy Brown', Stevie Wonder's 'You Are the Sunshine of My Life' and 'My Kind of Town' with at least one later notable addition, one of his most famous anthems, 'New York, New York'.
 In 1993 Sinatra recorded the first of two duets album that were his last studio work collaborating with guest star singers from often different musical genres to re-record some of his most famous songs. These pairings have become all the rage in recent years with Streisand's current very successful Partners being the latest in a long line. To acknowledge this Shelton's Sinatra also had some help on stage, and 'award-winning' musical stars Caroline O'Connor and Louise Dearman joined him for some accomplished duets. Caroline (who looks like a young Maria Friedman) duetted on 'Mack the Knife' and 'My Funny Valentine; and Louise (the first actress to have appeared in Wicked productions as Elphaba and Glinda) helped sing 'You Make Me Feel so Young' and 'You Are the Sunshine of My Life'. Renato D'Aiello – a young Gerard Depardieu lookalike in his own right and a regular at London's Ronnie Scott's Jazz Club – provided a plaintive saxophone accompaniment to 'In the Wee Small Hours of the Morning'. Everyone combined for a rousing 'New York. New York' that was almost the end on a concert that everyone knew must end with 'My Way' and Shelton/Sinatra introduced it by saying 'I'm now going to sing the National Anthem but you don't have to stand'. Nevertheless, it gave Shelton a well-deserved standing ovation as it always did for Sinatra. Paul Anka's 'My Way' is now one of the most covered songs whilst rumour has it that it was far from Sinatra's favourite.
 Chris Dean took over The Syd Lawrence Orchestra in 1996 and the 14 piece band's big brassy sound did full justice to some memorable arrangements. It was a simple show; some mood-related lighting and only a few props such as, a stool, a small side table (with a bottle of Sinatra's favourite tipple, Jack Daniels) and little more on it than a glass and an ash tray. Richard Shelton held it all together with his relaxed performance, well-schooled vocalism and a reasonably close physical similarity to 'The Chairman of the Board'. Like Sinatra he knows what to do with a lyric and Shelton sounds like he must be a fine singer himself. He was perfectly at ease playing Sinatra without anything looking overtly over-rehearsed or mannered. Occasionally however some facial contortions reminded me of Mike Yarwood's impression of Prince Charles (there's one for an older generation!).
Richard Shelton's voice was perfectly adequate – and particularly if you listened rather than watched – sounded like the much younger Sinatra rather than the voice he had from 1974 onwards. In 1974 Sinatra looked and sounded as if he has been doing a lot of smoking, boozing and staying out late. There was a hint of gravel in his voice and he lacked the vocal power of his youth but he made up for this with his aura, charisma, swaggering confidence and great talent as the finest of the twentieth-century's saloon singers. Shelton's 'recreation' was at its very emotional best during the more intimate 'It Was a Very Good Year', as well as, Matt Dennis's 'Angel Eyes'. Here – and during 'My Way' – his voice was perfect for the message in these songs and often had me wiping a rare tear from my eye … whilst elsewhere imitation is definitely the sincerest form of flattery.
At the end of the show Graham Mulvein on behalf of the show's producers announced a five week run at the London Palladium opening on 20th March to mark 2015 as the 100th anniversary of Frank Sinatra's birth. SINATRA 100 will be a series of glittering star-packed concerts with a changing array of guest artists appearing alongside and duetting with Richard Shelton and joining West End performers, the world's biggest Big Band and Sinatra's own rhythm section. These are bound to be great evenings bringing back some wonderful memories for those who – like me – saw Francis Albert Sinatra live or who only know him from CDs, his films or YouTube.
Jim Pritchard