Switzerland    Rimsky-Korsakov  Tonhalle Orchestra Zurich, Alain Altinoglu (conductor) Tonhalle, Zurich, 16-10-2914  (JR)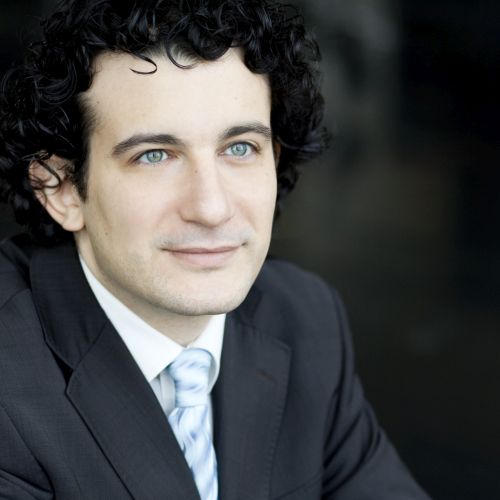 Rimsky-Korsakov:    Schéhérazade
There was only one work in this concert, as it was billed as a lunchtime concert.  Starting at 12.15 and ending nearly an hour later, this concert attracted an almost full house, with many staying on afterwards to enjoy a hot buffet lunch. This bonus, along with reduced ticket prices, attracted mainly senior citizens rather than youngsters on half-term or office workers who were conspicuous by their absence. Perhaps however other concert halls (if they have catering facilities) should take note as clearly there is a demand and a potential.
The orchestra were dressed casually, many in jeans, not even smart casual. It was a very welcome sight. Young French-American-Armenian Alain Altinoglu is no stranger to Zurich audiences and, at nearly 40, is already a rising star (particularly in opera) at the Met, Vienna, Munich, Salzburg and Paris. He is also an accomplished pianist. Small of stature with curly black hair and film-star looks, he bears a resemblance to Gustavo Dudamel. Altinoglu oozes charm and personality: his charisma and musicality transferred to the players who gave a stunning performance, which benefitted from patent empathy. Apparently in one rehearsal (with another orchestra) an observer noted that not one player was on his/her smart-phone.
I was interested to hear Altinoglu's take on the piece, having heard a disappointingly flat performance of the same work by Dudamel and the Vienna Philharmonic in Lucerne last month. I could tell from the opening bars that this performance was going to prove a quite different kettle of fish.
The work is all about the story of Schéhérazade, the young bride of the Sultan and the tales she tells to the Sultan over one thousand Arabian nights to save her life.  Altinoglu shaped every bar of this stirring, magical work. He weaved Eastern magic into the sensuous passages evoking Schéhérazade herself and whipped up the fury of the Sultan's "pieces"; particularly impressive were the trembling strings.  Rimsky did provide titles to each movement but then appears to have tried to discard them, suggesting that the audience should simply revel in the Oriental sound world he had so skilfully created.
Judging from the players' smiles, they clearly enjoyed playing the piece and playing under this conductor, who must also have been a contender for the position, post-David Zinman, of Principal Conductor.
Numerous principals stood out for their solos: Andreas Janke, the Leader, who played with delicacy, sensitivity and sureness (in the double stopping passage and also with the extended harmonics), the new very young (21 year old) Russian flautist Matvey Demin, Isaac Duarte (clarinet), Mike Reid (clarinet), Anita Leuzinger (cello), Ivo Gass (horn), Matthias Racz (bassoon) and, in her second season with the orchestra, Sarah Verrue (harp) – I could go on!
This enthralling performance put the Vienna Philharmonic and Dudamel in the shade. Altinoglu's return to Zurich in future seasons will be eagerly anticipated.
John Rhodes