United Kingdom Mozart, The Magic Flute: Young Opera Venture/ John Longstaff (conductor), Pomegranate Theatre, Chesterfield, 20.10.2014. (RD)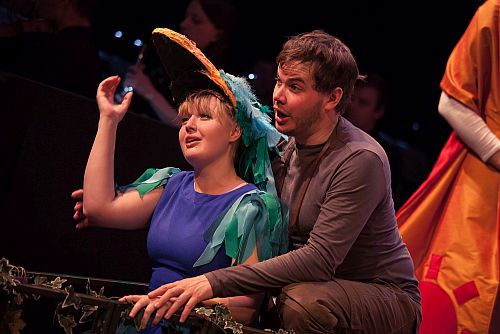 Cast:
Tamino  Jonathan Cooke
Pamina  Aoife O'Connell
Papageno Philip Wilcox
Papagena Eleanor Garside
Queen of the Night  Katy Kelly
Three Ladies  Jenny Stafford, Lucinda Stuart-Grant, Heather Ireson
Three Boys    Katherine Williamson, Alison Robertson, Katie Hainbach
The Speaker  Jon Stainsby
Sarastro  James Fisher
Monostatos  Seumas Begg
Second Priest  Thomas Morss
Two Armed Men  Richard Belshaw, Miles Horner
Production:
Directors   Jane Anthony, Nina Brazier
Designer    Ruby Savage
Lighting Designer Inés Minkiewicz
Répétiteur   Ewan Gilford
 There is usually a point early in The Magic Flute when you can sense whether a particular performance or production is going to sweep you away. It may be the pacing of the first scene, with Tamino in terrified flight; it may be the first entrance of the part benign, part mischievous ladies who serve as the Queen of the Night's ghostly entourage. Or as here, it may be the overture itself. There were many young stars of this new touring production, which put scarcely a foot – arguably not a foot – wrong; but the greatest star was the oldest.
From the very start of the first fugue, strings scintillatingly on the mark, through the brilliant fugato inversions (some of the ingenuity came from woodwind) to Jonathan Cooke (Tamino) hurtling onto to stage, the conductor John Longstaff produced for and from his young charges playing whose quality had one in awe. It was Longstaff's intimate, restrained beat and a sensationally good sense of timing of arias, recitative and, of course, Papageno's bell tinkles, that led one to doff one's cap. Ideally led by John Longstaff, these attentive players delivered the goods, patently fired up, with not a hint of tiredness or the slightest casualness amid a lengthy tour. His patient nursing made this possible.
There were no elaborate pantomime snakes, either. From the start, faced by three subtly patterned and contrasted doors, of something like raffia, waiting for Inés Minkiewicz's sensible lighting plot to start picking it out in never overdone shades of colour, we knew that this production would speak simply. The 'Boys' would not descend in aeroplanes or balloons, not least because they were in fact three splendidly cast girls, wonderfully alive and rather brilliantly marshalled, whose harmonic sense and tuning rivalled the three women (they also took some beating). The production's lovely, nicely characterised Papagena (Eleanor Garside) actually sang Boy 1 from the side, a lurgey having taken hold of the top chirruper, Katherine Williamson. The visuals were joyously unaffected.
So much was carried by Nottingham Trent-trained Ruby Savage's appetising costumes. Papageno's (Philip Wilcox) birdcatcher's cap and basket would have delighted Schikaneder's Globe Theatre-like rowdy audience at the Theater an der Wien. The nicely designed robes, reds and yellows, from Sarastro's entourage spared the need for a host of staging effects. One should say straight away that the fact this Masonic ensemble was so impressive, modestly acted and consistently beautifully sung (Jon Stainsby's calm, monitoring Speaker, beautifully spoken as well as sung, Richard Belshaw and baritone Miles Horner as the restraining Armed Men, gorgeous-voiced in unison, perfectly balanced) played a great role in ensuring this production was so successful.
There is a great deal of sly manoeuvring that has to be done in the rearstage entries and exits, a kind of continuous march past behind the raffia (more static tableaux than doors, lit most effectively from behind) and it all worked effortlessly. Longstaff has the admirable art of knowing exactly when to initiate a new movement; sometimes almost attacca; often paused, but always somehow bang on. Getting it just slightly wrong can make things drag. They never did.
So what of the principals? They were a strikingly good bunch. Jonathan Cooke's eloquent Tamino never quite matched the superb quality of his opening aria ('Das Bildnis', though here in Jeremy Sams's endlessly reliable English translation) – his  launch in was quite stunning: the voice was a little less even for the next couple of scenes; one wondered if he had caught something from First Boy. But wooden though the role is, Cooke – a veteran already of the St. Endellion Festival, a sure-fire guarantee of quality – brought Tamino a kind of Prince William-like noble spirit, which suggested he was ready made not just to join Sarastro but to replace him. Aoife O'Connell – a name one certainly knows from elsewhere; she hails from County Wicklow and is supported by her home council as well as Arts Council Ireland – was Pamina, and her graph was the opposite: a slightly graty start, then her rapid emergence as an utterly delightful witch's offspring.
So noble was she, ('be truthful' – exquisite) she rivalled her partner as a candidate for Masonic grandeur; yet the absolute plum was her late duet – possibly two short duets – with Papageno. One of the many clever details of Schikaneder's plot (one of about ten operas along similar lines he wrote for his audience in the 1790s) is the way he throws those two together, generating a different dynamic; it humanises Pamina and focuses the bird-man: they seem like an exploratory pair out of The Famous Five.
Philip Wilcox's Papageno – Wilcox is a Leeds College of Music alumnus, where both the Young Opera Venture's co-founders formerly taught – hit the jackpot the moment he opened his mouth. It's a lovely tone, a quite gorgeous timbre that puts one in mind of, say, the young Christopher Maltman, or Gerald Finley, or half a dozen of the most promising young baritones – for ROH Young Artists, English Touring Opera and elsewhere – one has heard in the role at the start of their careers. Somehow he above all revealed the really rather beautiful acoustic of Chesterfield's Pomegranate Theatre, one of the offbeat venues which gives Young Opera Venture its acute relevance. His acting was fun, and well managed rather than random. His projection is excellent. His scenes with Garside's Papagena were pure delight, though I do wish all companies, not just this one, would explore a new way of introducing her as an old crone at the outset.
The Queen of the Night was Katy Kelly. It was rather a delight to find what I took to be an Irish accent emerging as she spoke: though she qualified at Boston and has been involved in challenging for awards at the Met, she is actually a regular at Dublin's National Concert Hall. Diva Opera have heard her Queen of the Night before, but I'd put her higher on the ladder. There was not a note askew – or was there just one – across both her big numbers, and more importantly, perfect tuning. It was impossible not to be massively impressed; she reached up into the rafters and placed every quaver impeccably. The aria is so many notches up on the average 'vendetta' aria. Longstaff's careful accompanying was crucial here. His young players did not jiggle the beat or the pace, tempting as it is, because his was such a calm, safe, sensitive pair of hands. Concentrating on essentials, he brought these two fiery arias notable stability. Time and again, his own reduced orchestration, for 17 players (8 strings, single woodwind and brass, tympani and keyboard), worked wonders in achieving clarity/
James Fisher's Sarastro was impressive of voice, pretty well able to encompass the lower notes without forcing them, strong right across the range as needed, and altogether an honourable presence whether dealing with his dignified henchmen or coaching Pamina. His series of top roles for the RNCM bespeak his abilities: Pistol, Seneca, the crucial role of Pietro in Boccanegra, and others.
Jane Anthony and Nina Brazier, codirecting – Anthony is the company's co-founder, Brazier has a gobsmacking CV already, not excluding the ROH and Bavarian State Opera – achieved perhaps their best touches with some of the blockings, including simple details like the arrangement of bodies in the Masonic library, or a series of nice touches in steering the masked ladies (Jenny Stafford, Lucinda Stuart-Grant, both strikingly well-experienced, plus a fabulous bottom line from Heather Ireson) all three gorgeously and perfectly attuned. But their triumph was with the 'Boys'. This trio of scamps managed to locate themselves in a host of manipulative poses, not least in their last entry; and all this was because they were well – cannily – directed.
What a treat they were. But so was the one character I haven't mentioned before. The lumpen Monostatos, clearly some kind of descendant of Shakespeare's Caliban, was here a swaggering, nonchalantly self-admiring pimp. Except that, bare to the waste and aching to reveal even more, he pimps for just himself. Seumas Begg oozed lust in eggyolks – he almost had no time for any other vice – apart from deception. But more importantly, he moved superbly, acted with in-your-face cynical aplomb, spoke with extraordinary clarity for a bog-standard hoodlum, and scored both a dramatic and visual hit.
But more importantly, Begg's was perhaps the best of a cluster of immensely satisfying tenor voices: Cooke's Tamino on a luckier day, Belshaw's Armed Man (he has sung Don Ottavio and the Duke of Mantua for one of the north's other most spirited companies, Heritage Opera); and no less, Thomas Morss (Second Priest) who has already been both the Royal Northern's and Mid Wales Opera's Albert Herring – if so, I only wish I'd made the effort to catch the latter on tour. But with Begg – top performer on all counts – just emerging on top, I call that a quartet of real quality. I would gladly go and hear any of them again.
It seems almost gratuitous to say that when the ensemble sang together, in the choruses, the effect was mesmerisingly good. One thing that kept coming and going was the fact that this opera, in Longstaff's reading, found clear echoes of Cosi fan Tutte. That is only rarely achieved, or pointed out, especially as the Flute points rather a way forward to Fidelio. And so it was with this Flute: sufficient surprises, refinement and finesse to make this in no way a humdrum production: rather, one that one will remember, and relish the memory with pleasure.
Further performances: Wednesday 22 Oct Lawrence Batley Theatre, Huddersfield; Friday 24 Oct Queen's Hall Arts Theatre, Hexham
Roderic Dunnett