Argentina Verdi, La Traviata: Soloists, Orchestra, Chorus of Teatro Argentino. Conductor: Carlos Vieu, Teatro Argentino, La Plata. 19.9.2014. (JSJ)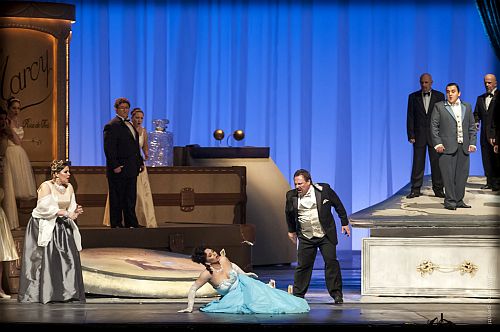 Cast:
Violetta: Elizabeth Blancke-Biggs / Marina Silva
Alfredo: Darío Schmunck / Juan Carlos Vassallo
Giorgio Germont: Omar Carrión / Ernesto Bauer
Flora: Eugenia Fuente / Rocío Arbizu
Barón Douphol: Sebastián Angulegui / Mirko Thomas
Gastón: Patricio Oliveira / Francisco Bugallo
Marqués D'Obigny: Sebastián Sorarrain / Alberto Jáuregui Lorda
Dr Grenville: Mauricio Thibaud / Víctor Castells
Annina: Roxana Deviggiano / Claudia Casasco
Production:
Director/sets/costumes: Willy Landin
Lighting: Sandro Pujía
Chorus: Hernán Sánchez Arteaga
Choreography: Analía Clark
With its activities much curtailed for financial reasons, the Teatro Argentino's slimmed down opera season has continued in its second half with a new production of (another local) La Traviata.
This new production by Willy Landin was broadly traditional in concept, with the staging interestingly based around two raised areas – although with a character perhaps closer to the 1930s than the mid-19th century of the actual work. Nevertheless, this served to isolate specific aspects, such as Violetta's house in the second act and her apartment in the third act. The dress, also by Landin, was appropriate for the concept.
The singing was generally good – a passionate Darío Schmunck as Alfredo, satisfactory Père Germont from Omar Carrión, and particularly a strong, if not completely nuanced, Violetta from the visiting American soprano Elizabeth Blancke-Biggs.
Positive too were Hernán Sánchez Arteaga's well prepared chorus, flawless in its interventions, and the orchestra under its musical director Carlos Vieu with tempi and balance correct.
Yet despite the positives, overall the production failed to rise above the average, and it is to be hoped that the Argentino will be able to recover some of its former momentum.
Jonathan Spencer Jones