Canada Concertmaster Dale Barltrop in Conversation with Geoffrey Newman
A number of years ago, the Gramophone magazine put out an article, "What Does a Conductor Really Do?" Presumably, we all knew the answer to that, but the article did provide some new insights. If we then turned to the question of what a concertmaster does, we would likely respond the same way. Nonetheless, a casual browsing of contemporary articles on an orchestra's concertmaster does not often reveal a full picture of the range and scope of a concertmaster's responsibilities. It is of course common knowledge that (at least in North America) the concertmaster 'tunes' the orchestra at the beginning of a concert, is responsible for coordinating the bowing (and seating) of the strings, and takes the violin solos in orchestral works. But if that was all there was to it, it would not be a major decision for orchestras to make an appointment at this position—and it is indeed a major decision.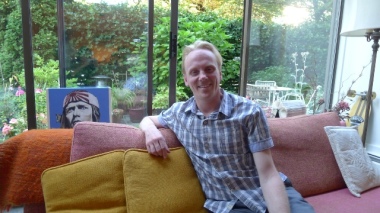 Obviously, a concertmaster's presence and leadership ultimately reaches much beyond the strings, to all sections of the orchestra and often to the musical community at large. The concertmaster must develop an ambient and productive relationship with a variety of conductors, both permanent and guest, as well as bring unflagging inspiration to the entire ensemble. Insofar as a concertmaster's tenure with an orchestra may outlast that of a music director, they can in some sense impart a stronger continuity to an orchestra's legacy than the conductor as such. Perhaps that is why legendary concertmasters such as Sidney Harth, Willy Boskovsky, or Hugh Bean are remembered so fondly and with so much respect.
In this interview, I attempt to explore these more general dimensions of what it means to be a concertmaster these days, with 34-year old, Brisbane-born, Dale Barltrop, part of the young wave of up-and-coming concertmasters. He is particularly interesting to talk to since he currently leads the Vancouver Symphony Orchestra (under Bramwell Tovey) and, as of June 2014, has been appointed co-concertmaster of the Melbourne Symphony Orchestra (under Sir Andrew Davis). The latter ensemble has just made its first—and very successful— appearance at the Proms.
Barltrop made his solo debut with the Queensland Symphony Orchestra at the age of 15 and served as concertmaster of both the Queensland and Australian Youth Orchestras. He then served for six years as Principal Second Violin of the Saint Paul Chamber Orchestra before taking up his current VSO appointment in 2009.
Geoffrey Newman: What first inspired you in the direction of becoming a concertmaster rather than a soloist?
Dale Barltrop: I knew very early on that I wanted to be a concertmaster, and not a soloist. Even when I was just eight years old, I remember going to an outdoor concert with my parents and being completely fascinated by the concertmaster's presence in the orchestra— much more than that of either the soloist or conductor. I would watch his every move. From that moment, I knew that I wanted to sit in the first chair.
GN: You were concertmaster for two Australian youth orchestras at the beginning of your career. What were the big things that those experiences taught you?
DB: One of the highlights of my time with the Australian Youth Orchestra was playing in Berlin under no less a conductor than Vladimir Ashkenazy. It was so exhilarating to be part of this. And intimidating too!  In our first rehearsal, I was sufficiently petrified that I missed my first entry. Consequently, the rest of the violins didn't come in, and we had to start the symphony all over again. But Ashkenazy is such a warm and generous man and quickly put me at ease. I soon came to realize the importance of establishing a rapport with both the conductor and members of the orchestra. To lead an orchestra demands so much more than simply being a good musician. It is very much a social role, where you establish human relationships and participate in, and build, something greater than yourself. I find that so inspiring and challenging. I have always been drawn to the idea of empowerment and bringing out the best in others.
GN: Are there concertmasters of the past who have given you inspiration and a role model?
DB: William Preucil (concertmaster of the Cleveland Orchestra from 1995) was not the first concertmaster that came to my attention, but he was my teacher and mentor and the one whose influence has had the greatest impact on me. I studied with him for several years, both in Maryland and Cleveland. Even today, I feel like I am still learning from him and the recollection of observing him in action. He was just so effective in his role: his charisma, body language, facial expressions and, of course, his stunning violin playing. When he led the Cleveland Orchestra, he just grabbed the orchestra's attention. His presence was felt immediately in the energy of the ensemble and in its sound. He seemed to create a personal connection with the full orchestra of the type that one might find in a string quartet. I found this so amazing. It has been a great honour for me to play alongside him at the Mainly Mozart festival in San Diego in recent years.
GN: What exactly is involved in the concertmaster's task of indicating the 'bowing' for the violins?
DB: The direction and coordination of the bowing is indicated to some degree in the score but, more often than not, composers were not very concerned with bowings. Thus, much is subject to interpretation and the demands of execution. The role of the concertmaster is to oversee the bowings of the string sections of any given piece. This is not a minor task; preparations start months in advance. I get the scores from the librarian, provide a complete set of markings for the first violin part, which are then photocopied and sent to the other string principals who will then mark their respective parts according to my bowings. It is then the librarian's job to transfer the markings from the principal parts into every other part in the string section. This can be a very arduous undertaking, especially for something like a Mahler symphony. And it all must be completed at least two weeks before performance.
Of course, there are many factors that influence decisions on bowing; for example, an orchestra will often develop certain bowing traditions over many years, passed down from one season to the next. But differences in conductors, tempi and interpretation allow for considerable variation in what is appropriate. Even the most basic rhythmic figure could be bowed in a variety of ways. I do inherit the previous concertmaster's markings, and I very often use these for reference. But I will also have my own ideas to add which reflect my personal taste. Some of the decisions require research, and here I may even turn to recordings to help me. To do this job effectively, the concertmaster must be really familiar with each work, sometimes up to knowing the full orchestral score. But the job is not fully finished until all the bowings are actually tested in rehearsal. My colleagues are indeed all too familiar with the sound of my voice announcing a bowing change. These invariably come up. As I gain more experience, I am learning to keep them to a minimum!
GN: An essential relationship is of course with the principal conductor? How long does it take for each of you to fully understand each other?
DB: Every conductor has their own style and every concertmaster has their own style. Each must find a way of being at one with each other, since the concertmaster in principle must convey the conductor's intentions to the rest of the orchestra. Some conductors operate largely according to their own plan and seek little, if any, input from the concertmaster; others are more collaborative and encourage dialogue. Since a concertmaster performs with such a variety of conductors, they must use their instincts to establish the type and extent of input desired. Even in my initial auditions for the VSO, I immediately felt a good chemistry with Music Director Bramwell Tovey, so that when I actually took up the post, it was like we had already established a working relationship.
As this developed over several seasons, I got a better sense of the give and take between us; for example, just when I should stand up and address issues or when I should avoid disrupting the flow of the rehearsal. Bramwell will often encourage me to address the string sections on finer technical issues. Since at least part of my responsibility is to oversee the orchestral sound as a whole, questions of orchestral balance are also often discussed, particularly when a soloist is involved. Of course, one can think of examples historically where the relationship between a music director and the concertmaster can only be described as 'dysfunctional'. This is a big problem: musicians do not know whom to follow.
GN: How exactly might you interact with the orchestra during a performance?
DB: The body language of a concertmaster is critical. Some move more than others. But there is a degree of physicality in leading an orchestra which can assist in keeping things together. I try to show as much as I can without being overly distracting or annoying. I also believe in eye contact across the orchestra. I typically keep my eye out for the other principal players, but sometimes it is also nice to make a connection with someone in the very back of the orchestra, and this includes the timpanist, especially in passages where their rhythm is what holds us all together. I particularly value the interactions I have with the VSO's principal cellist, Ari Barnes, who sits directly across the stage from me. The link between concertmaster and principal cello is perhaps one of the most important in the orchestra. Ari is a particularly expressive musician and I always draw inspiration from him.
GN: Suppose you were playing a difficult work on a given evening that was not going that well. How would you use your leadership and inspiration to motivate and encourage the orchestra?
DB: This is where I must serve as a focal point for the entire orchestra—'a lifeline' so to speak. When I perceive rhythmic instability or ragged ensemble, I try to be very clear and perhaps even more demonstrative in my gestures. But at other times, I just try to stay as calm and collected as possible, because the last thing people need is a flailing concertmaster when things get rocky. I will never forget one experience when we were accompanying a student concerto competition and the young soloist had an unfortunate memory slip which catapulted them back to an earlier section of the piece. It was catastrophic for the orchestra and conductor, who could do little to salvage the situation. Thankfully, after a terrifying 60 seconds, which felt like hours, I managed to locate the place in the music where the soloist had ended up, and gradually, my colleagues jumped on board. Crisis averted.
GN: What extra things do you have to do when a young guest conductor is making their debut with the orchestra?
DB: Ultimately, my job is to put a conductor at ease and to do everything I can to help them convey their interpretation to the orchestra. Almost all young conductors like to present themselves to the orchestra with confidence and command, although a lack of experience can become evident fairly quickly. So there is room for a concertmaster to play a more supportive and guiding role — while of course remaining very respectful. Frequently, I will talk to a guest maestro about a certain passage and what they might want from the orchestra there, just to make things more comfortable. If it seems appropriate, I might offer a suggestion or two. This would be done more outside of rehearsal than during. For young conductors who make a mistake on the podium, I have found that the orchestra will have far greater respect if they admit their error. A little humility goes a long way in the conducting world.
Given the proliferation of young, up-and-coming conductors and the ethic that conductors and orchestras should collaborate in a more 'egalitarian' way than in the past, few young conductors would ever try to unreasonably impose their will on an orchestra. The classical music world is small and such actions could be professional suicide. But on the other side of the coin, if a conductor plays it too safe just to keep the musicians on side, they need not inspire the orchestra to its highest level. This is where I might step in and ask for more from the ensemble.
GN: Does your role change in any way when performing concertos?  Is there anything in particular you have to do to accommodate the guest soloist?
DB: When a soloist takes the stage, my role is again to put them at ease and be as supportive as possible. However, a more sensitive approach is often required, because now the concertmaster is essentially following two people, the conductor and the soloist. This can be particularly tricky if the conductor and soloist are not on the same page. But I must admit that I really love accompanying soloists because, more often than not, they are artists of the highest caliber and interacting with them is one of the great joys of my position.
GN: Is your role different when a 'superstar' is performing rather than a less proven artist?
DB: I must admit that I still get a little star struck when legendary soloists come through town. I'll never forget accompanying Itzhak Perlman for the first time, my childhood violin hero. It was a humbling experience being able to make music with an artist I idolized so much. At the end of the concert, Perlman handed me his violin to me to look after while he made his way off and on stage for the curtain calls. I don't think I've ever felt so petrified holding a violin before! In Melbourne recently, we played with legendary pianist Emanuel Ax, whose humble, gentle nature was utterly endearing. To my surprise, when he returned to the stage for the third time following a sublime Beethoven 4, he turned to me and asked if it would be ok if he played an encore!
GN: What are some of the unique situations you have found yourself in as a concertmaster?  For example, did you ever have to give up your violin to a soloist who broke a string?  Take over conducting for an ailing maestro?
DB: Thankfully, I've yet to experience handing my violin over to a soloist who's broken a string. But I've broken a few of my own, which has led to some sophisticated violin switching whereby I swap violins with my stand partner, who then swaps violins with the 4th chair violinist, who will then take my violin offstage to restring it—all while the concert goes on. Neither have I ever taken over for an ailing maestro, although I was foolish enough to take to the podium at my very first annual VSO's Lovers Ball, and lead the orchestra completely astray in a near-disastrous rendition of The Merry Widow. The guests on the dance floor came to a screeching halt.
GN: But being a concertmaster must teach you quite a bit about the art of conducting?
DB: After playing under so many different conductors, you certainly do get to know the nuances and challenges of the job, not to mention the variety of conducting styles. What always amazes me is how the subtlest differences in approach between conductors can produce such large differences in the sound of the orchestra. Even things like the maestro's posture on the podium seem to matter more than one would think.
GN: Your experience with the VSO has been an interesting mix as you have had the opportunity to perform solo violin concertos (Schumann, Britten, and this coming year, Bartok No. 1). It is wonderful that you have been able to do this (and very successfully, I may add) but are you sure you wouldn't like to take things further?
DB: Possibly because of popular demand and the need for orchestras to remain financially viable, a full-time violin soloist is forced to concentrate their time on the basic core of violin concertos: the Tchaikovsky, Brahms, Beethoven, Mendelssohn, Bruch, and so on. This leaves many worthy concertos played far too infrequently. So far, I have focused my solo projects in Vancouver on a few 'rarities' (although I admit the Britten is becoming increasingly popular), since I strongly believe that these concertos deserve more exposure. To perform such works from time to time is also very good for my development as a violinist, not to mention the importance of a concertmaster gaining recognition and acknowledgement in front of their hometown audience. But as I said before, I do not aspire to be a full-time soloist. It's just not me.
GN: At this point in your career, if someone invited you to join the second violins of an orchestra as a favour, would you be receptive?
DB: I love playing second violin and, after spending six years doing just that in the St. Paul Chamber Orchestra, I miss it. The experience of playing in a section, rather than being in the hot seat, is very educational and reminds me how much harder it is to play in the back. Would I now ever take a job as a section violinist? Who knows, I've always fantasized about playing with the Berlin Phil!
GN: Finally, just to set the record straight, when you come on stage to initiate the tuning of the orchestra, what exactly do you achieve?
DB: I've often asked myself the same question. Honestly, the concertmaster 'tuning' the orchestra is really just a protocol that signals the audience to be quiet and the orchestra to tune. The concertmaster also does this at the beginning of every rehearsal, and when we come back from break. A nod to the principal oboe is about all that is required. It's not that I am offering instruction or micro-managing anyone's tuning; professional musicians are expected to be able to do that themselves.
Geoffrey Newman
Previously published in a slightly different form on http://www.vanclassicalmusic.com