Germany Wagner: Tannhäuser, Staatskapelle and Staatsopernchor Dresden, Cornelius Meister (conductor), Semperoper Dresden, 3.10.2014 (JMI)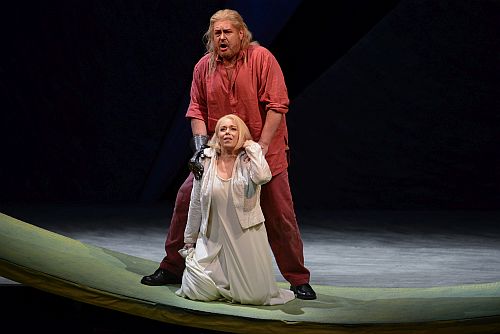 Cast:
Tannhäuser: Stephen Gould
Elisabeth: Elisabet Strid
Wolfram: Markus Brück
Venus: Alexandra Petersamer
Landgrave: Georg Zeppenfeld
Walther: Ulrich Ress
Biterolf: Tilmann Rönnebeck
Heinrich: Aaron Pegram
Reinmar: Jörn Schümann
Shepherd: Emily Dorn
Production: Semperoper Dresden
Direction: Peter Konwitschny
Sets: Hartmut Meyer
Costumes: Ines Hertel
All opera lovers know about the close relationship between Richard Wagner and the city of Dresden, where he premiered three of his operas. The Semperoper maintains its fidelity to the composer, and the audience responds again and again with a full house.
This was a revival of the Peter Konwitschny production that was premiered in 1997 and has now reached 67 performances at the Semperoper. Despite the years that have elapsed and the many times it has been performed, I confess that I knew nothing of this production and hence was curious to see what Mr. Konwitschny would do, given his iconoclastic and transgressive ideas in opera. The truth is that I could not believe what I saw in the first two acts which are basically within the tradition, whether or not the stage or costumes could be more suitable and attractive.
Mr. Konwitschny tends to not take Wagner's dramas too seriously, and this came finally to the fore in the last act with his own version of the opera that has little to do with what Wagner wrote. Elisabeth dies here, but not due to her sorrow for the missing Tannhäuser; rather, she commits suicide by cutting her veins with Wolfram's sword. It seems to me rather strange that someone later declared a saint by the church does this. Tannhäuser then arrives from Rome and meets his friend Wolfram, but he does not see Elisabeth's corpse (which, by the way, is quite visible). Finally, Tannhäuser also kills himself, leaving the two dead lover sat the feet of none other than Venus,in an aesthetic composition reminiscent of a famous Pietà. What is never lacking in Mr.Konwitschny' works is his remarkable direction of actors and crowds.
The musical direction was entrusted to Cornelius Meister, a regular in Dresden, who is having a remarkable career at just 34. I did not find his reading  particularly compelling or exciting. He did show a great control of all the forces under his command and this connection never failed, but I tend to give great importance to emotion in opera, and it was somewhat absent. In general, his tempi were too slow. The Dresden Staatkapelle disappointed me somewhat during the first act. I expected more from them, based upon past experience, and they did improve significantly in the second half of the opera. Something similar can be said of the chorus which was less good than in the past, particularly the male section.
Stephen Gould as Tannhäuser proved again that today he is preeminent in these particularly demanding dramatic tenor roles. Few tenors have been able to do justice to the role of Tannhäuser, one of the most demanding in the entire repertoire. The difficulties of his singing in the Venusberg are followed by the challenging tessitura at the end of Act II, and then he has the strenuous account of  Rome. Stephen Gould is not a paragon of subtleties and nuances, but his voice is large, powerful, and always ringing, able to overcome all the difficulties that Wagner wrote into the score. With more elegance and a more nuanced singing, he could be a perfect Tannhäuser, but perfection is not of this world.
Soprano Elisabet Strid played Elisabeth, and her performance was good once she got past some difficulties in her entrance with "Dich, teure Halle." Her interventions in favor of Tannhäuser in the singing contest were very convincing, but she was somewhat short of emotion in the Prayer of the last act. Her voice is suited to the part, if somewhat impersonal in timbre.
Seldom does Wolfram Von Eschenbach not triumph in this opera: the music that Wagner gave to the character falls into the category of  sublime. Markus Brück was a very good interpreter, singing with intensity and good taste, especially the "Song to the Star." I have always found him an excellent singer, and he proved it again here.
Georg Zeppenfeld was a solid Landgrave and sang with authority. He is one of the most solid values of ​​Dresden opera. Alexandra Petersamer was a discrete Venus, with a good middle range but tight at the top and too weak down below
The secondary characters were well covered. Ulrich Ress was a good Walther with a mediocre voice. Tilmann Rönnebeck was a fine Biterolf, and Emily Dorn did well as the Shepherd. Both Aaron Pegram as Heinrich and Jörn Schümann as Reinmar were correct.
The Semperoper was sold out. The audience was warm and gave the biggest ovations to Markus Brück and Stephen Gould.
José Mª Irurzun