Spain  Donizetti: La Fille du Regiment, Teatro Real Orchestra and Chorus, Bruno Campanella and Jean-Luc Tingaud (conductors), Madrid Teatro Real, 5 & 7.11.2014 (JMI).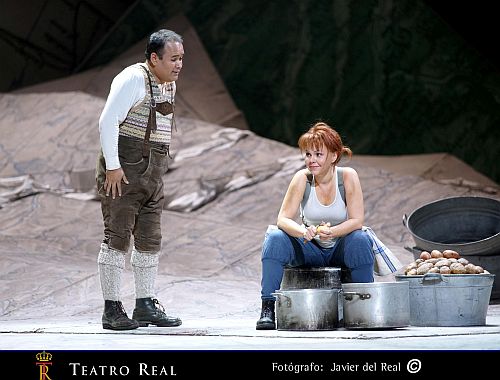 Casts:
Marie: Aleksandra Kurzak/Desirée Rancatore
Tonio: Javier Camarena/Antonino Siragusa
Sulpice: Pietro Spagnoli/Luis Cansino
Marquise Berkenfield: Ewa Podles/Rebecca De Pont Davies
Hortensius: Isaac Galán
Notary: Mathieu Bettinger
Duchess Crakentorp: Ángela Molina
Coproduction:  New York Metropolitan, London Royal Opera and Vienna Staatsoper
Direction: Laurent Pelly (original)
Christian Rath (revival)
Sets:       Chantal Thomas
Costumes: Laurent Pelly
Lighting: Joël Adam
If I'm not mistaken, it's the first time this opera has been staged at Teatro Real since the theatre reopened 15 years ago. Previously, it had been done several times at Teatro de la Zarzuela, and I have a special memory of a 1984 performance with Alfredo Kraus, June Anderson and Carlos Chausson. In my opinion, mounting it is only justified when there are extraordinary interpreters: its musical quality is not exactly sublime except for some isolated pages. Here we did not have Juan Diego Flórez singing Tonio, as at Barcelona's Liceu four years ago, but Javier Camarena was just as good. In fact he was the protagonist in an historical event at Teatro Real when he had to do an encore of the aria "Pour mon âme," only the second time this has happened here after Leo Nucci's bis in Rigoletto in June 2009.
Laurent Pelly's production places the action during World War I, and it has always had a great reception from audiences and critics since the premiere at Covent Garden in January 2007. It is an excellent stage production which has been reviewed several times at Seen and Heard; I wrote about it four years ago.
In the pit were Bruno Campanella and Jean-Luc Tingaud. I found the latter unconvincing, short on lightness and long on volume, but Bruno Campanella was excellent. The difference between their readings was huge. With Mr. Campanella, who always supported the singers on stage, we could enjoy the music. Both the orchestra and the chorus gave strong performances.
In the first cast Marie was played by soprano Aleksandra Kurzak, who did well both singing and acting. She has always seemed to me a reliable soprano, though not exceptional, and hampered in part by a somewhat impersonal tone. In the second cast, Desirée Rancatore also gave a solid performance in all aspects.
As I said above, the biggest success was tenor Javier Camarena as Tonio. Since the premiere of the opera last month, there have been rumors of trying to get a bis of the famous aria of the 9 high Cs, and he finally did it yesterday. Does this mean that Javier Camarena sang better than he had on previous days? Probably not, but he was superb. For an encore to happen in an opera house several conditions are needed: the aria has to be quite popular, the artist in question must be outstanding and the audience needs to respond with enthusiasm. On top of this, it's necessary that people scream wildly for a bis, as if their lives were at stake. And finally, the singer must be predisposed to do it. The conditions were met last night at Teatro Real, and hence the bis.
Beyond that, I must say that Javier Camarena was truly outstanding, not only at "Pour mon âme" but also with an excellent rendering of the beautiful and difficult  "Pour me rapprocher de Marie." Antonino Siragusa's Tonio was rather uninteresting. He has no problems with the tessitura, but this is not enough to succeed in the character.
Pietro Spagnoli did nicely as Sergeant Sulpice, and Luis Cansino was a good choice in the second cast.
Ewa Podles as Marquise Berkenfield was convincing. Her voice is not what it once was, but she is still impressive in the low register. Rebecca De Pont Davies in the second cast was a better actress than singer.
Jose Mª. Irurzun