Sweden Engelbert Humperdinck: Hansel and Gretel, Soloists, children's chorus, Gothenburg Opera Orchestra, Henrik Schaefer (conductor), Gothenburg Opera main stage, 22.11.2014  (NS)
Cast:
Peter (Father): Marco Stella
Gertrud (Mother): Carolina Sandgren
Hansel: Matilda Paulsson
Gretel: Elisabeth Meyer
The Witch: Susanne Resmark
Sandman/Dewman: Mia Karlsson

Production:
Gothenburg Opera
Direction: Katharina Thoma
Set design: Etienne Pluss
Costume design: Irina Bartels
Lighting design: Joakim Brink
Translation to Swedish: Karl Sjunnesson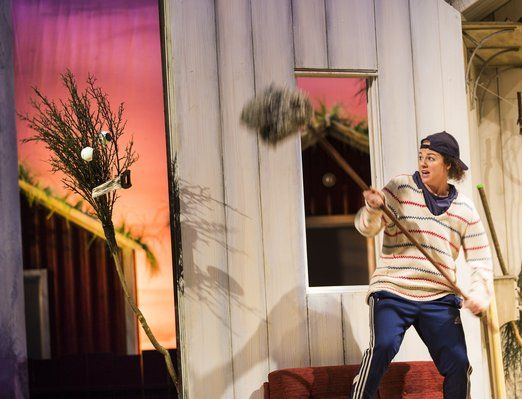 Gothenburg Opera's new production of Hansel and Gretel (Hans och Greta in Swedish) is a mixture of familiar faces (such as conductor Henrik Schaefer, previously reviewed by your correspondent at both the Gothenburg Opera and Wermland Opera) and new ones (the soloists for Hansel and Gretel, and the production team). The result is a great success, especially appreciated by the many children in the premiere audience who were so spellbound that only the occasional crackle of a sweet wrapper was heard.
Katharina Thoma's production is set in modern Sweden, with many touches giving local colour (particularly Peter's flakmoped, a three-wheeled cargo moped which is the signature vehicle of the islands of the Gothenburg archipelago). The Witch's house is made of Swedish sweets rather than gingerbread. The production is full of interest for both adults and children. Etienne Pluss' set is versatile and, in the forest scenes, simply beautiful. The orchestral interlude between Acts 1 and 2 was imaginatively choreographed, dancers with broomsticks alluding to the witch (and an affectionate Harry Potter reference when Mother and Father's flakmoped takes to the sky!). The finale of Act 2 was utterly enchanting with the beauty of the set being heightened by the cast of the forest animals and angels (see below).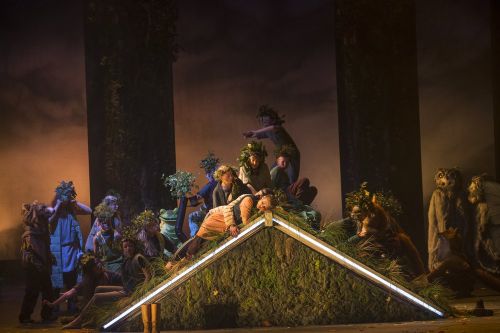 Henrik Schaefer's conducting is sensitive both to the magic and the drama of the score, and brings out the rich sound of the Gothenburg Opera Orchestra in the right places. Mr Schaefer's study of performance styles of the late Romantic period means that the strings play with portamento, just as in the Wermland Opera production of Wagner's Ring that he also conducted. This produces a beautiful, shimmering sound from the strings that feels entirely right for Humperdinck's score.
Matilda Paulsson's Hansel and Elisabeth Meyer's Gretel work very well together on stage, with a very believable brother-sister relationship. Ms Paulsson has apparently been studying the mannerisms of a 14-year-old relative to prepare for her role, and certainly acted very believably as a somewhat impatient boy who nevertheless is close to his slightly older sister. Their dance duet "Brüderchen komm tanz mit mir" was full of uncomplicated childish fun (assisted by a dancing broom!).
 Ms Meyer for the most part sang with an attractive, clear voice (and had no problems with singing in Swedish). Her aria "Ein Männlein steht im Walde" was simply lovely. However, her voice sometimes lost some focus when she sang towards the top of her dynamic range. Ms Paulsson had no such technical problems and was always well-balanced, both with the orchestra and in her duets with Ms Meyer. It was a real pleasure to be able to enjoy such a superb all-round performance without the distraction of odd direction that marred Ms Paulsson's role as Cherubino in the Wermland Opera's Marriage of Figaro that I recently reviewed.
 Both of Hansel and Gretel's parents were well-characterised. Carolina Sandgren's expressively-sung Mother was commanding and intimidating when her children disappointed her but one could understand her frustration. Katharina Thoma raises the issue of time-poor modern families (in this production Mother works full-time as a cleaner) and how this problem affects both children and parents, but does it with a light hand. Marco Stella's Father was colourfully characterised and sung, superb as a rollicking drunk in "Ach, wir armen Leute" but convincingly sober when he realises that the children have been sent to the haunted forest on their own. His diction was so perfect that one could follow every word he sang.
 Susanne Resmark was terrific as the Witch. Some of her character traits (and her apron) initially remind the audience of Mother but she could also very effectively produce the superficial image of a generous jolly matron. When the gloves came off she was suitably terrifying and was at all times vocally impressive. Mia Karlsson offered a fine performance both as the Sandman and particularly as the Dewman, flitting about the stage clad in silver with a water pistol (and a silvery voice) waking the animals of the forest by spraying them with dew.
 Last but not least, the Gothenburg Opera Children's Choir (ably prepared by Ida Rosén Hamrå) performed with great confidence. They also made the most of the fifty extra bars Humperdinck added to the finale for Cosima Wagner's production in Dessau which were also added to this production, resulting in an exuberant and triumphant fairy-tale ending.
Niklas Smith