Sweden Gioacchino Rossini: The Barber of Seville, Soloists, chorus, Wermland Opera Orchestra, Per-Otto Johansson (conductor), Wermland Opera main stage, Karlstad, 6.11.2014 (NS)
Cast:
Count Almaviva: Petter Moen
Doctor Bartolo: Peter Kajlinger
Rosina: Frida Engström
Basilio: Urban Malmberg
Figaro: Anton Ljungqvist
Berta: Ann Sigurdson
Fiorello: Johan Rydh

Production:
Wermland Opera
Direction: Tobias Kratzer
Set and costume design: Rainer Sellmaier
Lighting design: Björn Skansen
Makeup design: Elisabeth Näsman
Choirmaster: Bo Ericsson
Director's assistant: Emil Eliasson
Translation to Swedish: Bo Ericsson and Jan Mark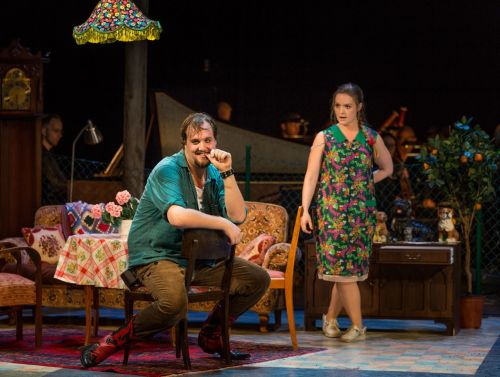 The Wermland Opera in Karlstad has been achieving remarkable successes with its Ring Cycle in 2011, a unique production of Monteverdi's L'Orfeo in spring 2014 and a fully-staged production of Bach's St John Passion in 2012. The German director of the Passion, Tobias Kratzer, has now returned to direct an even bolder project: a trilogy of The Barber of Seville, The Marriage of Figaro and Fidelio. Just like their Ring Cycle, this trilogy is produced with the operas performed one after another within a week (for a total of twelve complete cycles).
 Linking the first two operas is natural given that they are the first two parts of a trilogy of plays by Beaumarchais. Indeed, the opera's chief executive Ole Wiggo Bang and chief conductor Henrik Schaefer had originally thought of producing the whole of Beaumarchais' trilogy operatically, but Mr Kratzer suggested Fidelio as the third part instead. Mr Kratzer's vision is to link the both the social criticism of the three operas and the characters in them to produce a trilogy charting a revolution.
 In The Barber of Seville Mr Kratzer brings the singers to the audience (and occasionally into the audience!). The set is built on a stage extension over the orchestra pit and the orchestra is on the original stage behind. Despite the challenging layout the balance between orchestra and singers proved to be superbly judged by Per-Otto Johansson, who also showed a mastery of Rossini's score.
 The social distinctions in the characterisations are sharp, helping to set the scene for the following two parts of the trilogy. Almaviva's servant Fiorello (Johan Rydh) is a man of taste and education whose expression of disgust on seeing rats scurrying across the square in front of Bartolo's house gave the audience the first of many laughs on opening night. To go with his fine acting Mr Rydh has a melodious bass. Rather than being sent away by Almaviva before Figaro arrives he is still there and shows his contempt of the barber in no uncertain terms, sarcastically singing some of the lines of Figaro's "Largo al factotum" to poke fun at him.
 Anton Ljungqvist's Figaro is flamboyant, bursting into the stalls in his first entrance then striding onto the stage in his impressive boots. Figaro is confident, enthusiastic and charming but also can't read, a fact that the unimpressed Fiorello makes sure to rub in to Figaro's embarrassment. Mr Ljungqvist's baritone is superbly projected and versatile, equally at home in "Largo al factotum" as in his stage whispers when he and Almaviva break in to Bartolo's house. He has a great stage presence, physically towering over Petter Moen's Count but happy to act as a friendly adviser (after a suitable consideration has changed hands).
 Mr Moen is an exciting Count, with a lyrical and nimble tenor that has no trouble sounding beautiful even at the top notes. His characterisation is rich, starting as a somewhat spoiled and fastidious young man but throwing himself into the various schemes Figaro suggests with enthusiasm as his attraction to Rosina grows. However, at the end he does show a streak of cruelty prefiguring the Count of The Marriage of Figaro.
 Frida Engström's Rosina sings beautifully and with humour and expression, catching the essence of Rosina's character perfectly. But in this production there are also more sides to Rosina: she sees through Almaviva's disguise as "Lindoro" immediately and seems as determined to win him has he is to win her. For Rosina he seems to represent both attraction and a way out of her circumscribed existence in a house full of tasteless kitsch, to Almaviva's world of wealth, status and elegance.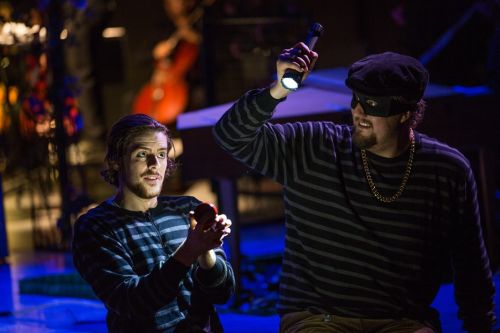 :
Peter Kajlinger is terrific as Doctor Bartolo, the man responsible for much of Rosina's misery (and a collector of twee ceramic dogs). His singing was spot on, particularly his patter, and his character acting hilarious. Despite the character's sliminess Mr Kajlinger still manages to remind us that Bartolo is human, and his housekeeper Berta's touching devotion to him does not seem totally misplaced. Ann Sigurdson as Berta stood out for her acting rather than her singing, in her relationship with Bartolo and particularly in a moving rendition of Berta's aria where a satin-clad doll reminded her of the loss of her child. The supporting cast is rounded off by Urban Malmberg as a larger-than-life Basilio, who excelled both in his aria "La calunnia è un venticello" and when he was the butt of the comedy of a hilarious opening scene of Act 2.
All in all this is an exciting and absorbing production that whets the appetite for the following parts of the trilogy.
Niklas Smith
Click here for the review of part 2, The Marriage of Figaro
Click here for the review of part 3, Fidelio