United Kingdom Donizetti, L'elisir d'amore (Laurent Pelly's production revived by Daniel Dooner): soloists, orchestra and chorus of The Royal Opera, Daniele Rustioni (conductor), Covent Garden, London 18.11.2014 (JPr)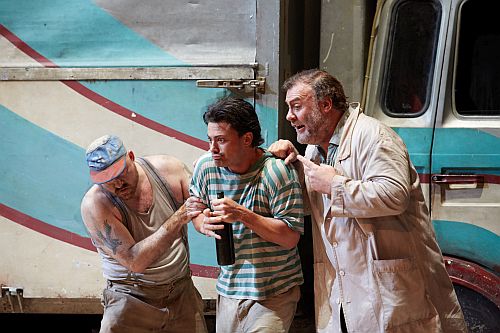 Cast:
Adina: Lucy Crowe
Nemorino: Vittorio Grigolo
Dulcamara: Bryn Terfel
Belcore: Levente Molnár
Giannetta: Kiandra Howarth
Production:
Director: Laurent Pelly
Set designs: Chantal Thomas
Costume designs: Laurent Pelly
Associate costume designer: Donate Marchand
Lighting design: Joël Adam
In my review when this co-production with the Opéra National de Paris was first performed by the Royal Opera in 2007 I wrote 'What L'elisir needs is laughter and tears otherwise what's the point? I counted only four potentially big laughs when the audience chuckled together rather than individually' … and one of these was when a fast-moving Jack Russell terrier ran across the stage and then later back! However, as revived by Daniel Dooner in 2012 I remarked how the production 'rarely now misses a trick to give the audience something to laugh at'. Now back for its third revival in 2014 I cannot imagine a nicer or sunnier staging of L'elisir d'amore; there is humour, sentiment and pathos aplenty but all bathos and buffoonery is reined in from an ensemble that treats Donizetti with respect and bring us a colourful evening full of gentle charm that sounds lovely and will look wonderful on a large screen in next week's live broadcast to cinemas.
 When it works as well as this L'elisir d'amore is an uplifting experience not least because as Simon Rees mentions in a programme essay, what with all the operatic deaths for sopranos 'by disease, accident, murder or self-immolation, it is refreshing to find a cluster of operas in which the heroine (fat, thin or just nicely proportioned) doesn't die but lives on to the final curtain, triumphant, victorious and happy. Adina in L'elisir d'amore is one, but one of not very many.'
 In 2007 everyone seemed to take Donizetti's 1832 melodramma giocosa much too seriously even though the description does suggest a story with some laughter rather than an out-and-out comic opera. The story's genial humour come from the social attitudes of a small Italian village where it is harvest time and love is in the air. Adina owns the local farm, her friend Giannetta and a group of those working on the land are having a siesta. Nemorino, a naïve village boy, is in unrequited love with Adina. She is urged to read the story of Tristan who won Queen Isolde's heart by drinking a magic love potion and Nemorino decides this is exactly what he needs. A quack doctor, Dulcamara arrives and sells him his 'cure-all' elixir so that he can win Adina's heart. To spite him, the impulsive Adina announces her immediate marriage to a braggart army sergeant, Belcore. This 'elixir' is nothing but cheap Bordeaux but as in most rom-coms, after all the trials, tribulations and misunderstandings, true love wins out in the end.
 How women were depicted in Italian post-war cinema seemed central to Laurent Pelly's original staging; however, as the comedy has become broader this has been considerably diluted. There remains a somewhat French view of Italian peasant life and when the sergeant swaggers in with his 'little and large' soldier companions I still think of Captain Bertorelli from TV's 'Allo Allo!. A huge ziggurat of hay bales is intelligently used during the opening scene and Chantal Thomas's set designs are naturalistic and three-dimensional throughout; there are a hay-baler, a tractor, a roadside trattoria, bicycles and scooters and a lorry-load of Dulcamara's 'snake oil'. Joël Adam's lighting shows the passing time as it goes from sun-drenched morning to the starry sky of evening. The Act I scene change is accompanied by pastoral sounds and we see a front cloth with adverts entertainingly explaining how Doctor Dulcamara's potion is the answer for everything – and I mean everything! Last – but perhaps not least – there is that Jack Russell, Alfie, who scuttles across the stage during Dulcamara's 'Udite, udite, o rustici' and later runs back.
 It is possible the 2012 revival had interesting consequences as now its two stars, Roberto Alagna and Aleksandra Kurzak are an 'item' and earlier this year had a daughter. They were a memorable pairing in an ensemble I expected the current cast would have difficulty matching let alone surpassing, as was the case. Alagna was an agreeable Nemorino and he had brought his own costume including a felt hat that gave his portrayal a hint of Chico, the dim-witted Italian con artist member of the Marx Brothers. In hindsight, he concentrated too much on the physical comedy and did not portray a believable character who we genuinely end up caring about, as the very engaging Vittorio Grigolo now does. It is the first time I have heard Grigolo live and he did not disappoint. If this generation has a finer tenor for this repertoire then I have not heard him and his 'Una furtiva lagrima' was a show-stopping moment. I remember Nicolai Gedda reprising it at Covent Garden because of the storm of applause but audiences seem more restrained these days and although Grigolo has Gedda's sensitivity over Donizetti's long lines, it was greeted warmly but no one demanded an encore as in the old days. Grigolo's magnetic personality on stage was ill-matched by his over-exuberant Villazón-like antics at his curtain call, hopefully this was just because he had enjoyed singing as much as his audience had taken pleasure in hearing him.
 Lucy Crowe was a pert and delightful Adina with a pure voice and refined coloratura but she was so very English sounding and I longed for more Italianate colours than she currently possesses. Levente Molnár was ideal as the preposterous, mock-macho Belcore and has a flexible baritone with just the right amount of swagger to it. Jette Parker Young Artist, Kiandra Howarth led the chorus of potentially lovesick maidens appealingly whilst the men went about their bucolic duties enthusiastically. Daniele Rustioni, a former Jette Parker Young Artist, conducted his impeccable orchestra with irresistible lyrical verve, whilst keeping all the patter very brisk and light and all the dramatic accents pointed.
 This opera succeeds or fails with Dulcamara, a comic archetype (W C Fields or Groucho Marx come to mind) who is alternately a wary and conniving 'snake-oil salesman', clownish or quick-thinking. Bryn Terfel is not the first singer you would imagine in the role but he clearly relishes singing Dulcamara at Covent Garden for the first time and brings to it perfect comic timing where the merest look, gesture or movement speaks volumes. His fast-paced pitch for his all-purpose tonic – 'Udite, udite, o rustici' – brings the opera to life in Act I and is central in the opera's musical and comic development. My earliest memories of L'elisir d'amore are of Geraint Evans in this role; that other great Welshman never sang Wotan so it is amazing that Terfel can still get all his quick-fire words out, but he does. He seems to have great fun on stage and as always this was radiated throughout the opera house so it was a real pleasure to have been in his company once again, as it was to see such an exemplary performance of L'elisir d'amore. Do go and see it if you can.
 Jim Pritchard
For information about future performance at the Royal Opera House visit www.roh.org.uk.
For details of the cinema broadcasts visit www.roh.org.uk/cinemas.