Germany J.Offenbach: La Belle Hélène, Komische Oper Orchestra and Chorus, Kristiina Poska (conductor), Berlin Komische Oper, 8.11.2014 (JMI).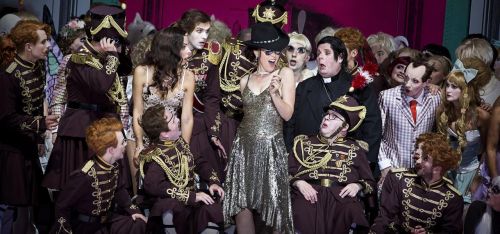 Cast:
Helénè: Cornelia Zinc
Paris: Tansel Akzeybek
Menelas: Christoph Späth
Oreste: Karolina Gumos
Calchas: Stefan Sevenich
Agamemnon: Dominik Köninger
Achille: Uwe Schönbeck
Ajax I: Tom Erik Lie
Ajax II: Philipp Meierhöfer
Bacchis: Hakan T. Aslan
New Production:
Direction: Barrie Kosky
Sets: Rufus Didwiszus
Costumes: Buki Shiff
Lighting: Diego Leetz
Choreography: Otto Pichler
Few will be the opera lovers who, having visited Berlin, have not attended any performance in one of the major opera houses, the Staatsoper Unter den Linden and the Deutsche Oper. There is also a third opera house in Berlin – also, incidentally, at the Unter den Linden – that has always stood out for its varied program of operas, operettas and musicals. One of its usual stage directors, Australian Barrie Kosky, was appointed intendant  of the Komische Oper 3 years ago and in this time the house has made a long way without losing its identity. In my regular visits to Berlin I always try to make a visit to the Komische Oper and I always leave the house satisfied with the result of the shows that are offered there.
The stage production is due to Barrie Kosky and was premiered last month. This is one of the most imaginative, bright and fun works I've seen in years. He brings the action from ancient Greece into modern times and  Barrie Kosky is just great. The sets are very simple, just a stage enclosed by several side doors, leaving a walkway at the front, being the orchestra pit is in the middle. Costumes are imaginative and full of colours. What stands out is the spectacular choreography by Otto Pichler.
The production is exciting, full of humour and a spectacular stage direction. Here the singers not only sing, but also act and dance. Some of them have amazing stage performances. Moreover, the choir is amazing, offering an impressive stage performance. What I can say of the dancers? Their performance is magnificent. They don't only dance, but they also act and even sing some times.  Barrie Kosky's imagination is worth seeing. There are some scenes that are just great, like Helene singing on the walkway, accompanied by the bandoneon, Non, Je ne regrette rien, after her night of love with Paris, and next to her a male dancer in tutu, or Menelaus singing Ne me quitte pas dedicated to his wife Helene. Perhaps the greatest merit of Barrie Kosky is the work he does with Calchas, who, despite his rotund figure, is able to skate with the dancers and he even ends up doing the spagat. If someone wants to enjoy an evening in Berlin, nothing better than this Belle Helene.
The musical direction was entrusted to Kristiina Poska, who was able to get all the joy, liveness and fun of this operetta. This conductor from Estonia is very regular at the Komische Oper and she got a good performance from the orchestra. I mentioned the Chorus above and I can only praise them for their excellent work on stage.
La Belle Helene was played by German soprano Cornelia Zinc. At the premiere the protagonist was Nicole Chevalier, whose performance was highly praised. I cannot make comparisons, but Cornelia Zinc was an excellent singing actress. This  character needs more than just singing. A true stage animal is needed and she is just that.
Paris was played by Turkish tenor Akzeybek Tansel and he was quite good. This tenor is been part of the company for the last two years and his interpretations have been noted several times. He is a light tenor with an attractive voice and easy at the top. To all this we must add a well suited figure for the character and good stage poise, able to dance on stage, when the occasion comes up.
Truly outstanding the interpretation of baritone Stefan Sevenich as the high priest Calchas, showing also a sound and flexible voice.
The other characters were well covered by tenor Christoph Späth as a fun Menelaus, mezzo soprano Karolina Gumos, easy on stage in the part of Orestes, Uwe Schönbeck as a sonorous and  funny Achilles and, finally,  baritone Tom Erik Lee as an  excellent Ajax I.
The Komische Oper was almost sold out and the audience had a great time, dedicating ovations to the artist during and at the end of the show.
José Mª Irurzun