Germany Strauss: Daphne, Staatskapelle Dresden, Sächsischen Staatsopernchor, Omer Meir Wellber (conductor), Semperoper, Dresden, 9.11.2014 (JMI)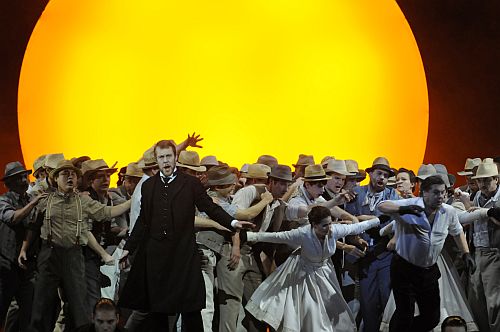 Cast:
Daphne: Marjorie Owens
Apollo: Lance Ryan
Leukippos: Ladislav Elgr
Peneios: Georg Zeppenfeld
Gaea: Christa Mayer
Shepherds: Ilhun Jung, Aaron Pegram, Julian Arsenault, Tilmann Rönnebeck
Servants: Romy Petrick, Christina Bock
 

Production: Semperoper Dresden
Director: Torsten Fischer
Sets: Herbert Schäfer
Costumes: Andreas Janczyk
Lighting: Fabio Antoci
There are not many opportunities to see this Richard Strauss opera on stage. I remember attending it more than 4 years ago in Frankfurt, and the performance was excellent. That was not the case in Dresden. Although there were some positive aspects, it was all marred by a faulty stage production.
Daphne, with a rather weak libretto by Joseph Gregor, was premiered in Dresden in 1938. Success has not accompanied this opera since its premiere, but in my opinion it features some outstanding music and an impressive orchestration. The plot, taken from Ovid's Metamorphoses, presents young Daphne, daughter of Peneios and Gaea, who is loved by Leukippos, a shepherd, but is also desired by the god Apollo, who comes to earth in disguise. Daphne ends up getting Leukippos killed by Apollo, who then forgives Daphne for her rejection and turns her into a tree so she can be part of nature for all eternity. Indeed, it is not a very attractive plot and even a bit confusing, but that's what it is.
It is clear that  Torsten Fischer does not like this mythological story, and he  decided to set it in Nazi Germany. He attempts to make Daphne the incarnation of Sophie Scholl, founder of Die Weisse Rose, an anti-Nazi organization, while Apollo is a Nazi boss and Leukippos is supposed to be Scholl's friend. What Daphne and Sophie Scholl have in common is comprehensible only by very imaginative minds like Torsten Fischer's, and the production could not be more confusing and unintelligible. It all ends in a long scene in which chorus and extras, plus Peneios and Gaea, head to the Holocaust after the death of Leukippos, with Daphne joining the procession. Did you understand? It doesn't matter – it isn't worth it. In any case, one could remind Torsten Fischer that the great successes of Richard Strauss were based on characters from history and mythology.
The musical direction was in the hands of Omer Meir Wellber, and I think this was one of his most convincing performances in the pit. I often find Mr. Wellber lacking in depth, but this time it all worked. His conducting was brilliant, and we could really enjoy the sound of the Staatskapelle Dresden. There was also a strong performance by the chorus.
Daphne was played by soprano Marjorie Owens, whose performance was excellent in vocal terms. Her voice is very attractive and homogeneous, with sufficient amplitude. Daphne has a lot to sing, and Ms. Owens solved all the difficulties of the score.
Lance Ryan was Apollo, and he is one of the few tenors able to sing this kind of impossible role. He also sang Apollo in the above-mentioned Frankfurt performance, and some aspects of his voice have worsened, particularly the appearance of an annoying vibrato at the top. In any case, his performance seemed to me very competent, given the enormous difficulties of the role. Part of the audience did not agree with my appreciation and he was booed, which I found quite unfair.
Ladislav Elgr as Leukippos has too light and small a voice for the character. Georg Zeppenfeld was a solid performer of Peneios, while Christa Mayer did really well as Gaea.
The secondary characters were well covered.
The Semperoper was at about 90% of capacity. The audience was rather tepid at the final bows. There were loud boos at the end of the opera, undoubtedly dedicated to Torsten Fischer. The biggest applause was for Marjorie Owens and Omer Meir Wellber.
José Mª Irurzun