Argentina Strauss, Elektra: Soloists, Chorus and Orchestra of Teatro Colón. Conductor: Roberto Paternostro, Teatro Colón, Buenos Aires. 31.10.2014. (JSJ)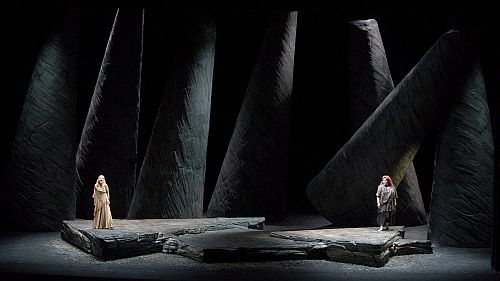 Cast:
Elektra: Linda Watson
Klytemnestra: Iris Vermillion
Chrysothemis: Manuela Uhl
Aegisth: Enrique Folger
Orest: Hernán Iturralde
Guardian: Cristian De Marco
Confidant: Marisú Pavón
Train bearer: Daniela Tabernig
Young servant: Eduardo Bosio
Old servant: Victor Castells
Overseer: Janice Bird
Maids: Alejandra Malvino, Alicia Cecotti, Virginia Correa Dupuy, Vanesa Tomas, Marisú Pavón
Production:
Director/sets/lighting: Pedro Pablo García Caffi
Costumes: Alejandra Espector
Chorus: Miguel Martínez
Ever since Strauss himself premiered his Elektra in Buenos Aires in 1923, it has proven to be one of the composer's more popular works locally, at least in terms of the number of productions it has received.
Not that this should be surprising: It is a remarkable work, taut and dramatic, with some of Strauss's most varied and striking music. Naturally following Salome, which was premiered three years earlier (December 1905, Elektra January 1909) it also marked a turning point, with Strauss subsequently returning to the lusher style of his tone poems, as in Der Rosenkavalier two years later.
As a work it demands – and generally attracts – highly accomplished artists, and this new production at the Teatro Colón by its director general Pedro Pablo García Caffi is no exception – a role, it should be added, of which not all fellow critics approve, and with perhaps unintended consequences (as will be apparent later in this report).
None of the three main principals are strangers to the Teatro Colón stage. Linda Watson, surely one of the foremost in the genre in the world, made her mark as Brunnhilde in the shortened so-called "Colón Ring" in 2012, and here she once again exhibited these powers with complete command as Elektra. Iris Vermillion, who had brought colour and command to the role of the Nurse in another of Strauss's masterpieces, Die Frau ohne Schatten didn't quite achieve the same depth as Klytemnestra, but visually rather than vocally. On the other hand, Manuela Uhl, also last seen as the Empress in the same work, was perhaps even more striking as Chrysothemis, singing with beauty and expression.
Hernán Iturralde made a powerful Orest, with his dark bass, and Enrique Folger made the most of Aegisth. The secondary roles were also generally well filled, except some uneveness among the five maids.
García Caffi's approach was one of simplicity and suggestion, with the set dominated by a series of truncated cones at different angles, giving a sense of ancient Greece. Colours of greys and blacks, moderated by subtle lighting to create the different moods, were indicative of the dark atmosphere of revenge and tragedy that is played out.
The orchestra under Roberto Paternostro was responsive and tempi were appropriate, ensuring an absorbing and well rounded sound – notwithstanding the absence of more than half the cellos. Drama never seems far away in Argentina and shortly before the start on this night a small piece of masonry fell from the ceiling into the cello area, fortunately without injury to anyone or damage to any instruments. It did, however, delay the start and several of the said cellos refused to play.
The orchestra members were also unhappy in general, displaying signs both at beginning and end demanding the reinstatement of a player and salary improvements. Presumably for these reasons García Caffi didnt appear at the end for what should have been a well deserved applause.
Jonathan Spencer Jones