Argentina Grand gala – 15 years of Juventus Lyrica: Soloists, Orchestra. Conductor: Antonio Maria Russo, Teatro Avenida (Buenos Aires). 7.11.2014. (JSJ)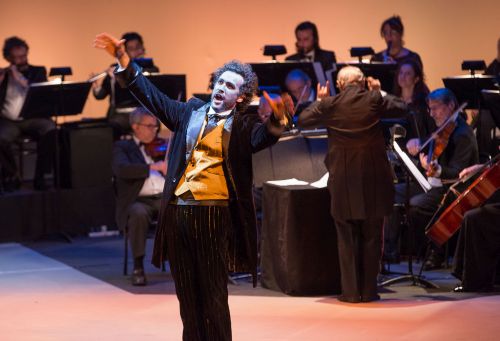 Director: Ana D'Anna
Costumes: María Jaunarena
Lighting: Gonzalo Córdova
Back in 2009 my first review for Juventus Lyrica was of a Grand Gala opening its season to mark its 10th anniversary. Five years on – in which the company has only gone from strength to strength, despite the difficult economic conditions, particularly in the latter half of this period – and we have another Grand Gala marking the completion of 15 years of activity.
 And for the record: in 2009 the count was 57 productions with more than 450 singers for audiences totaling more than 100,000 people. At the end of 2014 it is 82 productions with 650 singers for audiences totaling more than 320,000.
 The 2009 Grand Gala had 16 singers and now in 2014 we had 28 (too many to list), such was the nature of the program, which comprised no less than 27 extracts – semi-acted in dress – mainly from the most recent productions.
 Setting the mood with the "Duetto buffo di due gatti" traditionally attributed to Rossini, which was humorously sung by soprano Laura Penchi and baritone Mirko Tomas, the first half included extracts from the Italian repertoire from works including Il Barbiere di Siviglia, Don Giovanni, Le nozze di Figaro, Die Zauberflöte, Rigoletto, Nabucco, La Traviata, La bohème and Tosca. In the second from the French and German repertoire, including Carmen, Les pêcheurs de perles, Die Fledermaus, Das Land des Lächelns, The Merry Widow, and the most recently performed Les Contes d'Hoffmann – with the last ítem, as before, and appropriately "Hélas! Mon coeur s'égare encore" by the whole cast.
 Suffice to say all were well performed and a good time was had by all, with good – if sometimes rather thin – accompaniment from the small on-stage orchestra under musical director Antonio Maria Russo.
 Juventus Lyrica's aim from the start was to provide a platform for young singers and this continues to this day with new voices and names every year. But its legacy, beyond the enthusiastic audiences who continue to support the company, is surely best seen in the number of singers who have gone on to advance in their careers, such as soprano Virginia Tola, mezzo Guadalupe Barrientos who is carving out a career in Europe, tenor Enrique Folger who appears regularly at the Teatro Colón, and Fabián Veloz, one of the top Verdian baritones locally, who will be making his Met debut as Enrico in Lucia di Lammermoor in 2015.
 Bravo to Juventus Lyrica – and particularly to those who vision it was and is, president Horacio Jaunarena, artistic director Ana D'Anna, their daughter María, who is the company's executive director, and the musical director Antonio Maria Russo.
Jonathan Spencer Jones