Argentina Puccini, Tosca : Soloists, Orchestra, Chorus of Teatro Argentino. Conductor: Carlos Vieu, Teatro Argentino, La Plata. 23.11.2014. (JSJ)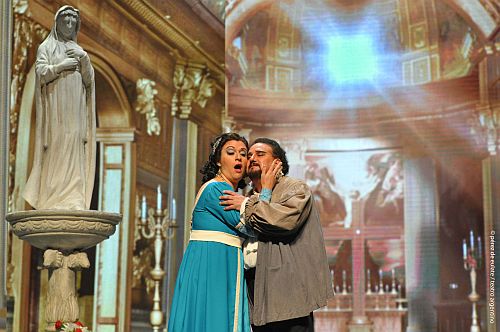 Cast:
Tosca: Amparo Navarro / Patricia Gutiérrez
Cavaradossi: José Azócar / Juan Carlos Vassallo
Scarpia: Hernán Iturralde / Luis Gaeta
Sacristan: Fernando Santiago / Sebastián Sorarrain
Angelotti: Víctor Castells / Oreste Chlopecki
Spoletta: Santiago Bürgi / Carlos Iaquinta
Sciarrone: Fernando Nuñez / Felipe Carelli
Jailer: Oreste Chlopecki / Leonardo Palma
Pastor: Sonia Stelman / Ana Laura Menéndez
Production:
Director: Valeria Ambrosio
Sets: Ana Repetto
Costumes: Fabiana Yalet y Raúl Gatto
Lighting: Sandro Pujía
Multimedia: Maximiliano Vecco
Chorus: Hernán Sánchez Arteaga
Children's chorus: Mónica Dagorret
For the fourth and final production in the Teatro Argentino's small opera season a new production of Tosca. And fortunately the results on the inside are better than the now sadly tired and neglected looking, graffiti-ridden exterior – presumably the result of the same financial difficulties that have affected the theatre's operation – would suggest.
Indeed the theatre was fuller than seen for a long time and the mood was upbeat – albeit with some obvious 'local patriotism' – for what turned out to be an interesting production. For producer (and the Argentino's artistic director), Valeria Ambrosio, whose experience comes from TV and the music hall, it was her opera debut and broadly she succeeded in defining the varying psychologies of the characters in a way that impacted.
The fairly basic sets by Ana Repetto were also satisfactory – but basic because they were supplemented by a (stage) surround multimedia projection, which could have been effective but unfortunately was overdone. Especially during arias, when the focus should be on the singer(s) a switch from 'scene' to 'mood' was generally a distraction, as for example were the images of Cavaradossi being tortured.
In the title role Spanish soprano Amparo Navarro, as far as can be seen also making her debut at the Argentino, was dramatically sound, and both she and her Cavarodossi, Chilean José Azócar, came into their best in the second act, bringing depth and colour to their respective roles. Azócar's "E lucevan le stelle" was noteworthy.
But vocally the evening belonged to Hernán Iturralde, whose Scarpia, both visually and vocally, was commanding and sadistic – as one would expect for someone in his position. His sidekick Spoletta was well played with a nervy twist by Santiago Bürgi, and the other roles were adequately filled, especially Fernando Santiago's afflicted Sacristan.
Carlos Vieu, the orchestra's director, was conducting and apart from some tempi on the slow side, brought good sound from the house orchestra. Good work too from the chorus, once again under Hernán Sánchez Arteaga, and Mónica Dagorret's children's chorus.
Jonathan Spencer Jones