Sweden W. A. Mozart: The Marriage of Figaro,Soloists, chorus, Wermland Opera Orchestra, Per-Otto Johansson (conductor), Wermland Opera main stage, Karlstad, 8.11.2014 (NS)
Cast:
Count Almaviva: Anders Larsson
Countess Almaviva: Frida Engström
Susanna: Karolina Andersson
Figaro: Anton Ljungqvist
Cherubino: Matilda Paulsson
Marcellina (Berta): Ann Sigurdson
Doctor Bartolo: Peter Kajlinger
Basilio: Fredrik af Klint
Barbarina: Anna-Maria Krawe
Antonio (Fiorello): Johan Rydh
Production:
Wermland Opera
Direction: Tobias Kratzer
Set and costume design: Rainer Sellmaier
Lighting design: Björn Skansen
Makeup design: Elisabeth Näsman
Choirmaster: Bo Ericsson
Director's assistant: Emil Eliasson
Translation to Swedish: Britt G. Hallqvist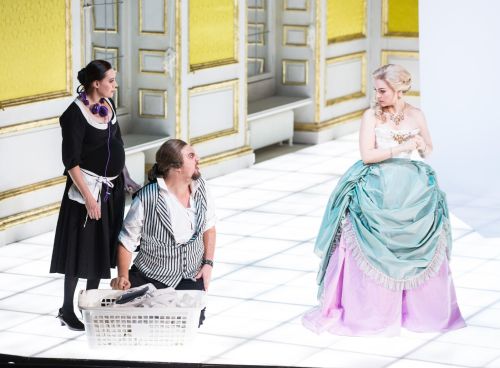 For the second part of his trilogy Tobias Kratzer returns the Wermland Opera to "normality": the orchestra is back in the pit, the singers on stage and the fourth wall between singers and audience has reappeared. His Count is steadily losing touch with both his wife and reality, locking his household inside a rococo fantasy palace where he insists on everyone dressing the part despite the modernity of the outside world
The production ties in to the preceding Barber of Seville with both visual references (such as the fastidious Count's antiseptic hand wipes) and characterisation. However, not all directorial choices are as well judged as they were in the Barber. The stultifying formality of an ossified pre-revolutionary regime is clearly depicted, as is the fulmination of the lower orders, but some of the subtlety of Mozart and Da Ponte's comedy is lost. Setting the last act in the same, well-lit indoor set as the first three robs the beautiful music of much of its atmosphere. Also, the revolutionary outburst at the end of the opera, while necessary to link it to Fidelio, jars against the love and reconciliation in Mozart's music.
That said there is still much to be cherished in this production, in particular some outstanding performances by the soloists. Anton Ljungqvist's Figaro achieves the great feat of topping his performance in The Barber of Seville. Mr Ljungqvist displays astute characterisation, utterly believable acting (in particular in his touching relationship with Susanna) and a terrific baritone that combines sonorous power in such set-pieces as "Se voul ballare" with tenderness and humour in his recitatives. Figaro's character has developed intellectually (he has learned reading, writing and arithmetic) and in moral complexity. Through the opera his moral qualms at serving an increasingly outrageous Almaviva develop until he finds himself a reluctant revolutionary. This is a Figaro of unusual intellectual depth, not just a clever servant tricking his master but a man who realises that a society that condones the Count's abuse of power must be rotten.
Karolina Andersson's Susanna is captivating and sympathetic. Ms Andersson's pure voice seems to effortlessly soar even to Susanna's highest notes, but can also be as vivacious and quick as her character. She works hand in glove with the other soloists in her duets and in the ensembles and has a particularly close and sensitive relationship with Mr Ljungqvist's Figaro.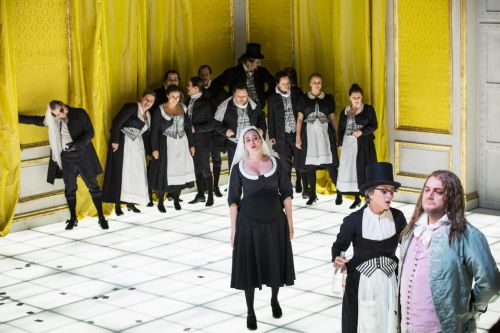 Anders Larsson makes a big impression as the Count. Almaviva's foibles have deteriorated since the previous opera: his fastidiousness and designer clothes have morphed into a weird obsession with rococo and his cruel streak has become a mile wide. Mr Larsson's voice and acting work well in making the Count thrilling for the audience and terrifying when he wants to be, but the director makes his character such a monster that the Countess' forgiveness at the end of the opera is incomprehensible.
Frida Engström's Countess is still very much Rosina of The Barber of Seville. Though she sings beautifully and with real longing and loss in "Porgi amor" it is clear that even the boorish Count has not knocked her sense of humour and mischief out of her. In many ways this is a valid interpretation but it goes overboard in Act 2, where the Countess chases Cherubino round her room in her underwear and barely any effort is made to dress him up as a girl. Matilda Paulsson's Cherubino also suffers from a strange characterisation that makes him that rare teenager with absolutely no awkwardness or shame around girls (quite some way from Mozart and da Ponte's ideas for the character). This directorial decision is a shame because it distracts from Ms Paulsson's strong vocal performance.
Peter Kajlinger again captures Doctor Bartolo's character and his reunion with his long-lost son is truly touching. Ann Sigurdson's Marcellina (Berta in The Barber of Seville) is diminished by having much of her best music cut (in particular the deliciously catty duet with Susanna in Act 1). Fredrik af Klint manages to recreate much of Basilio's character and shows nearly as good comic instincts as his predecessor in the Barber. Johan Rydh charts Antonio's gradual alienation from the Count very well and becomes the leader of the revolution at the end of the opera.
But in general these "minor" roles that actually have significant musical and dramatic importance in The Marriage of Figaro all suffered from substantial cuts, leaving this production unusually centred on the four main characters. Musically they are all more than capable of producing strong (and in Figaro's case outstanding) performances, but this is still a somewhat diminished Figaro.
Niklas Smith
Click here for the review of part 1, The Barber of Seville
Click here for the review of part 3, Fidelio