United Kingdom Bean, Arnold, Thomas, Made in Dagenham: Made in Dagenham Company, Tom Deering (music director), Adelphi Theatre, London, 6.11.2014. (JPr)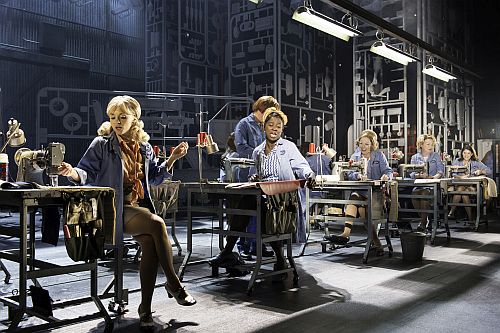 Cast: 
Rita O'Grady: Gemma Arterton
Eddie O'Grady: Adrian der Gregorian
Connie: Isla Blair
Monty: David Cardy
Clare: Heather Craney
Barbara Castle: Sophie-Louise Dann
Hopkins: Julius D'Silva
Lisa Hopkins: Naomi Frederick
Tooley: Steve Furst
Harold Wilson: Mark Hadfield
Sandra: Sophie Isaacs
Beryl: Sophie Stanton

Production:
Book: Richard Bean
Music: David Arnold
Lyrics: Richard Thomas
Set and Costume Designer: Bunny Christie
Light Designer: Jon Clark
Sound Designer: Richard Brooker
Choreographer: Aletta Collins
Director: Rupert Goold
Based on the 2010 film of the same name, Made in Dagenham tells the story of how a group of female machinists sewing car seat covers in dreadful conditions at Ford's Dagenham factory in 1968 – too cold and wet in winter or too hot in summer – went on strike because they were not considered skilled labour. A working class mother of two, Rita O'Grady, much to her surprise, becomes the figurehead for the struggle of the 187 women that soon escalates into a demand for pay equal to the 55,000 men working on the assembly line. Ultimately they were successful and their action resulted in the 1970 Equal Pay Act, though sadly for women in employment in 2014 the fight against sexual discrimination is not entirely over.
 I have to admit a closer connection to this new musical than sometimes can be the case as my wife, Allessandra, is heavily featured in the original film and she has her name on the credits even though she did not have a speaking role. She portrays one of Rita O'Grady's loyal supporters and had to audition at a sewing machine before spending several weeks working on the film in a former Hoover factory in Merthyr Tydfil that 'doubled' as the Ford motor plant as well as closer to home in London.
 The film and its musical adaptation follows the journey of the fictional Rita – an amalgam of several of the original machinists – as she takes on her union, the American corporate giant and the British Government. Along the way she has to cope with much male hostility and the problems her actions have on her family life because her husband, Eddie, also works at the factory and is laid off when car production is stopped. I will not comment much more on the film except to say that a tone of 'Carry On Up The Workers' that I saw in the film is even more obvious now. Strangely shown on film but not now on stage was the famous true-life incident when a banner the protesting women were holding – that should have read 'We Want Sexual Equality' – provoked an unexpectedly enthusiastic 'wink,  wink, nudge, nudge, say no more?' response because it was not fully unfurled so the letters comprising '…ual Equality' were not visible! This provided the film with its original risqué title We Want Sex that was still used in some territories and led to great amusement from friends of ours to whom I sent the German DVD as they wondered what sort of film it might actually be!
 Made in Dagenham mocks the plight of women, the machinists' cause and Dagenham itself mercilessly right from the start. 'If you want something done ask a busy woman', 'O Dagenham, Dagenham, so good they named it once' and 'Rome wasn't built in a day … but Dagenham certainly was' are some of the lines from the opening number that gave plenty of warning of what is to follow over the next 2½ hours and more from Richard Thomas and David Arnold's songs. Mixed in with all the self-deprecating jollity there is a serious message celebrating an important historical moment in the feminist movement that in truth gets a little lost in all the often very non-PC, bawdy, humour reflecting the more innocent – but hardly enlightened times – of the 1960s. One of Rita's lines in the factory gives an idea what to expect when she says 'I'm not saying this machine is old but the instruction book is in [expletive deleted] Latin!' It is not really a family show as there is plenty of more 'salty' language as the night goes on, nevertheless, it will be great for a girls' night out … and that is the audience they seems eager to attract.
It looks as if no expense has been spared on Bunny Christie's set, from the initial front cloth with the words Made in Dagenham set against the vivid colours of some psychedelic patterns. Then there is the Ford plant with the constant overhead movement of car components across the stage as if they are the parts of a supersized Airfix kit of the type that was popular with modellers at the time. A hint of all the different locations were well presented, most notably, sewing machines came and went to show the women's working conditions and a large face of Big Ben was the backdrop for everything taking place at Westminster. It is these latter scenes that perhaps are the most misconceived moments in the musical. I have mentioned 'Carry On' already and I could imagine all my favourite comic actors from those iconic films in the various roles in the story but the first time we see Mark Hadfield's totally out-of-his-depth, typically pipe-smoking, Harold Wilson with his minions it is pure-Monty Python (of my earlier 'wink, wink' etc. fame). All that was needed was for them to drop their trousers and be seen wearing garter belts and stockings!
To be truthful the show owes a lot to the heritage of the British music hall in many ways, as Mark Hadfield's Labour PM especially reminded me of the popular comic monologist Rob Wilton and Sophie-Louise Dann's impersonation of the flame-haired Barbara Castle, who took up the striking women's cause, was pure-Hylda Baker, a famous Lancastrian comedienne. One of their early exchanges was, Castle's 'It takes two to Tango' and Wilson's 'Don't bamboozle me with choreography'. By the time the first half closes with the rousing anthem 'Everybody Out' I was strongly reminded of the 1960s' TV sitcom 'The Rag Trade' which had that as a familiar slogan for any pending industrial action.
The songs are relentlessly upbeat even when Rita's husband moves out because he thinks she has abandoned him and their children, and none of them are perhaps as strong as they might be. In the film there was a soundtrack of popular songs famous around the time of the actual historical events and perhaps, in hindsight, a 'jukebox musical' might have been a better idea than writing something completely new. I thought I heard music that seemed to be pastiches of T Rex, Frankie Valli and The Four Seasons, even Sondheim (Sweeney Todd) or   Schönberg and Boublil's Les Misérables and Miss Saigon. Apart from those already mentioned, few numbers really stick in the mind though 'Busy Woman' was a fun way to open the show, and the title song 'Made in Dagenham' expounded the men's view of their world well enough.
 The second half opens with the irrepressible Steve Furst as Ford's American representative, Mr Tooley, wearing a Stetson and brandishing a semi-automatic weapon and surrounded by girls in tiny US Army outfits singing the high-octane, gung-ho, 'This Is America' with the lines 'We gave you Rock 'n' Roll, you gave us Cilla Black' and 'If it weren't for us, you'd all be speaking German'. This was followed by another parody of sorts when girls in short silver dresses join Scott Garnham's exuberant Buddy Cortina (part Simon Dee, part Austin Powers) camping it up at Ford's 1600E Cortina launch that was supposed to undermine the solidarity of the women's action. This second half loses its way a bit as the end-of-the-pier humour continues amongst these big extravaganza moments and the story about the struggle for gender equality seems to be somewhat sidelined.
 There is something surely to be said for the American way of beginning new shows out-of-town, then pausing and thinking before launching it on Broadway there, or in the West End here. Recent new musicals like Viva Forever!, From Here to Eternity and I Can't Sing! have got to their first nights without really seeming the finished article … and it seems no different here. On the eve of the TUC conference – when the union movement will finally acknowledge and support the women's grievances – there is 'Viva Eastbourne' with Harold Wilson and others going around the stage in bumper cars! After Rita makes a success of her speech against all the odds, she tries to rally the audience to 'Stand Up' during the show's closing number before being reunited with her family for a conventional happy-ending musical moment. Yet, it all seems to end rather too abruptly and only a spoken epilogue from Barbara Castle puts the women's achievements in their true historical context. With lack of equal pay still a problem in 2014, despite being set in the 1960s, the issues played out in Made in Dagenham appeared to resonate with the audience in the Adelphi Theatre who gave the show a standing ovation at the end, even if not during the final song as the ensemble seemed to be demanding.
 It was generally a fine cast lead by former-Bond girl Gemma Arterton as Rita O'Grady who sang and acted convincingly despite never quite shaking off sounding like a posh girl 'talking Essex'. Equally good was Adrian der Gregorian as her husband, Eddie, who believes he must be treating his wife well because he doesn't hit her but genuinely shows he cares what happens to his family. There are strong performances from Isla Blair and David Cardy as the union representatives Connie and Monty. Also catching the eye were Sophie Isaacs's blonde-bombshell Sandra (a role that in earlier days would have been tailor-made for Barbara Windsor), Sophie Stanton as a machinist, Beryl, who swears constantly and fires off one-liners such as 'I had seven happy years with my husband – and seven out of 25 isn't bad' and Naomi Frederick as Lisa Hopkins, the wife of the Ford plant manager; an upper-class woman whom Rita forges an unlikely friendship with when they bond over their sons' schooling.
 Rupert Goold's direction keeps everything moving along entertainingly enough although I and others may argue he – along with those who wrote this new musical – concentrate on the camaraderie of the striking women at the expense of any real passionate feeling about their cause and ultimately victory.
Jim Pritchard
For more about the performances of Made in Dagenham visit http://www.madeindagenhamthemusical.com/.