United Kingdom Mechanika!: Performers of Cirque Berserk [Matt Page (creative director), Adam Ford (costumes), Area 51(sets), Winter Wonderland, Hyde Park, London. 27.11.14. (JPr)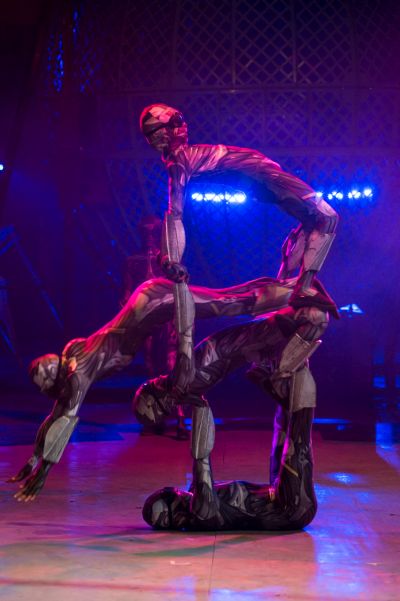 Cirque Berserk returns with Mechanika! to Hyde Park's Winter Wonderland following their sell-out run last year. Mechanika! continues the attempts of a number of similar shows – think Cirque du Soleil – to reinvent circus – as it used to be with clowns, jugglers, acrobats, aerial artists and performing animals – for an older audience in the twenty-first century. The huge Mega Dome tent at Hyde Park's Winter Wonderland is the home during the day to Zippos Circus that is more children-friendly and traditional, and Cirque Berserk's contemporary presentation in the evenings.
Mechanika! combines some very familiar circus arts, their extravaganza and thrills, with music, dance and theatre. I say 'familiar' because that is what there are to me because I have seen most of these artists before but they have been now repackaged by an inventive stage design, futuristic costumes, impressive lighting and it is all accompanied by what sounds like an original drums-driven electronic score.
With characters designed by one of the leading comic book artists, Simon Bisley, this short show is something of a science fiction fantasy affair – part Fritz Lang's Metropolis, part Terminator and Transformers and any number of other influences, such as, Dr Who's Cybermen. We are shown, what are described as, 'all Manner of Mechanical Automatons brought to life by the mysterious Creator.' This 'Creator' is the Scientist who acts as the ringmaster and coordinates the cast of 'robots' over a very fast paced 45minute performance.
I was very well looked after because, with my wife, I was in a VIP box and the bottle of champagne and delicious chocolates were very welcome and this would be a great way to end your evening at Hyde Park's excellent Winter Wonderland. The young couple who shared the box with us were engrossed by all the spectacle and their reaction is important as I suspect those new to circus are especially the people Mechanika! are hoping to attract. My wife too found it very spell-binding, with 'Berserk' being the correct word for something so creatively 'off-the-wall'.
I enjoyed the slick presentation, but despite the blurring of the lines between mime, choreography, physical theatre … and circus, I had seen most of the acts before. Nevertheless, they were all consummate performers and I thoroughly enjoyed all the balancing and skipping from the Zulu Warriors, Germaine Delbosq's foot-juggling, the amazing feats of Hercules the 'Cyborg Strongman', Amy Nash high up on the atrial hoop, Odka's almost impossible contortions and foot archery, the tricks of the BMX boys, and the Globe of Death with the Lucius Team. Our young companions indeed found this latter display – as the press release describes it – 'beyond-thrilling' and while I had seen very fast motorbikes riding together in an unbelievably small globe many time before, even I have never seen it open up with three bikers whizzing around the top and one at the bottom. Amazing!
For the young-at-heart the whole Winter Wonderland site will make you feel full of Christmas spirit and I urge you not to miss Mechanika! before you leave.
Jim Pritchard
Mechanika! performances continue until 4 January and for more details about those, as well as, everything else at Winter Wonderland visit http://www.hydeparkwinterwonderland.com/.