United Kingdom Schubert , Winterreise: Sir Thomas Allen (baritone, Joseph Middleton (piano), Royal Northern College of Music Concert Hall, Manchester, 7.11.2014. (RJF)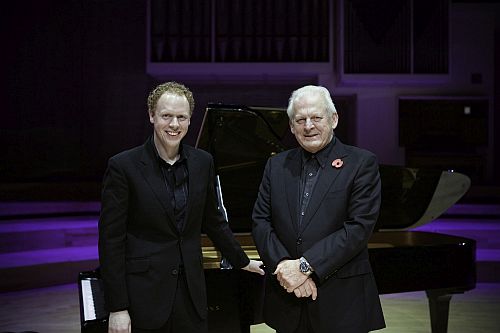 In my own files of the sequence of events I have covered on behalf of Seen and Heard at Manchester's RNCM this is number 20, the first being in 2004. My own attendance at the RNCM opera productions and various other musical events goes back over forty years before that first review.  I have, in that period, come to marvel at the standards the College achieves in its various events. It has an enviable reputation of high aspiration and equally high achievement. So it has been with the aspiration to update and refurbish the 1972 Concert Hall with the addition of an upper cantilevered balcony and seating as well as other improvements to the opera theatre and student facilities.
It says much for its reputation in musical circles that the RNCM have been able to raise the seven million pounds in these financially straightened times, including a successful general appeal for nearly half that cost. The RNCM's reputation is not only of high quality of musical performance, but also of doing things properly, which is not always managed by some other august institutions. Thus to celebrate this special occasion they chose to present one the greatest examples of Lieder by Franz Schubert, widely recognised as the greatest composer of the genre. Recognising that such aspirations needed someone of excellence from the British singing establishment they chose the baritone Sir Thomas Allen, known by opera lovers world wide as one of the greatest interpreters of Don Giovanni as well as a singer of a diverse repertoire. At age seventy, with performances at Covent Garden and New York's Metropolitan Opera in his schedule, he accepted the challenge and delivered, with the help of his accompanist Joseph Middleton, a memorable opening that will set new standards for the refurbished Hall.
Schubert's Winterreise is based on a series of poems by the German author Wilhelm Müller. The cycle of twenty-four songs follows the journey of a young man through the bleak and desolate winter landscape having been rejected by his lover. Despite its rather gloomy subject it contains some of the composer's most beautiful music. It has drawn some of the greatest Lieder singers to take on the challenge that takes in the extremes of emotion. My notes of the concert contain a commendation of Thomas Allen's excellent articulation of words, his wide tonal variety, and amplitude from sotto to forte as well as comments on his capacity for declamation and resonance, all in the service of the words and the moods of the poem. Yes there was the odd raw patch in his voice, but I suggest this was notable by its rarity and more than compensated for by his vocal colour across the range and his feel for words. His body language epitomised the poor lover's moods as he travelled his journey.
I first heard Thomas Allen in his first year on the professional stage, way back in 1970 as Papageno in Mozart's Magic Flute. It was sung in English. His capacity for words and vocal nuance, especially as he adopted a Geordie accent and included topical jokes, brought great pleasure to an appreciative audience. Since that beginning his artistry has taken him to the pinnacle of his profession  in which he is still active. His presence at this prestigious event in the life of the RNCM says much about him as well as the College.
With the new Concert Hall nearly full, the singer and his excellent accompanist received a prolonged and well deserved ovation. It was a fitting conclusion to the launching of a new and exciting musical venue in Manchester.
Robert J Farr.