United States Rossini, ll Turco in Italia: Soloists, Juilliard Orchestra and Chorus, Speranza Scappucci (conductor and continuo) Peter Jay Sharp Theater, Juilliard School, New York, 22.11.2014 (SSM)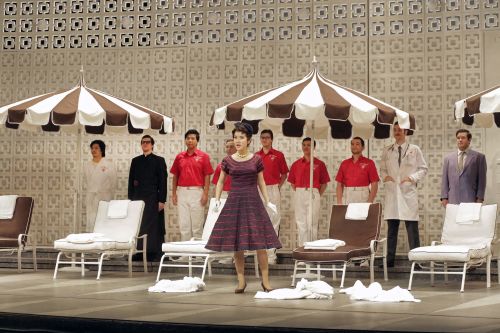 Cast:
Zaida: Kara Sainz
Albazar: Nathan Haller
Prosdocimo, a playwright: Szymon Komasa
Geronio: Daniel Miroslaw
Fiorilla: Hyesang Park
Selim: Michael Sumuel
Narciso: Joseph Dennis
Production:
John Giampietro: Director
Scenic Designer: Alexis Distler
Costume Designer: Sydney Maresca
Lighting Designer: Derek Wright
Images of Gioachino Rossini (1792-1868) portray a rotund, self-satisfied, perhaps curmudgeonly bon-vivant. But these portraits are not of the man as he looked in his productive years. He famously stopped writing operas at the age of 38 and never returned to that form again. Il Turco in Italia was his 13th opera, composed in 1814 when he was not much older than most of the musicians and vocalists who took part in the Juilliard production. He retired from composing in 1829, one year after the death of Schubert and two years after the death of Beethoven. Guillaume Tell, his final opera, had opened and was a tremendous success, but due to the political climate in Italy at the time, he had difficulties getting it produced. It doesn't seem so odd then, knowing Mozart and Schubert had died young and Rossini had 39 operas under his belt, that he needed to move on. And he did.
For various reasons, some artistic, some political and some moral, Il Turco in Italia was not a success when it first opened in 1815. It was periodically revived but never caught the public's eye until the 1950s. It's a shame that it was rarely performed for it is quite witty, and more complex in a modern way than its simple plot line would suggest. The character of the playwright is one reason for this complexity. When we first meet him, he is having problems coming up with a satisfying plot. But once he realizes that there is material for a new play going on around him, we see that he is now in three different worlds: his life outside the play looking in, as do we, the audience; the play that is on stage now, in which he is a character; and the future play which will be acted from the script he distributes at the end. As the opera progresses, the playwright revises, edits and adds scenes based on what other characters are doing, even going so far as to influence them so they act in ways that suit his sense of what will work in the new play. Although he himself is an actor in the play, he is oblivious to their concerns and solely interested in his work in progress.
The role of the playwright was sung by baritone Szymon Komasa, whose acting, singing skills and acerbic wit kept the action going. He was really the main character, and he kept the balance admirably among his multiple roles.
Rossini added the unneeded character of Don Narciso to the libretto as an opportunity for a great tenor who happened to be in town at the time to show off his vocal abilities. Rossini wrote three arias for this role, the last of which, "Tu seconda il mio disegno," demands a voice that reaches so high it will stop the show for applause, and this was the case here with Joseph Dennis.
The character of Selim was sung by the only non-student in the production, Michael Sumuel, who handled with panache the complex character of a Turkish prince who has to prove his masculinity and justify the harem at his palace. Kara Sainz took on the role of Zaida, a former member of the Prince's harem. She has managed to escape the Prince's clutches but still loves and fears him. Sainz's voice was pure and well rounded, but she was somewhat awkward in this role. In other productions, Zaida is almost an equal to the cunning Fiorilla, but here she doesn't quite convince.
Tenor Nathan Haller as Albazar did not have much opportunity to sing: he had just one aria in Act II. I do remember him singing well in another production during William Christie's visit to New York. Geronio, the guileless usband of Fiorilla, was played broadly by Daniel Miroslaw in a role that  is typical of the cuckolded husband in a commedia del'arte play. His nervous character was well reflected by his voice.
Maria Callas brought the role of Fiorilla (and this opera) to the modern public. It is a demanding role that requires much coloratura singing and energetic acting and clearly suits a diva. Hyesang Park exhibited all these qualities. With nearly perfect intonation (a few slips here and there) and a strong comic sense, she was an ideal Fiorilla: alluring, egotistical, but ultimately shallow and weak without a man to support her.
After the overture, an opera orchestra should drop into the background and stand out only when the composer wants their presence known. Conductor Speranza Scappucci drew the best from the students. The overture featured French horns and trumpets which were bright and crisp. She handled the classic Rossini crescendos brilliantly, never going overboard, or speeding through them or turning them into background cartoon music.
The staging and sets were moved to 1960 and fit comfortably in the realm of the libretto's story-line. The inn and the arrival of the gypsies were replaced by a spa (Terme) and spa employees. The main set, with lounge chairs around a pool, accommodated most of the action. A sliding wall allowed some of the space to be semi-enclosed for private tête-a-têtes; and it opened upon the water, serving as entrance and exit to the dock where the Prince's yacht was anchored.
With reasonably priced tickets, good acoustics and a relatively small theater (which was sold out), these Juilliard productions help to fill the space left by the demise of so many small opera companies in New York.
Stan Metzger