United Kingdom Elgar, Nielsen & Walton: Alina Pogostkina (violin), David Soar (baritone), CBSO Chorus, BBC Philharmonic Orchestra/John Storgårds (conductor), Bridgewater Hall, Manchester,, 8.11.2014 (MC)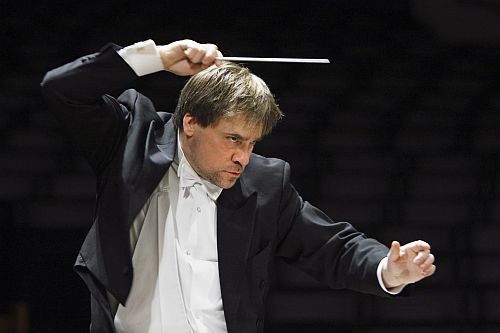 Elgar: Overture Cockaigne (In London Town), Op. 40
Nielsen: Violin Concerto, Op. 33
Walton: Belshazzar's Feast
The more concerts I attend with John Storgårds the BBC Philharmonic's principal guest conductor holding the baton the more impressed I become. His stunning performance of the Shostakovich Symphony No. 4 with this orchestra at the Bridgewater Hall last month still resonates in my memory.
 With Elgar's Overture Cockaigne (In London Town) Storgårds got the concert off to a flying start and there seemed an extra degree of fervency in Storgårds thrilling and colourful rendition. The BBC Philharmonic played this vividly stirring fifteen minute sequence of romanticised portraits of cockney London in Edwardian times as if its life depended on it. How good it was to hear the Bridgewater organ which made a real difference!
 Nielsen's Violin Concerto is not heard in concert as often as its quality deserves and it was gratifying to have the opportunity of hearing it. Nielsen, himself a violinist, has written a lovely work balancing memorability with substance and just about the right amount of display for the soloist although the score seems to lose its way a little in the closing movement. Alina Pogostkina is one of the finest performers of her generation and will soon be a major force on the international stage. Dressed in a striking light blue, off the shoulder gown, in the Nielsen the Russian soloist demonstrated her undoubted prowess. Her cadenzas were worth the ticket price alone. Excellent, both technically and stylistically, playing with such a compelling ardour Pogostkina brought the Nielsen score to life.
 Walton's Belshazzar's Feast, a score for baritone, mixed chorus and orchestra that established the composer's reputation, was the feature work of the evening and I've learned there is never a dull moment with Storgårds on the podium. Revelling in directing such large and well prepared choral and orchestral forces Storgårds created an atmosphere in the hall that was electric. It wasn't easy for everyone to see that Storgårds had positioned a seven strong brass group at each side of the hall on the landings above the choir seats. Quite simply the CBSO Chorus was in magnificent voice throughout and baritone soloist David Soar revealed a dark, resonant timbre that possessed an alarming menace. At times Soar's voice reminded me of Benjamin Luxon but without the same quality of diction. Overall the performance felt like an exercise in momentum and adrenalin yet contained within all the excitement Storgårds remained steadfast to his pacing never letting things slip out of control. The climaxes were some of the most thrilling I've heard in a concert hall in a robust and dramatic reading that quickened the pulse.
Michael Cookson