United Kingdom  Turnage, Vaughan Williams, Holst: John Mark Ainsley (tenor), CBSO Youth Chorus, CBSO Youth Orchestra  /  Ben Gernon (conductor), Symphony Hall, Birmingham, 2.11.2014. (RD)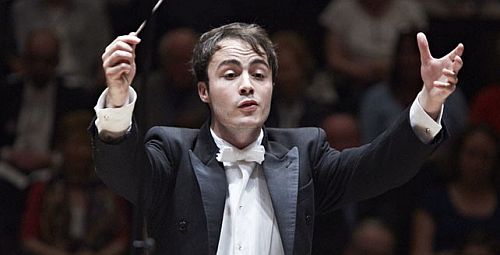 Mark-Anthony Turnage: ­Passchendaele (CBSO co-commission: UK premiere)
Vaughan Williams: On Wenlock Edge
Holst: The Planets ­(including Colin Matthews's Pluto)
The sheer range of repertoire of the CBSO Youth Orchestra says a lot about its courage and its versatility. Founded by a former CBSO General Manager, brought under the orchestra's umbrella a decade ago, and now a vibrant part of the family, it has shown its mettle in every sphere. Auditioned and coached by almost 40 CBSO professionals, it has acquired an extra edge and even finer sophistication than in its earlier incarnation, when its standards were already famously high. Now, dubbed by some who know the 'National Youth Orchestra of the Midlands' you might never know they are a youth orchestra at all.
The CBSO YO has been conducted by some of the greats – Sakari Oramo, opera giants Paul Daniel and Edward Gardner, its early inspiration Anthony Bradbury, American Andrew Litton, the electrifying John Wilson and Thomas Søndergård, the wise and magisterial Jac van Steen, the CBSO's current and now outgoing music director Andris Nelsons, and its invaluable associate conductor, Michael Seal, to name a few. Lately it has sprouted a Youth Academy, a way of introducing talented young players to a wider chamber music repertoire.
And the ensemble, like its elders, addresses not just challenging works (Schubert's Great 9th Symphony and Staruss's Also Sprach Zarathustra impose demands enough), but, to its added credit, often less familiar repertoire, not excluding modern, and sometimes specially commissioned repertoire.: Tansy Davies, Luke Bedford, Ben Foskett and Charlotte Bray in the last seven years alone, largely supported by the magnificent Feeney Trust. Milhaud's La creation du monde; Rachmaninov's Symphonic Dances; Prokofiev's Fifth; Luciano Berio's Rendering;  Berg's Seven Early Songs. Aleaxnder Ariutiunian's Trumpet Concerto; two pieces by John Foulds; Kodály's Dances of Marosszék – the list seems endless. Wisely led, carefully nurtured, here are musicians who probe in depth, both in repertoire and in their maturity of performance, They are always a treat to listen to. But more; they are a revelation.
 Ben Gernon is a bit of a success story too. In 2013 he picked up the Nestlé-supported Salzburg Festival Young Conductors' Award – you can't go much higher than that. Except he has just finished a tour holding a Dudamel Fellowship with the Los Angeles Philharmonic; and having made his BBC Proms debut in 2012 with a programme showcasing Tansy Davies, conducted there again with an equally unusual programme – a full length late night 80th birthday celebration of Sir Peter Maxwell Davies, a conductor whom he championed early on with the Camerata Salzburg, prefacing this by conducting the BBC SSO at Davies' St. Magnus Festival in June.
 Gernon studied at the Guildhall School, subsequently holding a specially created Professorship there. But most important for our purposes, he was a member of this very Youth Orchestra, here in Birmingham, and on an unusual instrument: the tuba. He must be pleased that Graham Sibley, the CBSO's tuba virtuoso, is one of those involved in coaching up the CBSO Youth Orchestra brass; and more importantly, that the tuba and euphonium had a vast amount to do in this 10th anniversary concert: in demand during the Turnage co-commission (with the Royal Concertgebouw and a Youth Orchestra, the Orange County YO, south of Los Angeles in California – and incidentally, host to Disneyland), and both almost constantly on the prowl (or growl) in the more bustling moments of Holst's The Planets.
 Gernon started here  as he went on: with a beautiful, often understated beat that gives confidence while maintaining rigorous rhythmic control: strikingly mature, sensible and permitting tiny variations to produce a massive range of dynamic, especially fabulous when teasing out staccato or semi-staccato effects, and nursing some quite remarkable subtlety from his one-time equals, now charges. Set against this was rather more of a sweeping gesture, perfect for whipping up frenzy in an instance – and that's exactly what these composers demand – but just occasionally allowing things to overbear.
 The most obvious example of that was in the Vaughan Williams-A. E. Housman cycle On Wenlock Edge, which followed the Turnage premiere. There might be some in the audience who would warm to a more obviously passionate and poignant, or eloquently shaping English tenor in this music – the Angst and pained urgency of Andrew Kennedy, or the sheer beauty of James Gilchrist. Yet John Mark Ainsley, who has done his share of recording English vocal repertoire (Quilter or Finzi are good instances), has much of the latter. He took risks, one of which was to allow himself to lower his voice considerably for key plaintive passages: there was something particularly fine about his hushed tones for ''Tis a long way further than Knighton, A quieter place than Clun, Where doomsday may thunder and lighten And little 'twill matter to one.'
It is to these doom-laden, more startling and lesser-known lines from Housman that Ainsley brought something extra: 'Speak now, and I will answer; How shall I help you, say; Ere to the wind's twelve quarters I take my endless way,' which brings to rest the second song (ASL 32, 'From far, from eve and morning'); or again, from the last song, 'By bridges that Thames runs under, In London, the town built ill, 'Tis sure small matter for wonder If sorrow is with one still.' In reining himself in, with a great deal of artistry, and at times exquisite pliancy, Ainsley may have risked too much. The voice was at times all but drowned out: was it that he trusted too much to the extraordinary finesse of Symphony Hall's acoustic, and it let him down? Did the opening of the main lower echo chambers somehow swamp the chamber-quality voice? Or did Gernon simply not do enough to ensure the balances were treated with a feather duster?
We are used enough to the piano quintet version of On Wenlock Edge. It may be that there were just too many players for the delicacy and inward-lookingness of these sections. No such problems with 'the wood's in trouble; His forest fleece the Wrekin heaves', with its memories of ancient Wroxeter (Viroconium/Uricon); or 'and miles around they'll say that I Am quite myself again.' Though perhaps those Bredon bells of a Sunday morning tolled the congregation to church just a little too brazenly.
 Housman was all-too war-conscious; those unsullied post-Napoleonic redcoats marching past the small or grown boy on their way to Abyssinia or Afghanistan, Zululand or the Sudan, made a profound impact. Mark-Anthony Turnage has addressed the Great War more than once before. On a personal note, he tells us, both his grandfathers fought in it – and survived. Visiting the Belgian front he notes: 'What always amazes me is how peaceful and idyllic the countryside is. You can no longer feel the mud. It is as if the landscape has grown a new skin over the wound, but as you walk around you know that hidden beneath your feet is war debris, mines and human remains.'
Some of that paradox finds its way into his new ten-minute work, Passchendaele. It is not all the catastrophic outburst you find in the middle act of his World War I opera The Silver Tassie, or as you might expect from the expressionistic composer of Three Screaming Popes, written for Rattle and the CBSO in 1989. Mostly confident trombones sound an almost plainsong-like chant, which gets overtaken by massive, galumphing, Messiaen-like chords, the gong all a-clanging. The strings enter with a descending, slightly lamenting sequence, which the wind almost shyly echoes. You can hear cor anglais in the texture, even when four clarinets and bass clarinets are braying, and four more oboes as well.
Turnage solves issues of stability by making increasing use of underlying held pedals, offsetting the activity above; horns too have a role in holding the equilibrium. At times the piece whines, the lower echelons sound grumpy, then widely-strung gongs yield their own Bredon Hill-like peal, and equally effective use is made of short-breathed ostinati. Full of interest, but by no means always hectoring in the brass section (some nice restraint here, for conductor and players), the work also draws from those massed clarinets a kind of cackling sound, a bit like a musical equivalent of (say) the Australian lyrebird.    
The solo work is quite superb: everything droops to a strange duet for perhaps second trombone and second horn (are there really so many brass players who, diffident initially en masse, can perform an exposed solo with such perfection?) And then came more – a trumpet line as poignant as the benchmark solo that opens Franz Schmidt's grieving Fourth Symphony. But while that call to arms unleashes a network of tortured nostalgia, this leads directly to the sudden, rather unexpected fade that terminates the work. In no way a symphonic poem – or at least without any narrative I could discern (Passchendale itself was in fact the Third Battle of Ypres, 1917): but rather, in its own way, a solemn(ish) meditation on a pretty serious, awe-inspiring subject.
What amazed one from the CBSO Youth Orchestra's resplendent playing in Holst's Planets is the realisation just what a massive work it is. Even without Colin Matthews's incredibly effective 'Pluto' thrown in as a bonus or envoi, it leaves La Mer or the more prolonged sorties of Delius standing. It is mind numbingly demanding, and potentially exhausting: on a par with The Rite of Spring. Here if anywhere, the numbers were larger still. How often does one see lined up – how often afford? – six clarinets and a bass clarinet.?
But six (or seven) there were, and what a cohesive, full-bodied, attractively uniform sectional sound they produced, not to mention the five flutes, sometimes (in 'Jupiter') three of them playing piccolo together; plus an oboe array that really knew what it was doing, quite apart from the wonder of a bass oboe producing sounds one scarcely ever hears – a bit like encountering Baroque period bassoons or sackbuts, or the baying of cornetts, for the first time. This was a wonderfully prepared ensemble – who indeed prepared them? – that attacked with zest, delivered oodles of ambience and mastered each tricky twist and turn as if it were the Hallé or the CBSO itself. I notice Simon Rattle isn't mentioned, at least on this conductor list: they should let him loose on them when he eschews Berlin for (probably) the LSO.
And what did one hear? Magnificent ensemble and dazzling precision, all units pulling together. Some enchanting, atmospheric violin solos from young leader Charlotte Moseley in the second movement, and then another whiff that sounded as beautifully wan as Rimsky-Korsakov (Scheherazade is a work one might indeed compare The Planets to, in dimension and concept). The two solo oboe passages wrapped round solo clarinet in the same (second) movement sounded like pure Delius – i.e. not just mightily well played, but acutely scrumptious and characterful..The whole thing, like so much Debussy or Roussel, is a masteclass in orchestration: who would have noticed that just one trumpet (Matthew Frost, I think) plays at the start of 'Jupiter': so utterly assured, the effect, even amid quite thick textures, is extraordinary.
Gernon's success was keeping what might have been a rather bawdy, rumbustious romp so elegantly under control. As a result, detail spoke loud. There was no mush. The violin sound was precise, lucid, focused – the seconds as well as the top line, some expressive moments in the violas, and particularly some hugely rewarding, sonorous sounds from double basses and cellos, playing separately or as one. Pure magic and growing mystery from harps, singly or paired (as in 'Saturn'), and Jing Yi Goh's immensely attentive celesta (by the time we reached 'Neptune', it was starting to sound like Schreker's Der Ferne Klang, which dates from time that Holst first conceived the war-coincident work).
Whether 'Jupiter' quite achieved the 'jolly fat' fellow quality Holst sought might be questioned (in fact it was 'Uranus' which emerged with the real Falstaffian bravado), but the big tune was expressive whether one liked the pace or not. Holst himself, as Andrew Burn's well-informed note reminds us, was most fond of 'Saturn, the Bringer of Old Age', and in this quite prolonged movement Gernon and the orchestra, in what for me seemed a doubly inspired reading, showed us exactly why.
This is where Charlotte Webb's bass oboe really had her moment – and shocked. We seem to wander into a Russian world – Scriabin, perhaps, as Burn suggests – was appearing in London at just this time; and when near the close double basses and contrabassoon unite in a surge up from the depths, it's quite clear why this clarity of Gernon's control makes a difference: you can differentiate them, yet together, bruising and nosing each other, they create an extraordinarily nervy collated sound. It makes for searing and remarkable ensemble, even in just these departments.
It was difficult to pick out the tympanists – Matthew Frost, Luke Taylor and Chris Pott are listed as Tymps and Percussion, and they were doing a good deal of beavering through the evening. But the easy flow of the tympanists in 'Uranus' was exemplary, before their eloquence is violently assaulted by their vociferous comrades – bass drum, gong and cymbals. By contrast, we really were shown what a single solo harp can achieve in the Symphony Hall acoustic: triple piano? Yet there she was, clear as a bell.
The addition of bass flute as well as harps to an eerie woodwind chorus – shades of Prokofiev –  produced as scintillating start to The Mystic, 'Neptune'. And now we heard the offering of the CBSO Youth Chorus, ethereal, Ravelian, a series of 'hypnotic' sussurations, seeming to peer forth from the echo chambers. A kind of musical ambrosia. It was linking them to his own work that Colin Matthews, egged on by conductor Kent Nagano, achieved an opening for 'Pluto' – discovered only just before Holst's death and maybe no longer a planet, but welcome nonetheless. Matthews engineers strange effects, almost a kind of melting feel, from the glockenspiel and its friends; there are bristling chords to rival Turnage's, threatening brass, strings skittering. The overhead blasts are sustained, again like Turnage's deep pedals, by bass drum, and capitalising on Holst's orchestration deploys celesta and harps, with the clarinets taking up the skedaddling.
But one of the best moments was in the violins, holding high harmonics or near-harmonics, a difficult, demanding, potentially exhausting series of bars in which the CBSO Youth Orchestra's strings yet again confirmed their refined talents. One more blast, and a collapse to stillness, rounding off, for the most part, a superlative concert by any standards.
Roderic Dunnett