United Kingdom Elgar, Grainger, Vaughan Williams: Alison Kettlewell (mezzo-soprano) & Mary Eade (violin), Ten Tors Orchestra / Simon Ible (conductor), The Minster Church of St Andrew, Plymouth UK 1.11.2014 (PRB)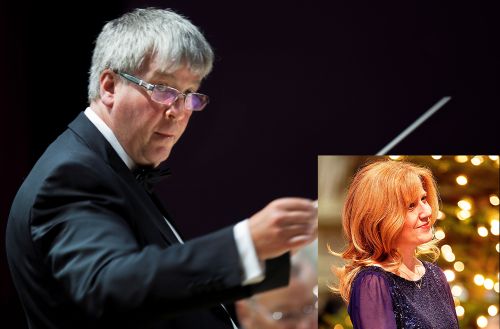 Elgar: Cockaigne Overture (In London Town)
Grainger: Mock Morris & Irish Tune from County Derry
Vaughan Williams: Romance for violin and orchestra, The Lark Ascending
Elgar: Sospiri Op.70; Sea Pictures
Ten Tors Orchestra is the resident ensemble of Plymouth University's Peninsula Arts – a multi-art-form vehicle which promotes high-quality arts and cultural events particularly in the local area, as well as supporting those that attract new initiatives to the South West in general. While the orchestra normally rigs up for music of the Classical or Baroque periods, it frequently augments its resources where larger-scale symphonic works are featured.
 Its previous concert in fact presented works from these two periods, while the present programme, entitled Edwardian Legacy, explores the changing musical styles in Britain from 1899 to 1914, with suitably enlarged instrumentation. Conductor and Director of Music at Peninsula Arts, Simon Ible, has that great ability to pick not only the right number of works for the evening, but those which provide good variety and contrast, and make the very best use  of the available players – and in this particular venue, additionally involve one of the best organs in the South West of England, with its eminently romantic voicing.
 And what a wonderful tonic this programme was. Howeer much our country has changed – for better or for worse – since the early years of the twentieth century, one thing which still shines through untarnished is that essential Englishness heard in the works of Elgar and Vaughan Williams.
 Ten Tors Orchestra opened their unabashed slice of nostalgia with a superb performance of Elgar's Cockaigne Overture where conductor Simon Ible so successfully reined in his resources with all the skill of a winning jockey, until the tumultuous climax where the splendid St Andrew's organ made its memorable contribution. While there is no specific narrative programme as such, the work presents various aspects of turn-of-the-century London and Londoners, and Ible ensured that every musico-visual image – from the church bells, strolling romantic couples, a brass band and an imperious military one – were all there in the mind's eye. It also includes the first occurrence of the composer's trademark direction of 'nobilmente', here applied to the broad theme representing Londoners, and which Ible and his well-drilled players responded to splendidly, but with no sense of over-sentimentalising just for effect alone.
 Grainger's rather predictable Mock Morris, and his opulent take on the Londonderry Air provided some lighter moments, and where the horns were especially impressive, with their sumptuously rich counter-melody near the close – pure schmaltz, but nevertheless a great effect.
 en Tors Orchestra has a wealth of experience, not only in leader, Malcolm Latchem, who featured for many years with London's Academy of St Martin in the Fields, before 'retiring' to the South West, but also in its rank and file players. Violinist Mary Eade was one of the first students chosen for the Yehudi Menuhin School, before continuing her studies in Germany and then with Jose-Luis Garcia at London's  Royal College of Music. She has since appeared as a soloist with orchestras such as the Royal Philharmonic and English Chamber Orchestras, before permanently moving to the West Country.
 Eade gave a highly-expressive account of Vaughan Williams's The Lark Ascending, where her exquisite dynamic control ensured that every nuance of this truly evocative score was faithfully reproduced. The delicate filigrees and flourishes – imitating the bird's carefree flight – were articulately, yet so delicately pointed, with Ible and orchestra playing their part in providing a perfect launch-pad for the lark's musical gyrations.
 Elgar's Sospiri proved the ideal aperitif to the evening's undoubted highlight – a quite stunning account of the composer's Sea Pictures. Originally written for Dame Clara Butt, mezzo-soprano Alison Kettlewell's breath-taking account made her such a worthy successor, even if Butt's dress, back in 1899, was said to represent a mermaid, and the present soloist was more soberly dressed. Kettlewell has a gloriously rich mezzo voice right across the register, with ample power when needed, the ability to sing quietly yet still with fine diction and, most important in a work like this, the facility to pace herself through each of the five songs, so that, when the final climax comes, there's more than enough left in the tank to make it simply spine-tingling. Of course, this is something that for an opera singer frequently taking Wagner and Verdi roles, as well as a highly-experienced concert artist, is very much par for the course.
 The only slight disappointment – and perhaps, as a reflection of change – was that, had this outstanding musical treat been proffered a century ago, then the audience would no doubt have been bursting at the seams – even down here in Plymouth.
 Philip R Buttall