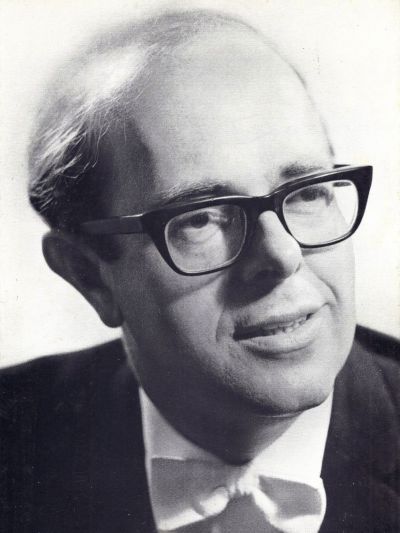 United Kingdom In Memory of Leslie Head – Walton, Vaughan Williams, Montague and Sibelius: Sir John Tomlinson (bass), Kensington Symphony Orchestra / Russell Keable (conductor). St. John's, Smith Square, London, 25.11.2014. (JPr)
Walton, Variations on a Theme of Hindemith
Vaughan Williams, Three Songs of Travel ('The Vagabond', 'Whither Must I Wander?' and 'Bright is the Ring of Words'
Stephen Montague, From the Ether (commissioned by St John's Smith Square – world première)
Sibelius, Symphony No. 5
It would be churlish to criticise too much a concert whose heart was in the right place. Kensington Symphony Orchestra were celebrating the memory of their founder, Leslie Head, who directed the orchestra for nearly 30 years from 1956 and died in 2013 at the age of 91. The admirable idea behind starting the orchestra – needed now as much as then – was to provide young players with concert experience. This extended to soloists as well, especially singers, and as Sir John Tomlinson recalled in the programme: 'For a young singer, bridging the gap between music college and the profession is usually quite a tortuous transition: you are relatively inexperienced, and no one will employ you until you have experience – which you cannot gain until someone employs you… It's a vicious circle, a quandary which in my case was largely achieved by my working on several projects in the early 1970s with Leslie Head.' This legendary bass's affection for the KSO was marked by his willingness to return and sing in this concert that was part of their 59th season.
The music was a typical KSO mix of unfamiliar and mainstream repertoire that was extremely challenging to the musicians, and their ambition is to be commended. William Walton's Variations on a Theme by Hindemith was an affectionate tribute to a colleague he considered he had an affinity with and is considered to be one of his best post-war works. The two men had been friends since Hindemith had stepped in to help the composer out and give the first performance of Walton's Viola Concerto in 1929. The theme for the Variations comes from the slow movement of Hindemith's own Cello Concerto of 1940 which itself is related to his 1938 opera Mathis der Maler and is one of Hindemith's finest. Walton's treatment of it almost gives us a concerto for orchestra. It is clearly a very demanding piece but the KSO's players showed considerable commitment – as elsewhere in this concert when called upon to play more unfamiliar music.
Ralph Vaughan Williams's setting of Robert Louis Stevenson's Songs of Travel dates from 1910-1904 and represent the composer's first major attempt at song-writing. Superficially, it is a typical 'wayfarer cycle' similar to ones from Schubert and Mahler and when sung complete there are nine songs. Eight were first heard in 1904 and although they were performed as a complete cycle, the songs were published in two books and neither volume included 'Whither Must I Wander', one of three that Sir John Tomlinson sang. A ninth song, 'I Have Trod the Upward and the Downward Slope', was published after Vaughan Williams's death, when his wife, Ursula Vaughan Williams, found it among his papers.
As is usual in these cycles, the traveller is reflecting on life's journey and in the intimate surrounding of St John's, Smith Square, the sense of resignation and world-weariness Sir John Tomlinson brought to his three songs had great poignancy. For me having heard performances from this great singer for over 30 years I felt something very personal when he sang the lines in 'Bright is the Ring of Words' about how the songs a singer sings take wing … 'After the singer is dead and the maker buried.'
It is always intriguing to be at a world première of a new work and From the Ether for orchestra in surround sound by London-based, American composer, Stephen Montague would – unlike many similar pieces – be worth a second hearing. In the programme Montague explained From the Ether (which was commissioned by St John's, Smith Square for Kensington Symphony Orchestra to celebrate the 300th anniversary of the laying of the church cornerstone in 1714) 'is an imaginary journey of lost sounds floating back to earth for a brief visit to an old haunt' and present in person he said how it was 'Sounds coming from nowhere, perhaps going nowhere.' With some string players all the way around the balcony above the audience and the intrusion of extracts of recorded choral music I have never experienced the excitement of such 'surround sound' before. To be truthful, before Montague's premise reaches a resounding climax there is just a little too much droning from the strings. However, I am sure those more expert than I will have enjoyed the 'Name That Tune' quality to the piece: I certainly thought I heard a hint early on of 'Ride of the Valkyries' and the familiar music from the hymn 'Our God, Our Help in Ages Past' is heard very significantly near the end.
I continue not to have heard as much of Sibelius's music as I perhaps should have. First and foremost, I know about the great Finnish composer from Mahler's visit in 1907 to his home country when they met and had the famous discussion on the nature of the symphony, when Mahler said 'The symphony must be like the world. It must embrace everything.' – which I took – rightly or wrongly – to mean Mahler's symphonies have personal, emotional significance and are more confessional and biographical than those of classicists such as Brahms and, of course, Sibelius himself. However, I was interested to read in Peter Nagle's programme note how the composer believed 'a symphony is not just a composition in the ordinary sense of the word. It is more a confession of faith at different stages of one's life.' This was the fifth of the seven symphonies Sibelius finally finished in a relatively short composing career and was first heard on his 50th birthday, 8 December 1915. But he was dissatisfied with it and had it almost immediately withdrawn. The Fifth Symphony was subsequently revised and the now-familiar version premièred in 1919. Sibelius lived until he was 91 but went to great lengths it seems to avoid music in his last thirty years or so.
Sibelius saw some swans circling over him in April 1915 and this along with a meditation on how their cries were 'A low suppressed memory of a small child's cry. Nature's mystery and life's melancholy!' was the inspiration for his life-affirming Fifth Symphony that takes the listener on a journey through moments of tranquillity and mystery to the 'Swan Hymn' conclusion that is a rollercoaster celebration that all is well with the world … though what are we to make of the concluding six 'hammer blows', perhaps the most famous symphonic closing of the twentieth century. Over the time of the Fifth Symphony's composition Europe had seen war and revolution and in 1917 Finland had become an independent state, so perhaps with this imposing ending to the music Sibelius was somehow making his own comment on all he had lived through or was expecting of the future.
With the orchestra spilling over from the platform and taking up about a quarter of the stalls floor I am not certain how good the acoustics at St John's Smith Square are for such big works. Under their regular conductor, Russell Keable, they gave a purposeful account of Sibelius's Fifth. Certainly I could relish the Eastern flavour from the KSO's valiant strings in the first movement and I appreciated the folkdance simplicity of the second movement. Despite those swans never entirely taking flight as they perhaps should and the savagery of those final chords, the overall affirmative feel to the finale brought this fine concert to a resplendent end and it certainly was a very fitting tribute to Leslie Head whose legacy lives on.
Jim Pritchard
For more about concerts at St John's, Smith Square visit www.sjss.org.uk.