United Kingdom  Irving Berlin's White Christmas – a musical version based on the 1954 film (Music and Lyrics by Irving Berlin and Book by David Ives and Paul Blake): White Christmas Company, Andrew Corcoran (music director). Dominion Theatre, London, 12.11.2014. (JPr)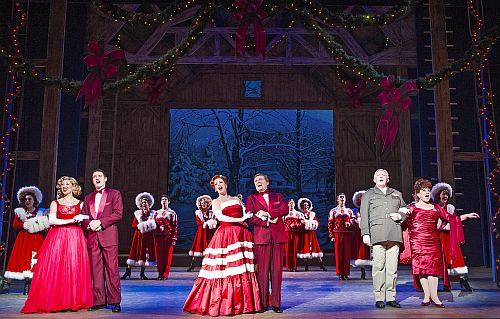 Cast includes:
Aled Jones: Bob Wallace
Tom Chambers: Phil Davis
Louise Bowden: Judy Haynes
Rachel Stanley: Betty Haynes
Wendi Peters: Martha Watson
Graham Cole: General Henry Waverly
Sophia Pettit: Susan Waverly
Jonathan Halliwell: Ralph Sheldrake
Production:
Set Designer: Anna Louizos
Costume Designer: Carrie Robbins
Lighting Designer: Ken Billington
Sound Designer: Clement Rawling
Orchestrations: Larry Blank
Choreographer: Randy Skinner
Original US Production Directed by Walter Bobbie
Directed by Morgan Young
Irving Berlin's White Christmas is an adaptation of the Michael Curtiz's 1954 musical film that was itself a remake of an earlier vehicle for Bing Crosby and Fred Astaire called Holiday Inn. Bing Crosby starred once again in 1954 and was joined by Danny Kaye, Rosemary Clooney and Vera-Ellen (who did her own dancing but not her own singing). The stage version began in San Francisco in 2004 and toured the US before reaching Broadway in 2008 and has been put on in various parts of the UK since 2006 … mostly at this time of year I would assume.
It all begins where it does in the movie during a makeshift show on Christmas Eve in 1944, somewhere on the European Front. The stoic Captain Bob Wallace (Aled Jones in the Crosby role) and the more high-spirited Private Phil Davis (Tom Chambers in the Kaye role) are entertaining their comrades as they bid farewell to General Henry (Hank) Waverly (Graham Cole), their heroic and inspirational leader. Although David Ives and Paul Blake, who wrote the book, stay fairly faithful to the original version's dialogue and 1950s-era jokes it will all seem terribly old-fashioned for anyone unable to immerse themselves in all the cloying sentimentality. The musical includes several Berlin songs shoehorned-in that were not in the movie, and I am ok with that because the lyrics and music by the Russian-Jewish master composer – who had obvious problems writing the famous title song – are dependably tuneful and frequently have become 'classics' in the intervening years. However, the narrative has been messed around with so much that it will not make complete sense to those not familiar with the film.
Yes, the respect and camaraderie of fighting men is firmly there from the truncated opening of the story that dismisses 'White Christmas' all too quickly. Then it is fast-forward ten years when Bob and Phil have become headliners and are appearing on 'The Ed Sullivan Show' in 1954 before trying out a new Broadway show. Also on the lookout for new talent – and in Phil's case another conquest – they catch a sister act, Betty Haynes (Rachel Stanley) and Judy Haynes (Louise Bowden), at a nightclub. Bob and Betty, both wary about love (as expressed in a yearning 'Love and the Weather'), fall for each other but soon start squabbling. Phil and Judy are instantly attracted to each other and are soon gliding around elegantly in a fantasy ballroom to 'The Best Things Happen While You're Dancing'. Both female leads are absolutely excellent and when Rachel Stanley later delivers a barnstorming version of 'Love, You Didn't Do Right By Me' it was possibly the vocal highlight of the show. Other standout moments are the big ensemble numbers like 'Blue Skies', 'I Love a Piano' and the 'I've Got My Love To Keep Me Warm' finale that all have accomplished flowing choreography and often much energetic tap dancing.
We get swept up into whether true love can triumph over bickering and much misunderstanding. Can a holiday inn be saved from bankruptcy? Can the gung-ho retired general – whose heart is in the right place – finally realise he is content to remain a civilian and not go back in the army? Is it really a good idea to count your blessings instead of sheep? Everything is fine until we get to the Columbia Inn in Vermont into which General Waverly has sunk all his savings. He has hired the Haynes Sisters to entertain his guests, who are non-existent because of the unseasonably warm weather and lack of snow. In the film the General is much less of an angry blowhard than he is here. He is still not a good businessman and he is kept blissfully unaware of his real plight because he is shielded by Martha Watson (Wendi Peters), who controls the front desk, reads all the telegrams and listens to all the telephone conversations, like the character, Emma, in the film. She is now an Ethel Merman figure who belts out 'Let Me Sing and I'm Happy' and 'Falling Out of Love Can Be Fun' when she joins with the Haynes Sisters.
Truthfully, there is too much of Martha, Susan (Sophia Pettit), the General's somewhat annoying grand-daughter, and a comedy character, Ezekiel and not enough of Phil and Judy and any of the real story. Instead of their new show being rehearsed in the barn of the inn when Bob and Phil re-route to Vermont instead of Florida, it is not really clear now for whom they are putting the show on – or why. There is some confusion between Bob and Betty over him possibly wanting to buy out the General when in fact it makes more sense in the film when she thinks he wants to humiliate him and wishes to use a TV stunt as cheap publicity for the new musical.
The original production (revived here by Morgan Young) doesn't allow things to get as maudlin as sometimes it is in the film even when the actors are singing 'Count Your Blessings' which is kept rather low-key between Bob, Betty and Susan, the General's too-prominent granddaughter (though it is not Sophia Pettit's fault as she is a natural on stage). But the musical's book underplays the climactic 'White Christmas' reprise almost disastrously in my opinion. We get an all-too-brief panto-style singalong before an extended dance number to 'I've Got My Love To Keep Me Warm' which even with fake snow falling in the auditorium is still a rather strange ending; even though it still predictably brought an opening night's audience to their feet.
For any other people with a great fondness for the film I hope you will agree with me that Louise Bowden (Judy Haynes) and Rachel Stanley (Betty Haynes) – clearly wonderful performers in their own right – pay great tribute to Vera-Ellen and Rosemary Clooney. Tom Chambers is also now a consummate 'song and dance' man who uses a constantly raised left eyebrow to mimic something of Danny Kaye's insouciant style. There did not seem much chemistry between his Phil Davis and Aled Jones's laidback Bob Wallace who simply often spoke and sang … just like Aled Jones. His singing would have been wonderfully in a concert setting but for this musical was unidiomatic. Since there was such valiant support from soap stars Graham Cole (The Bill) as General Waverly and Wendi Peters (Coronation Street) and with Aled Jones looking so much like Declan Donnelly I was wondering whether this show might be something that TV's Ant & Dec might be cast in when they have eventually finished messing about annually in the Australian jungle.
The splendidly refurbished Dominion Theatre has been turned into what now looks like a second London Palladium with a performing space that appears large enough for any musical, opera or ballet. The sets and costumes are sumptuous and colourfully represent an idealised post-WWII America. Everyone concerned –  including Andrew Corcoran, the musical director — captures the 'let's-put-on-a-show' high spirits that are central to the musical's plot, when those couple of Broadway stars, a pair of singing sisters and some infectiously exuberant hoofers in the chorus mount a polished, upbeat show to revive the fortunes of the failing Vermont inn; allowing all the strands of the plot of Irving Berlin's White Christmas to be resolved as predictably as they must in any similarly old-fashioned musical comedy.
White Christmas is one of my favourite films. I have seen it dozens of times and I also have fond memories of seeing Bing Crosby perform with Rosemary Clooney (George's aunt) at the London Palladium only a matter of days before his death in 1977. So perhaps unless everything was perfect this show was on a 'loser' with me from the start – indeed it is far from 'perfect' but nevertheless is polished, kind-hearted family entertainment which is a first-rate seasonal alternative to pantomime.
Jim Pritchard