United Kingdom Tait Winter Prom: directed by Greg Eldridge and presented by Kimberley Busteed; various artists with The Tait Chamber Orchestra, Kelly Lovelady (conductor). St. John's, Smith Square, London, 9.12.2014. (JPr)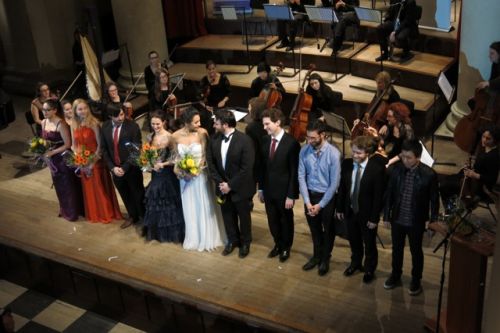 Artists: Marlena Devoe (soprano), Elena Xanthoudakis (soprano), Gerard Schneider (tenor), Matthew Ball (dancer), Sophie Moffatt (dancer), Xenia Deviatkina-Loh (violin), Yelian He (cello), Adam Szabo (cello), Nicola Crowe (flute), Jayson Gillham (piano) and Chad Vindin (piano)
Grainger – Handel in the Strand
Mozart – Piano Concerto No.14 in E flat, K 449
Vaughan Williams – The Lark Ascending
Saint-Saëns – The Swan from Carnival of the Animals (choreographed by Calvin Richardson)
Fauré – Pie Jesu (from Kenneth MacMillan's ballet Requiem)
Mozart – 'Ch'io mi scordi di te? Non temer, amato bene' K 505
Giovanni Sollima – Violoncelles Vibrez!
Kevin Penkin – Changing Feet (première)
Puccini – 'Che gelida manina…Si mi chiamano Mimi' and 'O soave fanciulla' from La bohème
I have known about the Tait Memorial Trust since its early days late last century – doesn't that sound old? In fact it was about 22 years ago in 1992 when the Trust was formed by Isla Baring OAM in memory of her father Sir Frank Tait and his four brothers who played such an important part in the establishment of theatre and the performing arts in Australia. It offers monetary support for post-graduate study, performance opportunities to young Australian musicians and performing artists, and general help in the furtherance of their careers while resident in the UK. Indeed young violist, Lisa Bucknell, explained the dilemma those studying in the UK face because of the high costs of living in London, as well as, tuition fees. It means many like her would have to go back to Australia were it not for an award from the Tait Memorial Trust; for Ms Bucknell it now means that she has 'only 20% of my fees to cover'. Originally a violinist, Ms Bucknell swopped to viola mainly because she was offered a scholarship for that instrument – but now she is very happy because it doesn't 'squeak as much' when she plays it! She was part of a very accomplished small ensemble called The Tait Chamber Orchestra that was described as '(nearly) all-Australian' and who played better and better as the evening progressed.
Since its inception the Tait Trust has helped over 250 young Australians and raised over £500,000 and can now help even more young talent because they have gained the sponsorship of the Commonwealth Bank of Australia as their Principal Partner. This was their fourth Winter Prom and the first time it had taken place in the elegant surroundings of St John's Smith Square. The Tait Trust does so many great things that the evening should transcend criticism and mostly I will not be too pernickety. However, it was a very long concert and by the time the two splendid singers (Gerard Schneider and Marlene Devoe) sang from Puccini's La bohème – which for me was one of the musical highlights – a number of the audience had already left.
With so any talented awardees to choose from it must be difficult not to try to give opportunities to shine to as many as possible; however the programme needed to be much tauter and presented more slickly. A director, Greg Eldridge, was credited but I noticed little direction and the charming presenter, Kimberley Busteed – an Australian media personality – was cast adrift without a script that did justice to what we were seeing and hearing, or to the rich heritage of the Tait Trust. A former Miss Universe Australia, Ms Busteed, was described in the programme as embodying 'the Australian culture of hard working, fit, healthy, out-doorsy-ness' and she had a delightfully self-deprecating sense of humour. Ms Busteed was left having to repeat much-deserved mentions of the various sponsors, her gowns … and the raffle. She deserved better.
What was not in doubt was the quality of all the predominantly Australian performers on show throughout this Winter Prom. Although there was too much of pianist Jayson Gillham in the first half he began with a suitably upbeat and jaunty performance of Grainger's Handel in the Strand followed by Mozart's Piano Concerto No.14 that was fleet-fingered, had clarity and vivacity, and was perfectly balanced against The Tait Chamber Orchestra, unfussilly and sympathetically conducted – here and elsewhere – by Kelly Lovelady. Vaughan Williams's The Lark Ascending followed and was played with consummate grace and sublime virtuosity by Xenia Deviatkina-Loh. In the opening solo, the violin portrays the lark before the orchestra provides a pastoral accompaniment more typical of the composer with the violin ending the highly visual Classic FM favourite with a slight thread of ascending sound. Before the interval we were treated to two very affecting solos celebrating how much the Australian dance legacy owes to the Tait brothers. Because of injury an English dancer, Matthew Ball, brought Calvin Richardson's new male version of Saint-Saëns's The Swan – with eloquent pianism from Chad Vindin – to bare-chested 'life' through contortions, lunges and broken wings. This was followed by the Pie Jesu solo from Kenneth MacMillan's ballet Requiem. New Tait Patron, Leanne Benjamin OBE, taught the role to Sophie Moffatt, a student at The Royal Ballet School, and she was accompanied by soprano, Marlena Devoe and, once again, pianist Chad Vindin. Ms Moffatt gave a poised reflective performance and her arms reaching out in prayer – and wedded perfectly to Ms Devoe's refined singing – were extremely poignant.
The second half began with a Mozart concert aria 'Ch'io mi scordi di te?' sung by Elena Xanthoudakis supported by Jayson Gillham, and although she sang it well it didn't sound as if she was 100%. Cellist Yelian He and Adam Szabo joined the orchestra for Sollima's entertaining 'duel' Violoncelles Vibrez! which sounded like a jazzed-up version of Richard Strauss's Metamorphosen. The penultimate musical item was the première of a piece for flute and orchestra, Changing Feet, by inaugural Tait Scholar, Kevin Penkin, that was adroitly played by flautist, Nicola Crowe. The composer describes his work as trying to 'reflect not only the mentality of someone who grew up in Perth, but the experience of moving to London and ultimately returning home back to Australia (and) what one could miss of Perth, be it the silence, the space or the natural beauty …'. The music was more lyrical and cinematic than I expected – and I had anticipated more sounds of Australia and London – nonetheless, it was wistfully nostalgic with an abrupt ending redolent of 'Where to now?' Finally – almost too late – it was time for the Puccini from two singers, soprano Marlena Devoe and tenor Gerard Schneider, who I would happily pay to see perform in a complete La bohème. They were rapturously supported by Kelly Lovelady and her musicians and it was resplendent conclusion to a celebratory evening all in a great cause.
Whether you are Australian or not, should you have money to spare do support the Tait Memorial Trust as they do splendid things for young – and obviously very talented – performers from a variety of disciplines.
 Jim Pritchard
For more about the Tait Memorial Trust visit www.taitmemorialtrust.org.
For more about concerts at St John's, Smith Square visit www.sjss.org.uk.