Donizetti, Anna Bolena: Soloists, Lyric Opera of Chicago, Patrick Summers (conductor), Civic Opera House, Chicago. 6.12.2014 (JLZ)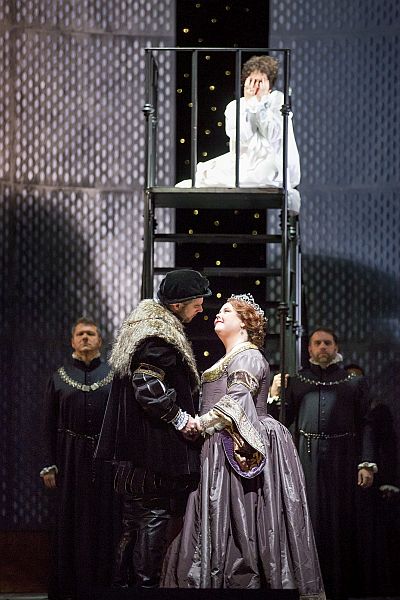 Cast:
Anne Boleyn: Sondra Radvanovsky
Jane Seymour: Jamie Barton
Percy: Bryan Hymel
Henry VIII: John Relyea
Smeton: Kelley O'Connor
Lord Rochford: Richard Ollarsaba
Lord Hervey: John Irvin
Production:
Conductor: Patrick Summers
Director: Kevin Newbury
Set Designer: Neil Patel
Costume Designer: Jessica Jahn
Lighting Designer: D. M. Wood
Chorus Master: Michael BlackLyric Opera of Chicago's production of Anna Bolena (1830) is an outstanding effort that makes the most of the score's bel canto elements and Romantic passion. Gaetano Donizetti not only took inspiration from the drama of Tudor history, but used that fascinating period as the setting for three more operas—this is the second. The plot hinges on the rivalry between Anne Boleyn and Jane Seymour, poignantly described by the music. Popular through the mid-nineteenth century, the opera was rediscovered in the late twentieth, and provided a vehicle for many famous sopranos, including Maria Callas, Beverly Sills, and Joan Sutherland.
In this performance the American soprano Sondra Radvanovsky demonstrated her intensive portrayal of the title character, with Jamie Barton delivering an equally compelling performance as Jane Seymour. Excellent individually, Radvanovksy and Barton were even more ravishing in their duet in the opening scena of the second act. When Jane Seymour finally confronts Anne to share her sadness about the court, Anne expresses her own anguish, similar to characters who sing a "rage" type aria found in opera seria. Radvanovsky and Barton's breathless reading elicited sustained applause.
Barton's opening scena was equally powerful, with her stylish bel-canto filigree matched by thoughtful phrasing—an impeccable performance that set the tone for the entire evening.  Radvanovsky was also memorable throughout, with much of her energy reserved for the powerful finale, in which her character must move from the "mad" scene to one showing her impassioned resolve to face death with honor, as a queen wronged by lies and deceit.
As Henry VIII, John Relyea was impressive in a role that is well-suited to his range and facility. To his clear delivery and distinct enunciation, Relyea added an authoritative, resonant bass, and his first-act duet with Barton ("Tutta in voi la luce mia") was effectively sustained and intense. He was equally strong in Act II, in which his character articulates his resolve to end the marriage with Anne and to take Jane as his queen. Relyea was so convincing that some in the audience even booed his character—unfortunate, given his fine performance.
Bryan Hymel executed the challenge of playing Percy admirably. The first-act aria (after his banishment was rescinded), was sometimes tentative, and this might reflect some of the orchestral balances. Nevertheless, in the second-act duet with Radvanovsky, Hymel gave a vivid, passionate reading.
In the trouser role of Smeton, Kelley O'Connor was convincing as a youthful male, while never veering into caricature. The well-known lute song in the first act ("Deh! Non voler costringere") was moving as O'Connor foreshadowed the unfolding drama, and her later duet with Radvanovsky was even more intense. Richard Ollarsaba and John Irvin were similarly strong as Lord Rochford and Lord Hervey, respectively. Ollarsaba's scene with Hymel was quite effective, and their response to the dramatic situation was echoed well in the chorus, which modulated its tone effectively as Anne's fortunes shifted from beloved queen to convicted traitor. Anne's role in English history was emphasized by the inclusion of a non-speaking child as the infant Elizabeth, and at the opera's conclusion, director Kevin Newbury staged it with Elizabeth gazing at Anne, as the latter marches to her execution.
Some judicious cuts shortened the score. Unlike some modern productions that elide the instrumental sinfonia, this one included a slightly revised version. And in the finale, some of lines for Smeton, Percy, and Rochford were cut, allowing Anne's role in the finale scena to be accentuated. Yet ultimately the substance of the opera did not change.
Conductor Patrick Summers made his Lyric debut, and his notes in the program indicate his approach to the orchestral sound. As sensitive as he was to the difference between modern instruments and those of Donizetti's time, the orchestra was sometimes unexpectedly full—not a problem in the sinfonia and other instrumental passages, but sometimes masking some of the choral passages and occasionally, the principals. But it is difficult to fault his exuberance, which makes this production highly recommendable. The sets, cast, and direction came together with consummate style and delivered this masterpiece with the freshness it deserves.
James L. Zychowicz