United States Handel: Le Concert d'Astrée, Emmanuelle Haïm (conductor), Alice Tully Hall, Lincoln Center, New York, 30.11.2014 (SSM)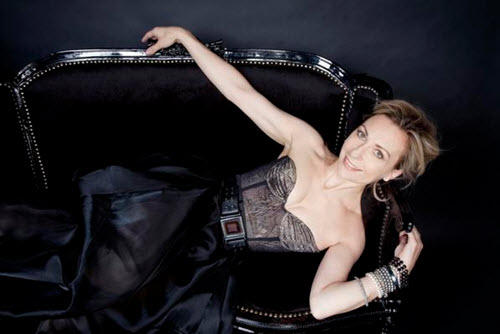 Concert Version
Selections from Giulio Cesare in Egitto
Suite in G major, HWV 350, from Water Music
Encore
"Kind Health Descends on Downy Wings" from Ode for the Birthday of Queen Anne
Natalie Dessay: Cleopatra
Christophe Dumaux: Giulio Cesare
Natalie Dessay has not had it easy. A series of operations on her vocal chords has caused her to drop out of a number of performances. Several years ago, she fell on stage during opening night at the Met while singing the title role in Lucia di Lammermoor (to generally mixed reviews). On another opening night at the Met, she was indisposed, and she was not able to sing the role of Cleopatra in Giulio Cesare in Egitto on the night that I reviewed it. She recently announced that she will no longer do staged operas but will continue to perform recitals such as the one reviewed here.
It is tricky to assume that an actor or actress is over- or underplaying a part due to personal reasons. Coming on stage at one point, funereally, with her head down, Ms. Dessay gave the impression that she wanted to be anywhere else except where she was now. There was a listlessness about both her singing and acting. At one point during an aria, she took the conductor's hand, as if she needed encouragement. Her singing was accurate enough, but lacked depth. In the high range, she bordered on being shrill. It also struck me as a bit odd that she needed a score for a role she has done on stage many times before in full productions.
Christophe Dumaux, who has played the role of Tolomeo in the David McVicar production, had the opportunity here to switch from the bad guy to the title character, Giulio Cesare. He did so with a rich and flexible voice that took him up and down registers without any slips. He should be thanked too for the unscored, freely improvised ornamentations he added to the da capo sections of many arias. This spiced up the sometimes dull repeats that are often a complaint made about Handel's aria style.
Emmanuelle Haïm exhibited authority and decisiveness in her conducting. It was good to hear her take the overture at a sensible tempo, as it is often rushed in other productions. The piece is unusual in that it starts off as a French overture with a stately opening that is repeated. It then segues into a fugue based on a short motif, but instead of repeating the opening as a French overture does, it goes into a minuet. Although Ms. Haïm did at times signal the flutes and oboes to bring out their colors, they tended to recede quickly into the background. Her style of conducting seemed less like William Christie, under whom she played keyboard for many years, than that of another expatriate from Les Arts Florissantes, Christophe Rousset.
Haïm and the orchestra did a fine job with a suite from Water Music used as a non-vocal musical interlude. I was curious why she had flutist Sébastien Marq come to the front of the stage as soloist in music that doesn't call for one, but it became clear that he was there to embellish the repeats, which he did imaginatively on both the Baroque flute and piccolo.
After the audience's final applause brought back the conductor and soloists, they performed a lovely rendition of the duet "Kind Health Descends on Downy Wings" from Handel's Ode for the Birthday of Queen Anne .
Stan Metzger