Germany Puccini, Turandot: Soloists, Chorus (chorus master: William Spaulding) and Orchestra of the Deutsche Oper, Berlin / Ivan Repušič (conductor), Deutsche Oper, Berlin, 12.12.2014 (MB)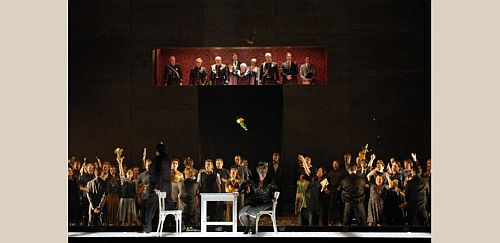 Cast
Turandot – Catherine Foster
Altoum – Peter Maus
Calaf – Kamen Chanev
Liù – Heidi Stober
Timur – Simon Lim
Ping – Melih Tepretmez
Pang – Gideon Poppe
Pong – Matthew Newlin
Mandarin – Andrew Harris
Prince of Persia – Aristoteles Chaitidis, Jan Müller
Two Girls – Elbenita Kajtaz, Christina Sidak
Production
Lorenzo Fioroni (director)
Claudia Gotta (revival director)
Paul Zoller (set designs and video)
Katharina Gault (costumes)
The Deutsche Oper has a very fine production of Turandot on its hands. Lorenzo Fioroni leaves us in no doubt what a magnificently vile opera it is, homing in quite rightly upon Puccini's sadism, drawing out its political implications, and playing down, though far from entirely obscuring, the work's deeply problematical Orientalism, which otherwise has a tendency to impede appreciation of what is still more repellent in the work. Put another way, this staging stands as distant from Zeffirelli and mindless school thereof, that is, from what has given opera in performance so bad a name, as Puccini does from Donizetti and the other drivel that has given Italian opera so bad a name and which, sadly, has in may houses relegated Puccini's œuvre to the level of at-best-anodyne productions, cynically relied upon to boost the accursed box office.
Fioroni sets the action in a reasonably generic totalitarian state. There is enough of an imaginary 'China' hinted at, should that be important, but it is not central to the production. An enfeebled Emperor – or is he? is his present state partly a ruse de guerre? – presides, with the help of Turandot, a deeply sinister junta or Politburo (according to taste), and thuggish security services on the street, who meet out casual, or rather less-than-casual, physical punishment to those who would step out of line. Turandot appears to be calling the shots – almost literally, in some cases; for instance, when, following the solution of the riddles, she hysterically reaches for and uses her gun – but, as in all such cases, the dynamics of power and violence are not entirely straightforward. The crowd seems submissive, largely cowed, relishing yet fearing the brutality, but who knows? Ping, Pang, and Pong are now less an offensive and/or irritating addition, but political opportunists. They, like everyone else, do what they need to survive; they are not inhuman, but necessity and the promise of reward ensure collaboration and perhaps more than that.
Theatre is extremely important here. What we see enacted and re-enacted takes us to the heart of the problem, as indeed it does in Gozzi's original tale. Ritual is enforced but also permits of certain criticism. Ping, Pong, and Pang, those crucial ministers – more crucial, I think, than I have seen before – employ the costumes and customs of theatre to show the people and us what the rules are and what the outcomes will be. Their tableaux involve impersonation, most notably in the case of a gender-subverting portrayal of Turandot herself, veiled and later preparing for a wedding; they also, inevitably, remind us all of the likely bloody outcome of any challenge to the system. And yet, they shift, chameleon-like, when the new order comes: a new order brutally signalled by the death of the Emperor and, most chillingly of all, Calaf's stabbing of his father immediately after. Regime change has come upon us – and the courtiers, whatever their sly mocking when unseen, will adapt and most likely prosper.
The most shocking violence, of course, whether in work or production, is that suffered by Liù. Her enslavement, born of both social position and gender, is clear from the outset, when Calaf briefly forces himself upon her, making a great deal more sense of his actions in the third act. It is power in all senses that he wants; a moment of regret is all that is therefore necessary. Yet her figure, hanging in front of the action throughout the rest of the act, reminds us of the cost and the barbarism. 'Love', whatever that means, may claim to have won, but we know that it is merely a form of power, or rather that it is perhaps the most deadly form of power at all. (Coincidentally or otherwise, Wagner's discovery of that truth during the writing of the Ring comes to mind.) The cruelty of the score, of its ritualisation and exploitation, is at one with what we see. For a view of the violence as not only instrumental but concerned with degradation of the body for its own sake chimes very much with Puccini's fabled sadism. This, then, is a fidelity to the work that draws out what is present in it, a fidelity greater than that which the cheerleaders of a naïve Werktreue seem capable of understanding.
It was a pity, then, that Ivan Repušič's conducting was not up to the same standard. There was nothing too much to worry about, but this was competent and, sometimes, a little frayed rather than clearly directed. The Orchestra of the Deutsche Oper played magnificently, though, so the occasional blurring did not detract so very much in practice. Nevertheless, a more incisive, indeed brazenly modernistic touch would have heightened the disturbed and disturbing sensations further. Choral singing lay almost beyond praise. William Spaulding's training of the Deutsche Oper Chorus is well known, but still deserving of the highest plaudits; so, of course, is the contribution of the choral singers themselves. Keenly directed on stage as they were here, the heft, clarity, and meaning of their musical contribution was very much of a piece with their ambiguous yet threatening dramatic role. This was a mass that more than stirred musically, hinting perhaps at trouble to come for the new regime?
In the title role, Catherine Foster offered a committed dramatic portrayal, sadistic yet clearly hinting at great problems, personal and political, lying behind the sadism. If one could hardly empathise, one could begin to understand – which is just about all one can ask with this repellent character and her actions. Intonation was not always all it might have been, but for the most part there was dramatic compensation. Kamen Chanev's Calaf was not dramatically subtle; such seems, alas, to be the way with the role. But the production, for which revival director, Claudia Gotta, surely also deserves plaudits, offered depth to what, in purely vocal terms, was an impressive performance. Simon Lim's Timur was deeply felt, however, attention to words and musical line impressing throughout. Likewise, Heidi Stober's Liù, which gained in resonance – in more than one sense – as the evening progressed. As the ministerial trio, Melih Tepretmez, Gideon Poppe, and Matthew Newlin all offered cleverly considered performances, alert to the shifting circumstances on stage and responding accordingly. The company and the performance as a whole proved more than the sum of its parts. A DVD release would be invaluable, especially for those misled – often understandably so – by more typical, inert presentations of Puccini.
Mark Berry