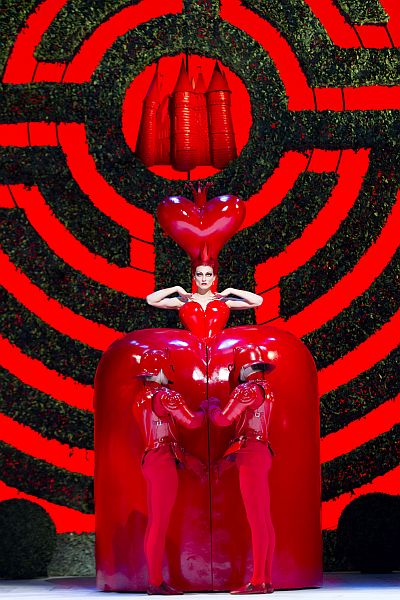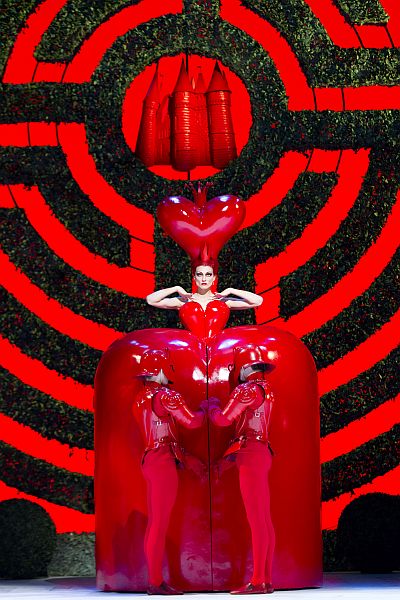 United Kingdom Christopher Wheeldon's Alice's Adventures in Wonderland (part of the Royal Opera House's 2014/15 Live Cinema Season): Soloists, corps de ballet and Royal Opera House Orchestra conducted by David Briskin. Directed for the screen by Ross MacGibbon and broadcast to Basildon Empire, Basildon, Essex. 16.12.2014. (JPr)
Cast:
Alice: Sarah Lamb
Jack/The Knave of Hearts: Federico Bonelli
Lewis Carroll/The White Rabbit: Alexander Campbell
Mother/The Queen of Hearts: Zenaida Yanowsky
Father/The King of Hearts: Christopher Saunders
Magician/The Mad Hatter: Steven McRae
The Duchess: Philip Mosley
Rajah/The Caterpillar: Eric Underwood
Vicar/The March Hare: Paul Kay
Verger/The Dormouse: James Wilkie
The Cook: Kristen McNally
Fish-Footman: Tristan Dyer
Frog-Footman: Marcelino Sambé

Production:
Choreography: Christopher Wheeldon
Staging: Christopher Saunders
Music: Joby Talbot
Orchestration: Christopher Austin and Joby Talbot
Designs: Bob Crowley
Scenario: Nicholas Wright
Lighting design: Natasha Katz
Projection design: Jon Driscoll and Gemma Carrington
Original sound design: Andrew Bruce for Autograph
Live cinema relay introduced by Darcey Bussell
It's Christmas – or Winter Festival if you prefer – in our major theatres and that often means pantomime or The Nutcracker which is usually to be found both at Covent Garden and the London Coliseum at this time of year. In 2014 – as a welcome break from this tradition – The Royal Ballet are reviving Christopher Wheeldon's 2011 Alice's Adventures in Wonderland. It's a great concept and a family-friendly story – possibly more familiar these days to parents rather than their children – that is given a surreal, highly visual, full-on staging in Bob Crowley's wonderful designs … but which ends up proving that second–thoughts are not always the best. In 2011 it was a two-act ballet but it was subsequently revised, so it now has three acts which – with great respect – makes the evening much too long and essentially Act II is mostly padding, though it does provide some repose from the frenetic opening. However, the Rajah/Caterpillar 'magic mushroom' interlude seems to be from an entirely different evening – which indeed it is (think, La Bayadère or The Prince of Pagodas) – and could be lost without spoiling the rest of the fun.
I have to admit I am not overly familiar with the original story myself, but I understand the ballet is quite faithful to Alice's adventures in the original book. It is the book itself that plays a major part in what we see. Act I opens with something out of Downton Abbey-the ballet, if there was to be such a thing. At the late-nineteenth century Oxford deanery of Alice's father we meet her mean-spirited mother and all the servants and guests who will become the characters of the story Alice probably imagines as her escape from the real world. Lewis Carroll is there reading his stories and taking pictures – he will become the White Rabbit. Alice – who I understand is much more independent and a much stronger character in the novel – is turned into a drippy teenager on the cusp of puberty and in burgeoning love for the gardener, Jack, who is sacked when it is mistakenly believed he has stolen a jam tart. Throughout the rest of the ballet Wheeldon just finds ways of bringing Alice (a cute Sarah Lamb) and Jack-turned-Knave-of-Hearts (a boyish Federico Bonelli) back together for some romantic – if repetitive – pas de deux. Once Alice disappears through Lewis Carroll's camera bag on something of an LSD trip and through a time tunnel (that reminded me of the 1960s' TV series of the same name) she is essentially distanced from all the craziness around her – until 'she' wakes up in Oxford in 2014 at the very end of the long evening. Basically what we then get is Alice's Adventures in Wonderland … without Alice! If she is not being lifted up time-and-again by Jack she rushes about wide-eyed, smiling, and just reacting to what else is happening.
The character dancers are much better treated and it is the Queen of Hearts (Alice's mother in the Prologue) which, thanks to Zenaida Yanowsky's scenery-chewing performance, dominates proceedings on her every appearance, even when merely wheeled on during the first two acts in a huge wooden heart-shaped red 'dress'. She gets a wonderful parody of The Sleeping Beauty's famous 'Rose Adagio', now involving more jam tarts instead of flowers: it was very funny but again at odds with everything else. The look on the Queen/Yanowsky's face brought hints of Dame Edna Everage to her performance. (There had been another clear reference earlier to The Sleeping Beauty as Alice and the White Rabbit travel on a huge paper boat made from one of the book's pages through a forest as in the Panorama from that more famous ballet.) Alexander Campbell as the White Rabbit (Lewis Carroll) wiggled and twitched appealingly – he was a replacement for the indisposed Edward Watson who surely must have something better to dance than this anyway? The Duchess (Philip Mosley), the Cook (Kristen McNally), Fish-Footman (Tristan Dyer), Frog-Footman (Marcelino Sambé), the Mad Hatter (Steven McRae as 'The Mad Tapper'!), Eric Underwood's writhing Caterpillar and all almost all the other familiar characters were often instantly recognisable and quite fun to see, even if some outstayed their welcome.
Some of the group numbers were a bit of a mess, especially as experienced with Ross MacGibbon's direction for the cinema. Since there was often so much going on he didn't always seem to know best where to point his cameras. (I have never been totally convinced before that what we see is entirely 'live' and have been waiting for a mistake – that, unfortunately, came with some brief anxious looks and confused 'armography' between Bonelli and Lamb in their final duet!) The Caucus Race, the Sweeney Todd-like sausage-making scene in the Cook's kitchen, the croquet game and climactic trial scene – however witty they undoubtedly were at times – all suffered. We don't really have a ballet but a dance spectacular that Wheeldon has directed rather than choreographed. The Royal Ballet's dancers were commendably on great form nonetheless and in close-up looked more at ease with Alice's Adventures than in some of the classics.
It is the spectacle that Wheeldon and his collaborators do best and with all the magnificent sets, costumes, special effects and visual imagery the story comes to life. They are all let down somewhat, for me, by Joby Talbot's original score that is often percussive and insistent. Although the music is always commendably danceable it has few lyrical moments in the outer acts – and those there are sound as if they were inspired by Rachmaninoff. In one of the pre-recorded interval segments we saw, Talbot reminded those watching how Lewis Carroll was a fine photographer and this gave him the idea of a 'sort of clockwork, strange automaton type of world' and so he wrote an off-kilter 'funny clock-ticking thing' that is the White Rabbit's tune. This was the first seven minutes of music that the composer sent Wheeldon, who said he knew from this 'it was absolutely the soundworld he wanted to be in.' From what we heard the conductor, David Briskin, jollied-along the reliable Orchestra of The Royal Opera House and gave the proceedings the suitably spirited accompaniment it would always need. Darcey Bussell introduced everything in her usual charming way.
Bob Crowley's designs are often ingenious and good fun; from that opening stately home, the shrinking and growing, to the flamingos used for croquet game having one wing transformed into a mallet. There's also the caterpillar whose numerous legs are provided by prancing girls and the corps de ballet dressed as playing cards. Best of all is the stunning Cheshire Cat that comes apart and reforms manoeuvred by figures in black like Japan's Bunraku puppets – its final appearance as a gigantic head swaying above the throng is a veritable coup de theatre.
High entertainment definitely – and it is not The Nutcracker for once – so perhaps for that we should be even more grateful … but whether it is a good as it could be I am not sure.
Jim Pritchard
To view the full list of productions for the 2014/15 season and to find a cinema near you visit http://www.roh.org.uk/cinemas .