An Interview Celebrating the Violinist's Canadian Performance Debut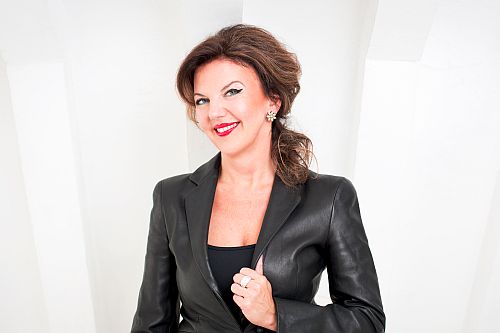 Over the past few decades, there can be few violinists who have been more admired and cherished in Britain and respected throughout the world than Tasmin Little. While flashy young violinists come and go, Tasmin has consistently and determinedly pushed her talents forward in all areas, from performance and repertoire to the engagement of the social community. She has now made twenty appearances at the BBC Proms, released over 30 CD's, and was honoured with the title of Officer of the Order of the British Empire (OBE) in 2012. Quite surprisingly, she has never performed in Canada until now. This interview honours Tasmin's Canadian debut performance, playing the Korngold concerto, with the Vancouver Symphony Orchestra on November 15, 2014.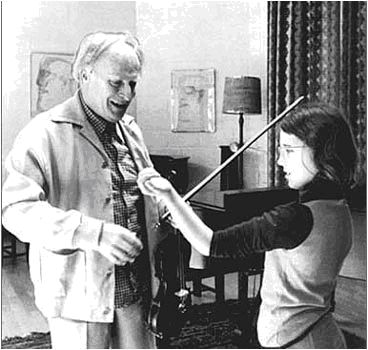 Daughter of stage and TV actor George Little, Tasmin  studied violin at the Yehudi Menuhin School, before moving to the Guildhall School of Music and Drama, where she won the Gold Medal in their annual music competition at the age of 21. She released her first EMI recording in 1990—the Dvorak and Bruch Violin Concertos—following it up with the Sibelius and Brahms, as well as other core works by Bruch and Lalo. All of these are still praised for their freshness, sensitivity and lyrical insight. For connoisseurs, perhaps her most stunning explorations just after this time involved lesser known British works, highlighted by the glorious 1997 recording of the Delius Violin Sonatas.
While continuing to champion and record under-appreciated parts of the British repertoire, perform new works, and take on challenges such as the Ligeti concerto (performed at the 2003 Proms), Tasmin also developed a stronger commitment to the musical engagement of communities—to ensure the continuing social 'resonance' of classical music. This led to creative strategies that could increase accessibility to the genre in general, and bring to public attention composers and music that she felt should be more widely known. In the very successful "Delius Inspired" festival of 2006 (broadcast on BBC3), she served as Artistic Director. However, it was the release of the downloadable disc, "The Naked Violin"—a remarkable 2008 success story—that triggered a wonderfully enterprising set of international concerts and workshops on this theme, all designed to promote engagement and access. The project won the 2008 Gramophone/Classic FM Award for Audience Innovation.
After this, her recording career took off once more, as she established a new and inspired partnership with Chandos Records. It is not easy for any artist these days, no matter how talented or celebrated, to record a full string of CD's in short succession. Nonetheless, Tasmin has now appeared in seven additional discs—modern British concertos and varied violin sonatas—since her award-winning Elgar concerto with Sir Andrew Davis was released in the fall of 2010. All have been especially well received. This is almost unprecedented recording fervour for this age.
This interview attempts to capture some of the important dimensions of Tasmin's development as an artist and a person from her early days to the present, and her reflections on her remarkable experiences. Tasmin gave Vancouver a very finely-drawn account of the Korngold Violin Concerto, with which she was familiar from the age of 12.
 Geoffrey Newman: Growing up in London, you must have had the opportunity to see many concerts even in your early youth. Are there any of these that serve as defining moments for you in inspiring your early ambitions to become a musician?
Tasmin Little: My parents would always make their best efforts to take my sister and myself to Festival Hall when they had time. One concert that was so memorable was a performance of Stravinsky's Le Sacre du Printemps with conductor Andre Previn. We were sitting in the choir stalls behind the orchestra, very close to the timpani. Of course, one could see the conductor's expressions, which were fascinating, but when the timpani came in, it was just overwhelming. The sound just went right through you and the music located deeply inside. I found this absolutely exhilarating. Of course, music was constantly on in the house. Some of my earliest memories are of waking up in the morning to the beautiful sounds of classical music on BBC Radio 3. A wonderful way to wake up!
GN: You attended the Menuhin School in your childhood. So many graduates of the Menuhin school end up so musically inspired and thoughtful in their interpretations. Why do think that is?
TL: Perhaps it was just the influence of Yehudi Mehuhin himself. The ethos of the school was all about being humanitarian, having a social conscience, and championing social causes. And it was such a small, close-knit group (about 35 students initially), drawn from such different nationalities and backgrounds. We had to live together, work together, and most important learn tolerance. The shared bond was music and the overriding principle was that one could be the very best as a musician only if one could be the very best as a person. I was there from age 8 to 18, and this environment could only leave a deep imprint. In some ways, you could not help but develop more sensitivity to how music speaks and the vulnerabilities it uncovers. At the same time, we did work very hard. There were classes starting before breakfast at 6:30 in the morning, then homework, and frequently other events in the evening. Combined with going to middle school, this could be quite trying.
GN: You also attended this school with famed (and controversial) violinist Nigel Kennedy. What was your impression of him?
TL: I thought he was a truly lovely person, though he was already fifteen when I started. He was incredibly nice to us fellow-pupils but he could be a bit of a rebel when dealing with his teachers. Now that I look back on his ultimate change in musical focus, it seems he just reacted negatively to the 'stuffiness' of the classical musical culture of that time. He really wanted to engage people and to communicate with them directly but, up until recent times, that was simply not done: the performer was to be separate from the audience. I know when I first attempted to reach out to an audience, it was not something that people really understood.
GN: Are there violinists that really served as role model for you when you were young?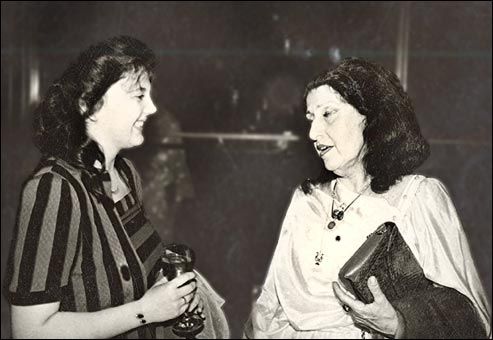 TL: It was Ida Haendel who was my 'heroine'. She was so gutsy and unequivocal in the way she played, and never once did she play things in any way other than how she truly felt them. Such a broad range of repertoire too. Even now, I am in awe of her performances of the Britten and Walton concertos, and the Sibelius. I don't think her reading of the slow movement of the latter has been equaled. I didn't actually meet Ida until I was in my early twenties, but it was a very special and exciting moment, particularly as she had heard about me. She was so approachable but her strength shone through—in fact, she was exactly like her playing!  Of course, I revered Yehudi Menuhin too, and I was able to see him in close quarters, such as at master classes. There were some others: for example, I loved the warm, rich tone of Itzhak Perlman.
GN: What was it like collaborating with Vernon Handley and Sir Charles Mackerras when you first started recording for EMI around 1990?
TL: It was quite an experience being in the presence of conductors with such great knowledge and experience, though they had very different personalities. You seemed to learn something from them just by osmosis. I made my very first recording—the Dvorak concerto—with 'Tod' Handley, as he was known to his friends (though I never quite knew why). Tod was very friendly indeed and took great care of me during these recording sessions. On the other hand, Charles Mackerras was quite forbidding at first, irascible, very sure of what he wanted, and always up to your game. But eventually, I saw his more adorable side.
When we recorded the Delius Double Concerto a couple of years later, we actually had an argument about what was the 'second subject' of the opening movement. Charles walked off thinking that he was right even though I held my ground. The next day, he came back and admitted that he was wrong, and from that point on we were equals. In many ways, Tod was the opposite of Charles, more fragile and prone to doubt, usually deferring to my ideas. But it was exactly these qualities that made him such a sensitive conductor to work with.
GN: All of these early recordings have maintained the highest critical praise, even nowadays. Do you look back at those recordings fondly?
TL: I still like the Sibelius a great deal—a really mature vision even at that time. The Dvorak still maintains an appealing freshness and innocence, and the last movement is very good. But I was never fully happy with the Brahms, and the Bruch now looks too simple. In my recent recordings, I think I have also improved on both the Delius Violin Concerto and Double Concerto that I originally did with Charles. Especially in the latter, there is more shaping and colour in them than before.
GN: Ever since the enterprising "Delius Inspired" Festival in 2006, you have become virtually synonymous with the name of composer Frederick Delius. What is the thing that makes for such a close identification?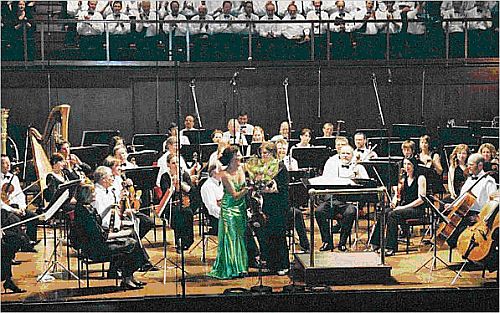 TL: The first thing is that my father actually came from a village about a mile from Delius' birthplace in Bradford. At home, he played Delius all the time — as much as Beethoven. So, in my youth, Delius was already one of the 'great composers.' But there are probably two reasons why I have always found his music so captivating. First, it cannot really be pinned down as to its origins; combining English, German and Scandinavian influences, all mixed with a dose of Florida. Second, everything in his compositional technique is about developing underlying musical flow and shape and less about formal structure. Of course, one can seemingly find Wagnerian textures in his use of the creamy brass for example, but nothing in his music is really from this tradition. He is quite unique in what he does.
GN: The most immediate link we have had to Delius is the (late) Eric Fenby, the composer's amanuensis for the last six years of Delius' life, who transcribed a number of invaluable later works that the composer dictated to him. Were you ever able to meet him?
TL: Yes, in fact my father knew Eric quite well and, when I was just twelve years old, suggested that I might learn a lot about Delius' Third Violin Sonata from him. Eric was so kind. He rented a music studio for us and then proceeded to go through the work with me as I attempted to play it. This was a unique experience: he would tell me something about how each and every note should be played, shaped and nuanced to get the right Delian flow. It would be utterly amazing to visualize the markings on a score that would correspond to what was in Eric's mind. It was strange that, many years later, on the day that Piers Lane and I were to record the complete Delius sonatas in a church in north London (February 18, 1997), we were both quite uncomfortable. We later received word that Eric Fenby had died that day. I do hope he was listening.
GN: You are obviously part of the tradition of English violinists both in style and sound. But what is your appreciation of what this tradition actually is?
TL: I don't think one can define a tradition of English violin playing with the exactness that one might talk about, say, a Juilliard tradition of violinists all coached by Dorothy DeLay. Perhaps one might find a British legacy more with other instruments, such as the cello or oboe. But yet there are definite English characteristics that have carried on over the years: the desire for a clean, direct and honest articulation, always sensitive to the subtle inner beauties in the music and achieving a certain intimacy of expression. Perhaps a violinist such as the (late) Hugh Bean symbolizes this. He played with London orchestras for fifty years (sometimes as soloist), influenced so many, and studied originally with Britain's most famous pre-war violinist, Albert Sammons. I know that I aim for the same characteristics in my playing. My goal has always been to uncover the subtle inner beauty in any work that I play, and hopefully touch the audience by revealing dimensions of emotional vulnerability that they themselves may have not been aware of.
GN: You have now played a great number of modern British concertos, and recorded some less well-known ones such as those by Finzi, Moeran and Rubbra. In your mind, is there anything which unites all these as being quintessentially British?
TL: These concertos range through so many emotional terrains and types of construction that it would be almost impossible to identify a common core of characteristics. One feature that stands out, though, is that structurally they all depart in some way from the conventional 'fast-slow-fast' format. Even the early ones, such as the Elgar, might look like they are in that form, but then Elgar puts that terribly-long cadenza in at the end. Both the Britten and Walton concertos also deviate, and these idiosyncrasies of course increase as we move to the more contemporary works.
GN: Speaking of the Elgar concerto, how come it took you so long to record it? Many young violinists now seem to regard it standard repertoire.
TL: I simply don't think this is work you can penetrate if you are young and innocent. You must have a certain amount of life experience and, frankly, you must know a bit within yourself what it means to be an old man. I first started performing the work in my early twenties, and almost a quarter of a century and sixty performances later, I finally felt that I had everything pretty well where I wanted it; I had lived with the piece long enough. So I recorded it in in 2010 with Sir Andrew Davis, my first recording in a new collaboration with Chandos.
GN: You played the Korngold concerto for us, which struck me as a somewhat unusual choice. Had you been acquainted with the work for much time?
TL: Yes, I actually fell in love with this work when I was very young. My father made me a cassette of an early recording by Ulf Hoelscher, and I played this over and over again until the cassette wore out. I gave my first complete performance in 1984, when I was 19. Of course, the work still languished in obscurity then and there was still the ethic that British violinists should stick to British works, not trespassing onto American soil. But I have always loved the work, and I have always been attracted to rarities in general. Besides all the less well known British composers, I have also had interest in Polish composers such as Szymanowski and Lutoslawski, and I am only one of a few violinists to have the Ligeti concerto in their repertoire. A few years ago, I was also invited to play the concerto by Mieczysław Karłowicz in Warsaw. I enjoyed the piece so much that I recorded it shortly thereafter—one of the many concertos that do not get their rightful attention!
GN: How do you actually approach learning all these new concertos? Do you try out the most obvious passages or themes first and then move to things of greater intricacy or technical difficulty, slowly building the work up?
TL: The first step is always getting a picture of the work as a whole, and that means knowing the entire orchestral score. Then, you start trying bits of your part. After you leave the composition for a day or two, the significance of certain passages or transitions usually comes to you in a new light, and you go to work on those portions immediately. As you progress through the work, this happens again and again, until you have everything sort of worked out. But, of course, this process is just the beginning. You really begin to learn when you begin to rehearse with the orchestra, and perhaps the greatest leaps happen once you take the work to performance.
GN: You have already produced many cherishable chamber music recordings with pianists Piers Lane and Martin Roscoe. Can you explain what makes the associations with these artists so special?
TL: I really enjoy Piers' sense of fantasy when he plays. His colours are so subtle and you often get the feeling that he is 'composing' the piece as he plays. He is stunning in the big romantic repertoire, but also has a great feel for Bach, and I recently recorded Schubert with him, where he displays such finesse. With Martin Roscoe, I love to play works like Beethoven; he is very down to earth and grounded, although he is also spontaneous, like me. He has a great sense of humour and is the only pianist I know who plays the ending of Ravel's Tzigane in a way which makes me want to laugh aloud!
GN: You are of course known throughout the world for being very proactive in attempting to increase the accessibility of classical music to all age groups, and especially to the young. Your release of the freely-downloadable "The Naked Violin"—and putting on special concerts and workshops with that theme—was such an enterprising idea. What other things have you tried?
TL: Yes, 'The Naked Violin' was an instant success. I had a quarter-million downloads in the first six months and things just grew from there. For many years, I have also played in schools and to school children all over the world. The most interesting time was when I was in Zimbabwe and played to 850 children in a very deprived area outside Bulawayo. The teacher was concerned that they may not listen or be quiet but, as soon as the music started, they were like church mice! You could have heard a pin drop. I love the fact that music has the power to do that!
GN: Are there particular things you have learned over time about communicating the joys of classical music to audiences?
TL: One thing that you must appreciate is that there are always barriers to communicating with an audience but, once you break through, they vanish quickly. I have had many chats with audiences in which there are very few questions to begin with but invariably these get more and more frequent as things continue and everyone gets more comfortable. My biggest joy is a situation where everything is so comfortable that participants forget me and end up in their own dialogue, asking each other questions. I remember this happening when I was playing in Oxford. It was a programme of solo violin music and I really wished that we could have chatted all night—the audience was so interesting and so engaged!  Music really can push away all barriers.
GN: Things really seem to be taking off for you in your association with Chandos Records, and you are recording prolifically. How did this new synergy begin?
TL: It started with the Elgar concerto recording, which received very strong acclaim and actually won the Classical Brit Award for 2011. I then sat down with Ralph Couzens at Chandos to see what we could do next. I had never been 'married' to a recording company before, so I wanted to really ensure that my recording interests overlapped with theirs before talking exclusive contract. Well, it really was a meeting of minds and it has worked out so well. Virtually all of the eight releases have got the highest critical praise, and the very recent one coupling Walton's First Symphony and the Violin Concerto with conductor Edward Gardner, has literally topped the charts. I am so pleased that the core of British concertos—the Elgar, Britten, Delius and Walton—all turned out convincingly. There are also two discs of violin sonatas. There are some lovely projects coming up in the future, both concerto and recital, that I hope to surprise you with!
GN: It interests me that, while so many artists and companies wish to publish 'live' recordings these days, it seems that not one of your CD's is of this form. Do you not view 'live' recordings as adding that much?
TL: Everyone wants to get as close as possible to the electricity of a live concert and I would be the last person to suggest that the audience does not play a big role in increasing the tangibility of the experience. But often many of the live performances that we attend do not generate that much electricity and there are many studio recordings that actually do. For example, I think the classic Decca studio recording of Ravel's Daphnis et Chloe by Charles Dutoit and the Montreal Symphony comes as close to a 'live' experience as virtually anything, and certainly more so than the frequent productions that splice together extracts from different live performances. The secret to studio recording for me is 'long takes'. Any artist should be capable of building up concentration and spontaneity on their own if they are not stopped all the time. If I can record almost complete movements at one go, then selective editing can be done and the spirit of the performance can be kept in place.
GN: It is somewhat remarkable that your current appearance with Vancouver Symphony is in fact your Canadian debut. How have you resisted Canada for so long?
TL: Actually, I have lived in Canada before. I went to the Banff School for a summer when I was teenager and then lived in Toronto for a year studying privately with Lorand Fenyves a couple of years later. It was then that I actually met Andrew Davis, who had taken his first conducting post with the Toronto Symphony Orchestra. But I do hope to make my visits more frequent in the future.
GN: One thing that must have been rare for you is performing the same concerto three days in a row, something very common in North American subscription series but never done in London. How did you find it?
TL: No matter how it might look on paper that you are playing the same work over and over again, the experiences are always different. One obvious thing in this case was that the times and venues were different. The first concert was in the evening, the second Sunday afternoon, and the third was in a smaller venue. I admit that it is slightly harder to gear oneself up for an afternoon concert and I do always prefer performing in the evening. But each concert seemingly provides the basis for some type of experiment—and certain idiosyncrasies always come out. For example, I just happened to think that I should take a cadenza more slowly in one concert than another. But then I could just as easily have decided that a particular passage needed more emphasis and push, given what the orchestra was doing. I am well-known for changing things such as fingerings just prior to walking on stage! One time, I found a brand-new and brilliant fingering in the Cadenza of the Tchaikovsky violin concerto. It was a risk, as it was only 10 minutes before the concert, but I went for it—and it paid off!  People often do not understand just how spontaneous performing really is.
GN: What do you think is the biggest difference between your playing now and in your earlier years?
TL: I think that the biggest difference in my playing nowadays lies in my palette of tonal colour. The fingerings and bowings that I might choose to express myself are much more varied. Musically, I would like to think I am always growing, too. I certainly hope so—it's my main reason to keep playing!
Geoffrey Newman
Previously published in a slightly different form on http://www.vanclassicalmusic.com