United States Mozart: Figaro! (90210), LA Opera Off Grand, Douglas Kinney Frost (conductor), Barnsdall Gallery Theatre, Los Angeles, 16.01.15-18.01.15 (JRo)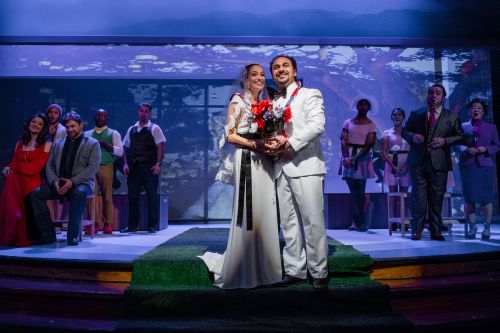 Cast:  
Figaro: José Adán Pérez
Susana: Maria Elena Altany
Paul Conti: Craig Colclough
Roxanne Conti: Greta Baldwin
Barbara Conti: Hayden Eberhart
Donna Curson: Amber Mercomes
Bernard Curson (aka Li'l B-Man): Orson Van Gay II
Ms. Soon-Yi: Nam Miki Yamashita
Babayan: E. Scott Levin
Basel: Haqumai Waring Sharpe
Atzuko: David Castillo
Production:
Librettist: Vid Guerrerio
Conductor: Douglas Kinney Frost
Director: Melissa Crespo
Set Designer: Sibyl Wickersheimer
Costume Designer: Bradon McDonald
Lighting and Projection Designer: Tom Ontiveros
In a love letter to multicultural America and specifically to Los Angeles, librettist Vid Guerrerio has created an hilarious, timely, and heartfelt rendition of Lorenzo Da Ponte's take on Beaumarchais' The Marriage of Figaro. One need go no farther than Barnsdall Park in Hollywood to find a delicious musical confection worthy of the Broadway stage, part of the LA Opera's continuing "Off Grand" series.
In a fast-paced, two-hour version of Mozart's beloved opera, Guerrerio rewrites Da Ponte's libretto in English and Spanish and transplants the characters from eighteenth-century Seville to modern-day Los Angeles. Reflecting the concerns of the social upheaval of Beaumarchais' times yet moving beyond them, this clever libretto deals with the struggles of immigrant communities working to stay afloat in an occasionally beneficent but often hostile America.
Guerrerio conjures Figaro as a Mexican handyman employed on the estate of a Beverly Hills tycoon, Paul Conti, and his aging Hollywood starlet wife, Roxanne. Guerrerio tackles issues of immigration, assimilation, racism, political correctness, capitalism, and liberal and conservative politics with a heady mixture of intelligence, compassion, wit, and slapstick.
The basic outlines of the plot are still intact but in this scenario, Figaro owes money to a Korean businesswoman and sweatshop owner who paid Susana's way across the border. Susana, maid to the Contis and Figaro's fiancée, has only served one of the two years of her contract. This sets the ball rolling. Conti has promised to pay the money but Susana knows he expects to be sexually rewarded for his generosity. As in the original, scheming, flirtations, mistaken identity, and a long-lost baby drive the plot; but the lure of a green card and a legalized life in America often propels the narrative.
Contemporary references abound. Plastic surgery, Botox, boobs, Big Macs, hip hop, cell phones, "sexting," selfies, Coca-Cola, El Torito, the Dodgers, and the Lifetime Channel are but a sample.
With Melissa Crespo's directorial skills and Sibyl Wickersheimer's simple but effective set, one journeys through a landscape not unlike that of a film parodying the rich in Beverly Hills. Add to that Mozart's incomparable music, and the effect is thoroughly engaging.
Under the baton of conductor Douglas Kinney Frost, the seven-piece ensemble of piano, guitar, violins, viola, cello, and bass created an intimate yet vibrant atmosphere and beautifully supported the very talented cast of singers. José Adán Pérez's Figaro was a delight, and the Susana of Maria Elena Altany was as adorable as any soubrette has a right to be. Greta Baldwin played the part of Roxanne, the actress striving to reclaim her youth and the love of her philandering husband. Both funny and touching, she sang in her melting soprano while unwrapping bandages on her face from a recent procedure: "God, looks like I've been cast as the bride of the Mummy." Then, as an afterthought, she added: "I should have also had them tuck my tummy."
Every inch the lord of the manor in both bearing and singing, Craig Colclough and his creamy baritone delivered a spot-on, modern-day version of Count Almaviva. As Bernard, who longs to be a Rap singer (Mozart's Cherubino), Orson Van Gay managed to merge the classical with hints of R&B. Hayden Eberhart as Barbara, in love with Bernard, was both petulant and touching as the Conti's disillusioned daughter, especially when she sang: "Love's a fairy tale; one big epic fail." And in one of the funniest and most potently sung arias of the evening, E. Scott Levin as Babayan, a shady businessman, told of the faults of the ethnic groups of LA, claiming that the Armenians are best. For Los Angelenos, the stoned gardener played by David Castillo and sung in a Valley accent was beyond hilarious.
There was a smile on every face in the audience, and laughter could be heard for blocks from the hilltop of Barnsdall Park. Now, if LA Opera could only make a film or TV version of this romp, perhaps the whole country could join together in embracing not only opera, but also the diverse ethnic spirit that makes this nation unique.
Jane Rosenberg