Preview: Richard Alston Dance Company Embarks on UK Tour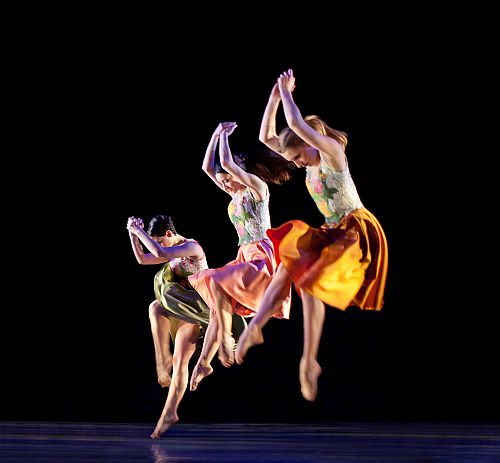 Preview: Richard Alston Dance Company Embarks on UK Tour
After two recent performances at Sadler's Wells to celebrate its 2Oth anniversary, Richard Alston Dance Company sets off on five-month tour of the UK with a selection of works from its repertoire. Starting at the Buxton Opera House in Derbyshire on Tuesday 3 February, the company will visit eleven other venues before returning home to perform a programme of new work at The Place, in London, from Wednesday 10 to Saturday 13 June.
Richard Alston is a choreographer with a particular relation to music. Three of the works selected for the tour are inspired by that of Benjamin Britten, a composer of whom Alston said in an interview with Ben Eshmade in 2013, 'I don't want to sit still when I hear his music'. Illuminations (1994), is a depiction of the turbulent relationship between Rimbaud and Verlaine to the music of Les Illuminations. Hölderlin Fragments (commissioned by Barbican Centre in 2013) is set to the cycle of songs for voice and piano, Sechs Hölderlin Fragmente, based on the work of the visionary poet, Friedrich Hölderlin. The colourful Rejoice in the Lamb (2014) is performed to a setting for choir and organ of the words of the eighteenth-century poet, Christopher Smart.
The other works to be taken on tour are Alston's classic Overdrive (2003), which now forms part of the GCSE Dance syllabus, and is set to a minimalist score by Terry Riley; Unfinished Business, a duet danced to the adagio of Mozart's Piano Sonata, K533 (played live by Jason Ridgway), and chosen by the New York Times as its number one dance favourite in 2013; Burning (2014) by Richard Alston Dance Company's Associate Choreographer, Martin Lawrance, which evokes one of the passionate relationships of the composer Franz Liszt to the music of his Dante Sonata; and Nomadic (2015), a collaboration (the first since he began to work as a choreographer in 1968) between Richard Alston and hip hop dancer, Ajani Johnson-Goffe, to the percussive beats and Roma voices of the Shukar Collective, and for which Johnson-Goffe joins the company as a guest performer.
John O'Dwyer 
Tue 3 Feb: Buxton Opera House;  Thu 5 Feb at 7.30pm: Aylesbury Waterside Theatre; Tue 10 Feb at 7.30pm: The Lowry, Salford; Tue 24 and Wed 25 Feb at 7.45pm: Malvern Theatres
Thu 5 Mar at 7.30pm:  Atkinson, Southport; Wed 11 Mar at 7.45pm: Lighthouse, Poole; Thu 19 and Fri 20 Mar at 7.30pm: Norwich Theatre; Tue 25 and Wed 26 Mar at 7.30pm
Exeter Northcott Theatre
Fri 8 and Sat 9 May at 7.30pm: Clwyd Theatr Cymru, Mold; Tue12 May at 8pm: Nottingham Playhouse; Fri 15 and Sat 16 May at 7.45pm: Cambridge Arts Theatre; Tue 26 and Wed 27 May: Oxford Playhouse
Wed 10, Thu 11, Fri 12 and Sat 13 June: The Place, London.
For details of programmes see www.richardalstondance.com.
*Please note: booking fees may apply at these venues.