ROYAL OPERA HOUSE LIVE CINEMA SEASON 2014/15 CONTINUES:
 ROMANCE AND REVOLUTION: ANDREA CHÉNIER 
A NEW PRODUCTION FOR THE ROYAL OPERA
STARRING JONAS KAUFMANN
Live in cinemas Thursday 29 January at 7.15pm
Encore screening Sunday 1 February at 2pm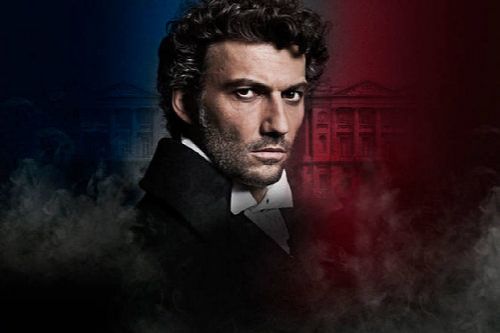 Jonas Kaufmann will star as Andrea Chénier, the pre-romantic poet embroiled in the French revolution, live in cinemas across the world on Thursday 29 January at 7.15pm. This powerful and moving opera will be repeated at an encore screening on Sunday 1 February at 2pm.
For more information and to find a cinema near you please visit: www.roh.org.uk/cinema
Conducted by Antonio Pappano and directed by David McVicar, the new production for The Royal Opera is a fictionalised account of the life of Chénier, opening during the opulence of pre-revolutionary France and coming to its climatic end in the final days of the 'Reign of Terror'.
The story begins in 1789 at a lavish winter garden party in Paris where Chenier falls in love with the beautiful aristocratic Maddalena, sung by Dutch soprano Eva-Maria Westbroek. Six years later Maddalena has lost everything and France has descended into a city consumed by suspicion and fear. Condemned by a revolutionary love rival Gérard, sung by Serbian baritone Željko Lučić, the fateful couple reunite to face the barbaric 'Revolutionary Trial'.
Composed by Umberto Giordano the opera, not seen at Covent Garden since 1985, is famed for its challenging tenor role and big arias. Staged to great visual effect from the palaces to the streets of Paris in a swath of patriotic colours Andrea Chénier, will be an evocative production not to be missed.
The Royal Opera House continues to lead the way in opera, ballet, music and dance in cinema and the many platforms available. These include digital downloads, CD, DVD and BLU-ray all distributed through Opus Arte and the new partnership with Digital Theatre, which allows ROH productions to be accessed on all of Digital Theatre's platforms including its apps for the iPhone, iPad and Samsung Smart TV as well as being available for streaming from the internet. Each year the number of cinema sites in the UK alone that carry Royal Opera House screenings is steadily increasing with more than 400 sites in the UK taking the entire Royal Opera House Cinema Season and more than 1500 sites worldwide.
Further live broadcasts in the 2014/15 season:

Der fliegende Holländer, 24 February at 7.15pm
Encore: 1 March at 2pm
The Royal Opera
Swan Lake, 17 March at 7.15pm
Encore: 22 March
The Royal Ballet
Rise and Fall of the City of Mahagonny NEW PRODUCTION
1 April at 7.15pm
Encore: 9 April
The Royal Opera
La Fille mal gardèe, 5 May at 7.15pm
Encore: 10 May
The Royal Ballet
La bohème, 10 June at 7.15pm
Encore: 14 June
The Royal Opera
Guillaume Tell NEW PRODUCTION, 5 July at 2.45pm
Encore: 12 July
The Royal Opera
For more information and to find a cinema near you please visit: www.roh.org.uk/cinema