Spain Bellini: Norma, Liceu Symphony Orchestra and Chorus, Renato Palumbo (conductor), Gran Theatre del Liceu, Barcelona, 8 & 9.2.2015 (JMI)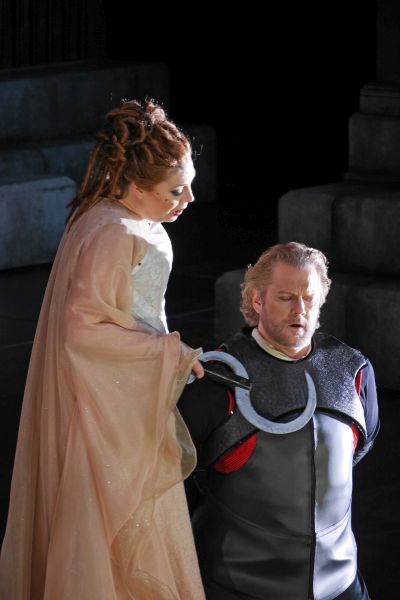 Casts:
Norma: Sondra Radvanovsky/Tamara Wilson
Pollione: Gregory Kunde/Andrea Carè
Adalgisa: Ekaterina Gubanova/Annalisa Stroppa
Oroveso: Raymond Aceto/Simón Orfila
Flavio: Francisco Vas
Clotilde: Ana Puche
 

New production: Barcelona's Liceu in coproduction with San Francisco, Toronto and Chicago
Direction: Kevin Newbury (original)
B. Schlather (revival)
Sets: David Korins
Costumes: Jessica Jahn
Lighting: D.M.Wood
 

Norma, a pure bel canto opera, is one of the most frequently staged titles in the history of Barcelona's Liceu. There have been some 150 performances to date, so it is not unexpected that the public has been very receptive to this new production of Bellini's masterpiece.
The production bears the signature of Kevin Newbury, and its premiere opened the current opera season at San Francisco's War Memorial Opera House. As Mr. Newbury writes in the program, he has tried to reflect on stage the studies conducted by his artistic team on the ancient Druids, which underlined the importance of sacrifice, fire and the presence of bulls. There's just one space for the two acts, with a large gate that separates the inside and outside worlds. The space is meant to represent the temple, but it could as easily be a warehouse. Despite that extensive study of the Druids, the costumes are rather confusing: the women's do not reflect ancient times, while the men's garb seems closer to the Druids. The lighting is effective.
Beyond that, the production lacks pure stage direction, which is disappointing. The direction of the actors is scarce and the crowd direction almost nonexistent. A detail will serve as evidence: when Norma confesses that she is the perjured priestess in front of the full choir and soloists, only Pollione seems surprised. Everyone else looks as if they already knew it.
Renato Palumbo is one of those conductors who are a real guarantee in a pit: always supportive of the singers, never allowing them to be covered by the sound of the orchestra. This is important in bel canto, and Palumbo knows perfectly how operas like Norma should be conducted. But apart from these merits, the tempi were too slow, and even languid at times. The slowing down of tempi is not a problem in itself, but it does take a Lorin Maazel to combine that with a truly dramatic depth. In this sense I have to say that Palumbo is not Maazel. My impression is that, in an effort to be helpful to the singers, Palumbo decided to follow the preference of Sondra Radvanovsky, whose Norma (in Oviedo and Perelada) has been very slow. The orchestra seemed to me better than in the past, but I found the chorus below their usual excellent level.
Ms. Radvanovsky sang Norma in the first cast, and she gave a convincing interpretation of the Druid priestess, particularly in vocal terms. It is exceptional for a spinto soprano to be able to offer so many nuances and at the same time cope with the huge demands of agilities in the score. Ms. Radvanovsky has become today's Norma of reference. The only thing missing is a greater vulnerability that can express stronger emotions. Curiously, we have almost simultaneously several Normas here, and a comparison could have been quite interesting. Unfortunately, Angela Meade cancelled in Seville, but in a few weeks Mariella Devia, whose Norma will be quite different from Sondra Radvanovsky's, will sing the role in Valencia.
Tamara Wilson was making her debut in the role of Norma in the second cast, and the result was really good. It's not logical to contrast her with Ms. Radvanovsky, since neither vocal means nor experience in the role are comparable. In any case, hers is a Norma that could walk through the best opera houses. Her voice is not exceptional, but it has enough amplitude, and she knows how to handle nuances and agilities. Ms. Wilson's only weak point lies in a few high notes that come out as a little uncontrolled.
When a theatre has Gregory Kunde as Pollione, the title of the opera could perfectly well be Norma and Pollione. The American tenor is at a very sweet moment, and his presence in this role is a real treat. No doubt his is the best Pollione I have experienced live in any opera house in my life. Besides excellent and assured singing, he offered surprising variations in his opening scene. I have never heard them before, and they were brilliant and very difficult. His performance was a real delight.
Tenor Andrea Carè was Pollione in the second cast, and his performance had two very different parts. The entire first scene was more than problematic as he avoided any high notes. Both "Meco all'altar di Venere" and "Me protegge, me difende" left much to be desired. From the duet with Adalgisa, things improved. His voice is attractive, but he is not a paragon of virtues in his expressiveness or stage presence.
Mezzo soprano Ekaterina Gubanova was a convincing Adalgisa in vocal terms, but I find her voice rather impersonal. She is one of those singers who soon fades from an operagoer's memory. Annalisa Stroppa in the second cast was a very interesting Adalgisa. Her voice is quite attractive and homogenous, and she is an excellent singer, but in a house like Liceu, her impact is somewhat reduced. In this sense, Ms. Gubanova is better equipped for the role, but I prefer Ms. Stroppa in terms of intention and musicality.
Bass Raymond Aceto was well-suited to Oroveso, although I prefer a more important voice in this character. This is even more true of Simon Orfila in the second cast. Apart from this, both did well.
The secondary characters were nicely covered by Francisco Vas (Flavio) and Ana Puche (Clotilde).
Sondra Radvanovsky triumphed at the final bows, but there were sound cheers as well for Gregory Kunde, Tamara Wilson and Annalisa Stroppa.
José Mª. Irurzun